Dir: Anahi Berneri. Argentina-France. 2010. 91mins.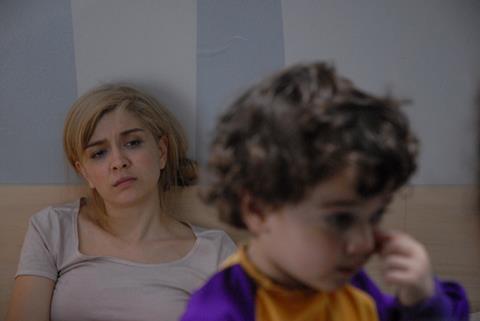 Confirming the promise she showed in her first two features A Year Without Love (2005) and Encarnacion (2007), Argentine director Anahi Berneri returns with a compelling and thought-provoking domestic drama. Shot almost in real time in a tense, handheld style, this account of a tough night for a mother with small children resonates far beyond the confines of the story. It also features an outstanding, raw performance from young actress Erica Rivas.
The edgy shooting style and a sound design that stresses the protagonist's subjective point of view keeps the audience a little on edge, waiting for a crisis to emerge
Encarnacion was a loosely-structured portrait of a woman going through an identity crisis. It's Your Fault shares some of the same themes of how women see themselves and how much this depends on how they are viewed, and judged, by others.
But here, for all the long takes and unorthodox story structure, a real drama emerges – one that has the tension of an audience-teasing thriller. This should help ease It's Your Fault towards arthouse distribution outside Argentina.
Julieta (Rivas) is stuck at home with her two young sons, little Teo and his bolshy older brother Valen. It's past the kids' bedtime – but frazzled Julieta would rather park them in front of the apartment's two TVs than fight to get them into bed, as she has work to finish.
The edgy shooting style, with the camera close in on Julieta, and a sound design that stresses her subjective point of view (which extends at times to the kind of selective deafness with which most parents will be familiar) keeps the audience a little on edge, waiting perhaps for a crisis to emerge.
Eventually, something really does happen: in a fight with his brother – or perhaps because of his mother's clumsiness – Teo falls over and hits his head on the floor. Julieta does what any good parent would do: she takes him into hospital for a check-up, dragging Valen along too because there's no-one else she can leave him with.
Here a conscientious young pediatrician, alerted by Teo's fractured arm and Julieta's confused answers to his questions, suggests that the three of them should stay the rest of the night in the hospital so the child can be kept under observation. As it gradually dawns on the shocked Julieta that she is suspected of maltreating her child, it also dawns on the audience that all may not be as they originally perceived: Teo's accident may have happened a little too quickly to see properly whether she pushed him or not; she was at the end of her tether; and she does seem quite young be a mother (as her husband wastes no time telling her when he finally arrives)…
But it's exactly this climate of suspicion and the assumptions we make about people that Berneri's intriguing, sensitive film is about. There's a telling scene that illustrates the director's perceptiveness – when Julieta's nose starts to bleed in the hospital and a couple of drops fall onto her t-shirt, she washes it off obsessively in the bathroom, as if this too might incriminate her. The film also nails the consumer culture that so many kids live in – in which the answer to most problems is a favourite DVD, a gameboy or a new toy gun.
To sign up for Screen's weekly Reviews Newsletter with all the week's new releases, international openings and full festival reviews delivered free to your mailbox every Friday, please click HERE
Production companies
BDCine
Tu Vas Voir
International sales
Bavaria Film International
(49) 89 6499 2686
Producers
Diego Dubcovsky
Screenplay
Anahi Berneri
Sergio Wolf
Cinematography
Willi Behnisch
Production design
Aili Chen
Editor
Eliane Katz
Music
Sebastian Bianchini
Main cast
Erica Rivas
Nicasio Galan
Zenon Galan
Ruben Viani
Marta Bianchini