Dir: Bibo Bergeron. France. 2010. 88mins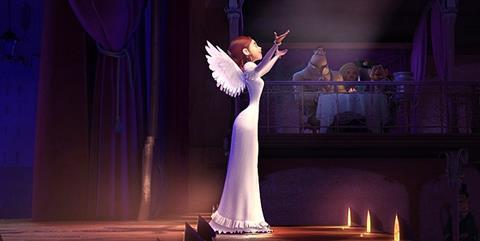 If only the script in animated feature A Monster In Paris (Un monstre à Paris) had been as lovingly tended as the exquisite backgrounds and other affectionately rendered period touches, this energetic 1910-set 'toon might have emerged as a minor classic of contempo CGI animation. There's considerable pleasure to be had watching this mostly charming romp, but the tale of an acidentally conjured 10-foot-tall musically gifted flea protected by a spunky cabaret songstress while a vain and megalomaniacal city official plots to eradicate it is more of a pastiche (Phantom Of The Opera, Beauty And The Beast, King Kong…) than it is a fully satisfying original work.
Tallying over 1.5 million admissions with only mild drop-off after five weeks on French screens, animator Bibo Bergeron's (Shark Tale; The Road to El Dorado) Oct 12th release has definitely pleased his countrymen and their kids. An English-language version, shown in Toronto, is primed for international markets.
Tapping into a silent-era vibe that goes farther back than The Artist or (most of) Hugo, the story is set in Paris during the historic 1910 flood that left important stretches of the city under water for weeks.
Only Montmartre, on higher ground well away from the Seine river, is dry. Shy, dimunitive Emile (Sebastien Desjours) — unfortunately drawn to look like the Lucky Charms leprechaun — is the projectionist at a cinema and has a longstanding crush on the equally mild-mannered box office cashier, Maud (Ludivine Sagnier).
The film begins with newsreel footage of the flooded city and segues into Emile's imagined love story starring himself and Maud, in which a dragon surges forth in a public garden and threatens his fair damsel. This - and the film's title - signal to tykes that we're in Paris and there's going to be a monster.
While at a photo shop to get a replacement part for the theater's projector, Emile buys a wind-up movie camera, which comes in handy to record his eye-popping adventures with fearlessly outgoing friend, Raoul (Gad Elmaleh).
Smitten since the schoolyard with Lucille (Vanessa Paradis) who is the star attraction at a Montmarte cabaret, Raoul turns uncharacteristically combative in her presence.
Self-assured and entrpreneurial Raoul and his beloved truck deliver everything from the latest Melies one-reeler to supplies for the out-of-town scientist whose trained baboon displays more caution and common sense than jovially reckless Raoul. Raoul's kinetic response to the explicit written instruction "Don't touch" is to touch like crazy.
Two vials of chemicals collide and when the smoke clears, Emile and his camera catch a fearsome creature with red eyes leaping up through the lab's glass roof and hop-bouncing like a 4-legged ping pong ball from structure to iconic structure.
The giant flea (French musician and singer "M") is frightening looking but it turns out he's a sweet softie, as proved when he sings a plaintive song in the rain outside the stage door to the cabaret where Lucille performs. Lucillenames the giant insect "Francoeur" and sews him a sort of giant zoot suit-and-floppy-hat disguise that covers his prickly roach-like carapace. Francoeur endeavors to keep as low a profile as a 10-foot flea with rotten posture can.
One of the film's glossed over mysteries is why Francoeur can sing one song's lyrics yet can't actually speak. He's enthralled by the sounds made by plink-plucking a hair comb and he no sooner picks up a guitar than he's playing like an old pro.
Intent on running for higher office, an already powerful local bigwig, Maynott (voiced by Francois Cluzet, the wheelchair-bound protagonist of runaway phenomenon "Intouchables") decides the fear factor is just what he needs to impress the electorate and sets about demonising the currently camouflaged intruder, as a prelude to tracking it down and killing it in the name of public safety.
But Maynott goes from preening politician to full-blown lunatic, as the narrative grows less coherent and downright forced. Raoul's trouble-making gestures are overdone, Emile remains congenitally shy and the finale, while rousing, feels abrupt.
The animation has real sweep and class although the settings are consistently more visually appealing than the characters. Working with mostly French animators, Bergeron has brought vintage decors - bridges, movie theater, music hall and city streets - to life. Perspectives of the Eiffel Tower are splendid, as are shots of and from a helium filled dirigible and a sequence involving the Montmartre funicular and environs.
Francoeur, whose facial expressions and body language convey his soulful essence, makes an unlikely and surprisingly appealing "monster."All the females, be they trim or zaftig, sport hourglass figures.
It's a valid quibble that there's a voice-over narrator for the newsreels of flooded Paris, when, of course, the movies of 1910 had musical accompaniment but no voice track.
The accompanying animation is so heartfelt and fluid that one could be fooled into thinking the film's handful of songs are something special. Paradis and M are beloved and fabulously successful French musical acts who have collaborated closely on albums and on stage, but while the incidental music is spirited, not one of the (French-language) songs here truly cries out for repeat listens.
The film was adapted to 3D toward the end of production and slight synch problems with some characters in the talented French voice cast betray the fact that the animation was primarily tailored to the English-language voices.
There's a lovely closing-credits solution to making the flood waters recede and a karmically fitting "cookie" at the very end.
Production companies: EuropaCorp, Bibo Films, France 3 Cinema, Walking the Dog,
International sales: EuropaCorp
Producer: Luc Besson
Executive producers: Nadia Khamlichi, Adrian Politowski, Gilles Waterkeyn, Olivier Bizet
Screenplay: Stephane Kazandjian, Bergeron, based on an original story by Bergeron.
Production designer: Francois Moret
Editor: Pascal Cheve
Music: M, Patrick Renson
website: http://www.unmonstreaparis.com
Main cast (French version): Vanessa Paradis, M, Gad Elmaleh, Francois Cluzet, Sebastien Desjours, Ludivine Sagnier, Julie Ferrier
Main cast (English version): Adam Goldberg, Jay Harrington, Danny Huston, Bob Balaban, Sean Lenon, Vanessa Paradis, Madeline Zima, Catherine O'Hara, Matthew Geczy