Dir: Ann Hui. Hong Kong, China. 2011. 117mins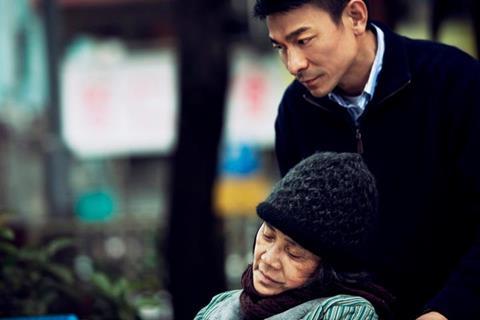 A Simple Life (Tao jie) is a sentimental tribute paid by Hong Kong producer Roger Lee to the memory of the amah who served in his family for 60 years and five generations, this sincere, honest but not particularly original melodrama may do well on home ground, where the long list of celebrities guest-walking through it will most certainly give the audiences something to talk about. But once it crosses the borders into territories that might not immediately identify director Tsui Hark playing a parody of his own self or such seasoned performers as Anthony Wong, Chapman To or Sammo Hung, this will rate as just another sweet, often humorous but forgettable plot devoid of any conflict, no more than a pleasant but uninvolving experience.
The saving grace being the presence of veteran Hong Kong actress Deanie Ip, who walks naturally through the part, without any effort.
Tao (Deanie Ip) had been working for the Lee family since she was 13. Now, that most of the family has moved away, she has only Roger (Hong Kong superstar Andy Lau), a film producer traveling back and forth around the globe but still based in Hong Kong, to take care of. That means cooking, cleaning, washing and worrying about him 24 hours a day, whether he is at home or discussing film projects in Beijing.
When she has a medical issue which leaves her partly paralysed, she insists on being put into a nursing home at her own expense, instead of being a burden on Roger's busy life. He, though, finds a place for her in an institution run by an old friend and leaves her into the capable hands of Ms. Choi (Qin Hailu), but never fails to visit her every time he comes home from his travels.
Though the nursing home is a depressing place, where people are waiting patiently to die with nothing much else to do, Tao does not complain or ask for something more. As her health gradually improves, she strikes friendships with some of the other residents, goes for walks with Roger, and seems almost capable of taking care of herself.
But her main concern at all times, the habit of many years that has become a second nature, is Roger's comfort and well-being. She even goes as far as to interview candidates to replace her and take care of him, only to discover her kind of dedication does not exist anymore. Answering with a devotion that couldn't be greater had he been her natural son, Roger is at her side every free moment he has, despite his heavy schedule. The rest of the family, as far away as they all are, nurse the same kind of warm, affectionate feelings for the woman who cared and brought up all of them.
At times it is all a bit cloying and too prettily organised, the saving grace being the presence of veteran Hong Kong actress Deanie Ip, who walks naturally through the part, without any effort. For home audiences, her frequent on-screen association with Andy Lau lends additional credibility to their relationship here.
Production companies: Bona Entertainment, Focus Films Limited, Sil Metropole Organisation
International Sales: Distribution Workshop, www.distribution.com
Producers: Roger Lee, Chan Pui Wah
Executive Producers: Yu Dong, Andy Lau, Song Dai
Screenplay: Susan Chan, Roger Lee
Cinematography: Yu Lik Wai
Editor: Kong Chi Leung, Manda Wai
Production designer: Albert Poon
Music: Law Wing Fai
Main cast: Deanie Ip, Andy Lau, Qin Hailu, Wang Fuli