Dir/scr: Damien Manivel. France. 2014. 71mins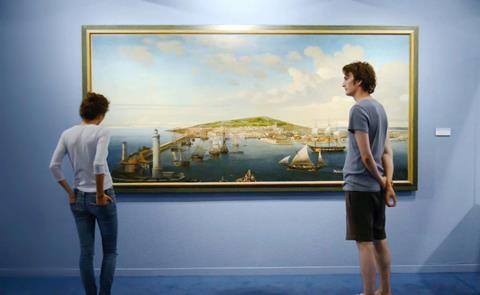 A slight and modestly engaging film, Damien Manivel's feature debut A Young Poet (Un jeune poète) that reflects on the artistic dreams of youth. A delicate summer film clearly made on a low budget, it is given a certain charm thanks to lead Rémi Taffanel's engagingly physical performance as a would-be poet seeking inspiration.
Rémi Taffanel's gangly and engaging performance is what gives the film its modest heart.
The film, which premiered at the Locarno Film Festival, is really only destined for the festival circuit, but it is a sweet-natured poetical debut that has more than a few disarming moments.
Still in his late teens, Rémi (Taffanel) dreams of becoming a poet and seeks inspiration in the hot city of Sète in Southern France, with his pen and notebook in hand but very few ideas forthcoming. But he is determined to write his poem and spends his days wandering the city desperately looking for ideas to spark him into literary action.
He spends time in the graveyard set beside a specific grave (presumably that of poet Paul Valéry, who died in Paris in 1945, but is buried in the cemetery of his native town, Sète, the same cemetery celebrated in his most famous poem, le Cimetière marin) looking for inspiration on how the clichéd 'young poet' should act and behave.
Rémi buys a bottle of vodka to seek drunken inspiration; lingers by the sea; sees a possibly muse in the form of the charming photographer Léonore, with whom he visits an art gallery; drinks and dances in a local bar, and swims underwater with local fisherman Enzo. In short, he walks the clichéd walk, but still comes up with no ideas.
Rémi Taffanel's gangly and engaging performance is what gives the film its modest heart. Mostly filmed in mid-shot (no close-ups here) with a static camera, his awkward physically matches his naïve and vaguely blustering character. It is clear the film was 'made' in the editing suite – Rémi wears the same blue/grey t-shirt and dark blue shorts in every shot, just to make the structure easier – but while it has moments of charm (and the backdrop is impressive) it is a very slight first film and ultimately perhaps rather indulgent.
Production company/contact: MLD Films, contact@mldfilms.com
Cinematography: Julien Guillery, Isabel Pagliai
Editor: Suzana Pedro
Main cast: Rémi Taffanel, Léonore Fernandes, Enzo Vassallo