Dir: Niall MacCormick. UK. 2011. 90mins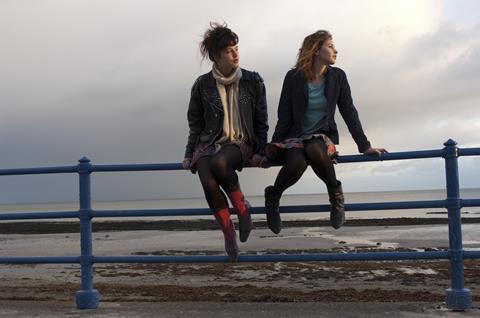 Echoes of David Leland's much-loved 1987 British feature Wish You Were Here very deliberately come through in accomplished comedy drama Albatross, which features a star-in-the-making performance by film newcomer Jessica Brown Findlay.
Findlay's sheer warmth of personality shines through .
But through screenwriter Tamzin Rafn admits she was "literally obsessed with that movie", which shot in her home seaside town of Worthing, Albatross is very different in structure, tone and format. But like Emily Lloyd's vibrant performance in Wish You Were Here, in Albatross Findlay is presented with a role that embodies a sense of freshness, passion and energy.
With an impressive cast that also features Felicity Jones, Sebastian Koch and Julia Ormond, the film had its world premiere at the Edinburgh International Film Festival, and is set for a UK theatrical release later this year via its production company – and now busy distributor – CinemaNX.
Emilia (Findlay) is a 17 year-old force of nature who starts a new job as a cleaner at The Cliff House, a small hotel on England's South Coast run by a bickering married couple, The Fischers, and their two young children.
Father Jonathan (Sebastian Koch, from The Lives Of Others) was once a bright young author who wrote about The Cliff House many years ago, making enough money for them to buy the property, but who has written little since. His wife Joa (Julia Ormond) resents him and the fact that she gave up an acting career to run the hotel.
Also living there are their children, 17 year-old Beth (Felicity Jones), a mild-mannered teenager busy studying for her exams and hoping for a place at Oxford, and six year-old Posy (Katie Overd).
Emilia's vivacity and sense of adventure has an immediate impact in the family. She and Beth strike up an unlikely friendship as Beth slowly starts to rebel against her parents, while at the same time Jonathan encourages Emilia's writing aspirations (she believes she is following in the footsteps of her great-grandfather Sir Arthur Conan-Doyle) eventually beginning a love affair with Emilia.
But as secrets are revealed and relationships strained Emilia finds herself at the middle of a family set to implode and must face up to truths of her own background as well as the implications of her actions.
The beating heart of the film is screen newcomer Jessica Brown Findlay (who has gone on to appear in TV's Downton Abbey…and for the record, as one of Screen International's Stars of Tomorrow in 2010) who delivers a beautifully open and charismatic performance.
As she cycles the seafront and perches on the railings overlooking the water it is very clear that screenwriter Tamzin Rafn and director Niall MacCormick are riffing Emily Lloyd in Wish You Were Here, with the two screen characters sharing the same sexual energy and love of life.
Findlay's sheer warmth of personality shines through (perhaps because it is her first film…though at times she looks awkward physically as if getting used to how to move for the camera, though this diminishes as the film draws on) and acts as a nice counterbalance to Felicity Jones's nicely restrained and generously modest performance as a teenager growing into a woman.
Emilia's faltering romance with father figure Jonathan is nicely handled, with Sebastian Koch doing a great job in appearing too sleazy as an older – and clearly frustrated – man falling for the vibrant younger woman. Sadly Julia Ormond's character is given little to do but get increasingly angry with her rather thoughtless husband, but she still brings great presence to the part.
The film's title refers to the Albatross round the neck of Emilia…the presence of something from her past that needs to be exorcised before she can move on. The film, though, is an extremely watchable British comedy drama driven by a real sense of energy and providing the perfect platform for two talented young actresses – Jessica Brown Findlay and Felicity Jones – to really show how good they are.
Production companies: CinemaNX, Isle of Man Film
Producer: Adrian Sturges
Executive producers: Steve Christian, Marc Samuelson
Screenplay: Tamzin Rafn
Cinematography: Jan Jonaeus
Editor: Mark Eckersley
Production designer: Paul Cripps
Music: Jack Arnold
Main cast: Sebastian Koch, Jessica Brown Findlay, Felicity Jones, Julia Ormond, Peter Vaughan, Harry Treadaway, Thomas Brodie Sangster, Hazel Douglas, Katie Overd, Alexis Zegerma