Dir/scr: Sam Neave. US. 2011. 83mins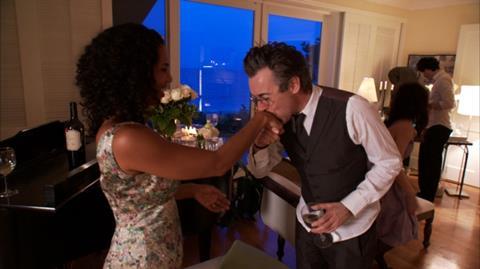 To a certain extent Sam Neave's impressively made indie film Almost In Love is as much about the structure – it is made up of two single 40 minute takes – as it is the story. That being said, there are moments (especially in the second section) when the mood, momentum and performances all dovetail nicely, resulting in some astutely memorable moments.
Unsurprisingly Almost In Love has a resolutely stagey feel.
Unsurprisingly given the structure of the film, it is really all about both script and improvisation, while kudos should also go to Daniel McKeowen's lush cinematography that adapts to suit the elements, structure and performers and helps bring out the best in all departments. Lack of major known performers – apart from Scottish actor Alan Cumming – will make it a hard sell theatrically, but it remains oddly affecting and well worth a look.
The film, which had its world premiere at the Abu Dhabi Film Festival – does show to young wannabe filmmakers that movie-making isn't just about hand-held digital camera moves, but can also be about a thoughtfully made 'drama' that is trying to dwell on that most filmed subject – love and all its complications.
The first part of the film is set on the balcony of a Staten Island apartment with views over New York at sunset. A dinner party is being hosted by writer Sasha (an impressive Alex Karpovsky), who is cooking on an electric barbeque much to the amusement of his guests. He has invited the love of his life Mia (Marjan Neshat), but is mortified when one of his friends also casually invites Kyle (Gary Wilmes), an old friend of his who until recently was dating Mia.
Things go from bad to worse as the increasingly drunken Kyle forces Sasha to face up to – and admit out loud – his love Mia. The second section is set 18 months later as many of the same friends gather at a plush beach house in the Hamptons for a wedding party…to celebrate the fact that Sasha is married.
Who he is married to would be to reveal more than is needed, but this half of the film deals with the changed dynamic amongst the key friends, while the introduction of other characters helps give it a needed sense of momentum. The addition of Alan Cumming especially – who brims with energy and seems to be able to spot when the film needs extra improv attention – helps this section, and there is more attention to the script and less to the camera moves as the story moves in delicate and intriguing circles.
Unsurprisingly Almost In Love has a resolutely stagey feel, with certain sections working better than others. While Alex Karpovsky has an easy feel for the free-flowing dialogue, the real find is Marjan Neshat who radiates easy warmth and sexuality and it is easy to see why so many men are intrigued by her character.
Production company: Falling Rock Zone Productions
Contact: info@almostinlove.com
Producers: Michaela McKee, DL Glickman
Associate producers: Montgomery Maguire, Leslie Lewis Sword
Cinematography: Daniel McKeowen
Main cast: Alex Karpovsky, Marjan Neshat, Gary Wilmes, Alan Cumming, Adam Rapp, Katherine Waterston, Mizuo Peck, Gretechen Hall