London costume house Angels has made and supplied outfits to hundreds of films, from Lawrence Of Arabia to Maggie Smith's muddy boots in The Lady In The Van. As Bafta is poised to honour the company, Sarah Cooper meets the family of Angels.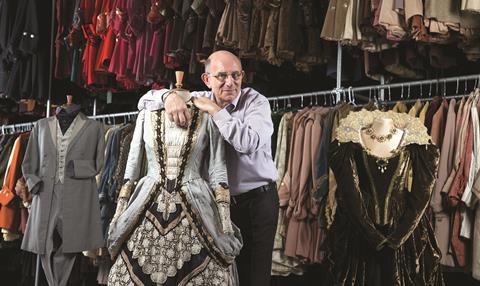 From Shakespeare In Love to Star Wars, The Great Gatsby to The Grand Budapest Hotel, London-based costume house Angels has supplied millions of costumes to scores of Bafta and Oscar-winning films. But for the first time, the 175-year-old family business will itself take centre stage this awards season as the recipient of the 2016 Bafta for outstanding British contribution to cinema.
"We have always been the bridesmaid and never the bride, so it's very exciting to have our contribution recognised," says Angels' chairman Tim Angel of the award, which he will accept on February 14 at London's Royal Opera House. He will be accompanied by his three children, all of whom also work for Angels — Jeremy (creative director), Daniel (head of costume) and Emma (head of fancy dress). "I've been given the baton and I'm running with it, but there have been seven Angels at the helm of this company and 15 Angels involved in the business, not to mention all the people who have worked for the company over the years. This Bafta is for all of them."
"We go back hundreds of years, we've got amazing stock, we remain competitive and we are very good at what we do," Tim Angel, chairman
Since starting life in 1840 as a second-hand clothing stall in Covent Garden, the company has gone on to establish itself as the world's biggest and longest-standing supplier of costumes to the film and TV industry, as well as operating a successful fancy-dress arm out of its north London headquarters in Hendon (established in 2002) and its long-established shop on Covent Garden's Shaftesbury Avenue in central London.
Angels' vast Hendon base houses an incredible eight-and-a-half miles worth of clothes rails and around 1.5 million items of clothing, ranging from Roman gladiator gear to 1940s dresses, 1960s minis to every kind of military garment. The collection is stored under one giant temperature-controlled, moth-proof roof. The warehouse also includes rooms dedicated to jewellery, fur and even period underwear.
Alongside iconic costumes from Lawrence Of Arabia, Indiana Jones, Elizabeth and Star Wars, there are gems such as Clint Eastwood's military jacket from Where Eagles Dare (complete with his name on the label inside) and a rail dedicated to Santa Claus outfits, including Dudley Moore's elf costume from 1985's Santa Claus: The Movie.
"We're only as good as our stock," says Angel of his company, which has acquired a number of other costume houses over the years, including Berman's & Nathan's in 1992 and the BBC's entire costume department in 2008. Despite the vast collection of garments, costume designers and directors will often require costumes to be specially made, which is where the skilled staff in the men's and ladies' making rooms come into their own.
"With the arrival of HD and 3D, what you see on screen is shown up much more. People are noticing costumes more than ever before," Jeremy Angel, creative director
The art of a costume house like Angels is its ability to re-use clothing. The Chinese outfits used on Steven Spielberg's Empire Of The Sun (1987), for example, were reworked into the outfits worn by the sheriff of Nottingham's soldiers in Robin Hood: Prince Of Thieves (1991). Other tricks include rubber helmets and Angels' own special concoction — named 'Pure Filth' — that looks exactly like mud but can be easily washed out.
As well as supplying to a host of successful UK films — including the Harry Potter franchise and The King's Speech — Angels is also seen as one of the go-to costume houses for big US productions. "Budgets are tight and there is global competition, but the fact that productions want us to send costumes around the world means we must be doing something right," says Angel, who has supplied projects in China and Australia.
"They come here because they know they can get what they want, particularly in terms of period costumes. We go back hundreds of years, we've got amazing stock, we remain competitive and we are very good at what we do."
Having served as both chairman of Bafta and a governor of the BFI, Angel is also acutely aware of the need to evolve and adapt to rapidly changing technology. That technology has presented both challenges — computer-generated crowds have cut back on potential work — and opportunities, as creative director Jeremy Angel points out: "With the arrival of HD and 3D, what you see on screen is shown up much more. It means the quality has to be higher, but it's also fantastic because people are noticing costumes more than ever before."
The company's bread-and-butter work has increasingly come from high-end TV dramas such as Game Of Thrones, Downton Abbey and new Netflix series The Crown.
For upcoming film productions, Angels has supplied costumes for Spielberg's The BFG, How To Talk To Girls At Parties, Tulip Fever, Beauty And The Beast and David Yates' Fantastic Beasts And Where To Find Them, as well as several top-secret franchise films. Meanwhile, Bafta-nominated films in contention this year include Bridge Of Spies, Cinderella, The Danish Girl and The Lady In The Van, in which Maggie Smith can be seen wearing suede boots owned by Tim Angel's mother-in-law. "All our stuff ends up as stock," he laughs.
It is not surprising a company that has supplied costumes to 36 recipients of the best costume design Oscar has also launched the careers of several award-winning costume designers, including Jacqueline Durran (Atonement, Anna Karenina, Mr. Turner) and Julian Day (Rush, In The Heart Of The Sea, Our Kind Of Traitor).
The company also invests in the future artisans of the costume world, taking up to six apprentices a year, who are paid during their time at the company and offered the chance to experience life on a film set. Says Angel: "We want to train them to go out and have successful careers in film. It's about giving back to an industry that has given us an awful lot."
ANGELS IN NUMBERS:
3 Number of months each Angels employee has to spend "putting stock away" when they first join the company
120 Number of staff working at Angels
175 Years the company has been running
1,400 Most costumes supplied by Angels for a single film — on two occasions (Evita and The Theory Of Everything)
54,000 Amount (in UK sterling) that Obi Wan Kenobi's robe fetched when sold at auction in 2007