Dir/scr. Giuseppe Tornatore. Italy. 2009. 163 mins.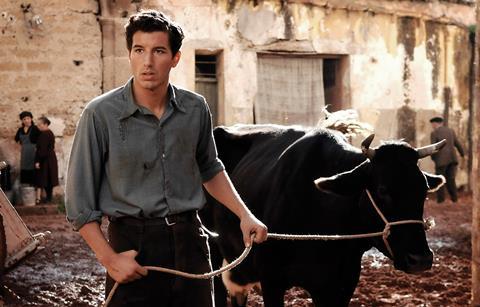 They don't make them like this any more, or at least not very often – rambling Euro-epics with an apparently nonchalant attitude towards budget (around $30 million) and running time (two and three quarter hours). But the kind of breathing space and large canvas those pre-recession parameters ensure was clearly what Italian director Giuseppe Tornatore needed to just about pull off his most ambitious film since Nuovo Cinema Paradiso.
Tornatore steers a careful and likeable course, mixing big emotional scenes with others of wry local comedy
Granted, there's too much going on in this self-penned tribute to the director's Sicilian hometown, family and neighbours – a few too many characters to track across the decades, too many underdeveloped themes, too much choreography in the crowd scenes, too many swooping crane shots, and a surging orchestral soundtrack by Italian legend Ennio Morricone that should be arrested for emotional bullying. But somehow, the Baroque confidence and verve of Tornatore's direction – in itself too much on more than one occasion - carries the day.
The running time and relative obscurity of the story's historical background – covering northern Sicily in the half-century between the 1930s and the 1980s – could limit the film's international audience. But older Euro and US viewers especially will identify with the film's curious mix of political engagement and cliched Sicilian colour, landing Baaria at the more commercial end of the prestige world cinema shelf. In Italy itself, audiences (and critics) will be split between those who decry the film's surrender to all those noble-peasant, poor-but-happy stereotypes of Sicilian life and those who are swept along on the emotional tide.
The key figure in the story's crowded fresco is Peppino (Scianna), the son of a shepherd, who lives in Bagheria ('Baaria' in the local dialect), a town not far from Palermo known just as much for its historic palazzos as its Mafia connections. But it's Peppino's father Cicco (Aronica) who first makes an appearance, teaching himself to read in Fascist Italy and being marked down as a troublemaker by the authorities. His son follows suit, joining the Italian Communist party in a town dominated by Mafia-tolerant Christian Democrats. Peppino wins the hand of pretty local girl Mannina (Made) against her parent's opposition, but life is hard and he is forced to go to work in France. On return, he wins a seat on the town council, and makes impassioned speeches against city-hall corruption while his own son Pietro nurtures a love of the movies.
Scianna's impassioned performance in lead role helps to glue together a sometimes disorienting daisy chain of incidents; the same cannot be said of Made, whose model looks and weak performance rob Mannina of the authenticity the character needs.
Tornatore's flights of fancy suffer inevitably in comparison with Fellini's Amarcord – another Italian director's attempt to storyboard his early memories and the town they were associated with. And parallels with another Sicilian family epic – The Godfather – highlight the script's lack of big cruxes and primal dramatic power. But tonally, Tornatore steers a careful and likeable course, mixing big emotional scenes with others of wry local comedy – sending out the message that life's big turning points can be undermined in the claustrophobic atmosphere of a small town, where few characters ever get the chance to be alone, centre-stage.
The director pulls out all the visual stops, using a dazzling array of dolly shots, crane shots, wide-angle shots and slow zooms that sometimes get between the audience and the freshness of the story. But for those who stay with the film through its indulgent running time, this is likely to be Baaria's strength: that it gives a local hero story, laced with small and ordinary failures and successes, the epic treatment.
Production company
Medusa Film
International sales
Summit Entertainment
+1 310 309 8400
Cinematography
Enrico Lucidi
Production design
Maurizio Sabatini
Editor
Massimo Quaglia
Music
Ennio Morricone
Main cast
Francesco Scianna
Margareth Made
Angela Molina
Lina Sastri
Salvio Ficarra
Gaetano Aronica