The full line-up of world premieres in Panorama at the 66th Berlin Film Festival with details on each title including sales contacts.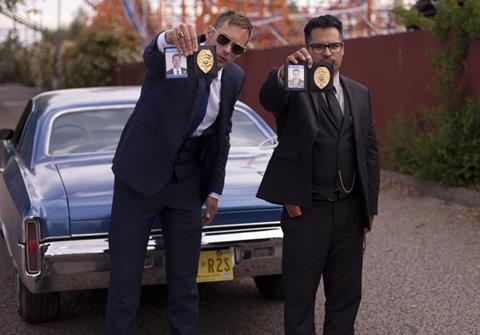 All Of A Sudden (Ger-Neth-Fr)
Dir Asli Ozge
Following Lifelong, which screened in Panorama in 2013, Turkish director Ozge has made her first German-language film, in which a young man has a moment of weakness with a young woman that jeopardises his future. All Of A Sudden stars Sebastian Hülk, known for roles in The White Ribbon, Inglourious Basterds and the most recent series of Homeland, and Julia Jentsch, who won the Silver Bear for her leading role in Sophie Scholl: The Final Days. Jentsch also stars in Competition entry 24 Weeks.
Contact Memento Films International sales@memento-films.com
Aloys (Swi-Fr)
Dir Tobias Nölle
Austria's Georg Friedrich stars as a lonely private investigator who is employed by a mysterious woman. She pulls him into a mind game known as 'telephone walking'. Fascinated by her voice, he discovers an imaginary universe that allows him to break out of his isolation. A graduate of New York's School of Visual Arts, Nölle was one of 10 Swiss directors who worked on the omnibus project Wonderland last year.
Contact New Europe Film Sales jan@neweuropefilmsales.com
The Bacchus Lady (S Kor)
Dir E J-yong
Berlinale regular E J-yong returns with this story of a woman who works as a Bacchus lady, elderly prostitutes who take their name from the popular South Korean Bacchus energy drink. She has devoted her life to men, working within the country's patriarchal society, but finds she has experienced more freedom than any of her clients' wives. The director's last four films have all had their European premieres in Berlin, most recently 2013's Behind The Camera.
Contact M-Line Distribution sales@mline-distribution.com
The Black Frost (Arg)
Dir Maximiliano Schonfeld
Schonfeld's second feature, following 2012's Germania, explores a world disconnected from time where descendants of European immigrants cultivate their land and maintain traditions. But one year the farmers endure a devastating frost that lifts with the arrival of a woman, who is subsequently worshipped by the locals. The film was made with support from Doha Film Institute and won the work-in-progress award at last year's Mar Del Plata International Film Festival.
Contact Still Moving info@stillmoving.fr
Dog Days (HK-China)
Dir Jordan Schiele
Set during an oppressively hot summer, Schiele's dramatic thriller explores the identity of China's twentysomething generation through the story of a provincial young woman named Lulu who finds her unemployed boyfriend and infant son have gone missing and sets out to solve the mystery with the help of a drag performer named Sunny. Huang Lu stars alongside Tian Mu Chen and Luo Lan Shan (A Touch Of Sin).
Contact Bravos Pictures info@bravospictures.com
Don't Call Me Son (Braz)
Dir Anna Muylaert
Brazilian director Muylaert returns following her success with The Second Mother, which won the Panorama audience award last year in Berlin and was Brazil's entry to the foreign-language Oscar race. Don't Call Me Son is about a middle-class teenager whose life is upended when the woman he thought was his mother is arrested after being forced to take a DNA test. He moves in with a new family and has to change his address, school and identity.
Contact Loco Films info@loco-films.com
Fukushima, Mon Amour (Ger)
Dir Doris Dörrie
Dörrie's fascination with all things Japanese has enticed her back to the Far East for her latest film, eight years after Cherry Blossoms had its world premiere in Competition at Berlin. Visiting earthquake-torn Fukushima as part of the Clowns4You charity, a young German man meets an elderly Japanese geisha. Together, they set out to overcome personal demons and begin a new chapter in their lives.
Contact The Match Factory info@matchfactory.de
Jonathan (Ger)
Dir Piotr J Lewandowski
Lewandowski's directorial debut features Jannis Niewöhner in the title role of a young man caring for his terminally ill father. He falls in love with his father's nurse and begins to view his life in an entirely new light. But a family secret is uncovered when his childhood friend reappears.
Contact Kordes & Kordes Film info@kordesfilm.de
Junction 48 (Isr-Ger-US)
Dir Udi Aloni
Aloni returns to the Berlinale with his first feature since Art/Violence, which premiered at the festival in 2013 and won the Cinema Fairbindet Prize. Junction 48 follows two young hip-hop artists who use their music to battle the oppression they encounter in Israeli society. Israeli-American director Oren Moverman (Rampart, The Messenger) co-wrote the screenplay with Tamer Nafar.
Contact The Match Factory info@matchfactory.de
I, Olga Hepnarova (Cze-Pol-Slov-Fr)
Dirs Tomas Weinreb, Petr Kazda
After the Czech documentary Daniel's World screened in Panorama last year, the country is again represented by this four-way co-production with Poland, Slovakia and France. Co-directed and written by Weinreb and Kazda, the film tells the true story of Czech mass murderer Olga Hepnarova, who became the last person to be executed in the then-Czechoslovakia in 1975.
Contact Arizona Films contact@arizonafilms.net
Lantouri (Iran)
Dir Reza Dormishian
Iranian director Dormishian was last in Berlin in 2014 for a Panorama screening of his controversial film I'm Not Angry!, a feature documentary about a dissident student expelled from his university in the aftermath of Iran's 2009 pro-democracy protests. His new documentary follows the Lantouri gang who, rob the inhabitants of the wealthy neighbourhoods of northern Tehran, on the streets and in their homes — a cry of anger and rage at the social injustices they see all around them.
Contact Iranian Independents info@iranianindependents.com
Nakom (Gha-US)
Dirs Kelly Daniela Norris, TW Pittman
The directors, who collaborated on the award-winning short film Sinnerman, re-team for this Ghana-set drama. Jacob Ayanaba stars as a talented medical student who returns to his home village to fight for his family's survival following his father's sudden death.
Contact Rasquache Films rasquachefilmproductions@gmail.com
On The Other Side (Cro-Ser)
Dir Zrinko Ogresta
The seventh feature by Croatian filmmaker Ogresta follows a middle-aged nurse living in the Croatian capital of Zagreb. Her life is turned upside-down when her husband is released from prison, after serving time for crimes committed during the Balkans conflict of the early 1990s. Ksenija Marinkovic stars alongside Lazar Ristovski, whose credits include Underground, Casino Royale and The November Man.
Contact Cercamon World Sales hello@cercamon.biz
Paris 05:59 (Fr)
Dirs Olivier Ducastel, Jacques Martineau
The directorial duo of Ducastel and Martineau premiered their debut feature Jeanne Et Le Garcon Formidable in Competition at the Berlinale in 1998 and have been regulars ever since. Their new film stars Geoffrey Couet and Francois Nambot as Theo and Hugo, who enjoy a steamy encounter in a Paris sex club and then wander the city's empty, nocturnal streets exploring their nascent love.
Contact Ecce Films eccefilms@yahoo.fr
Road To Istanbul (Alg-Fr-Bel)
Dir Rachid Bouchareb
A timely drama about a mother who goes in search of her 18-year-old daughter after she leaves Belgium to join Islamic extremists, Road To Istanbul is the second film from Bouchareb to explore the impact of extremism on individuals, after London River. The Franco-Algerian director co-wrote the screenplay with Zoé Galeron and Olivier Lorelle, and Algerian writer Yasmina Khadra.
Contact Elle Driver semira@elledriver.eu
Shepherds And Butchers (S Afr-US-Ger)
Dir Oliver Schmitz
South African director Schmitz, feted at Cannes in 2010 for Life, Above All, has made his most high-profile film to date with Shepherds And Butchers starring Steve Coogan and Andrea Riseborough. Set towards the end of apartheid, Coogan stars as a hotshot lawyer who faces his greatest challenge when he agrees to defend a white prison-guard who has killed seven black men. What ensues is a charge against the death penalty itself.
Contact WestEnd Films info@westendfilms.com
Shelley (Den-Swe)
Dir Ali Abbasi
Iran-born Abbasi's feature debut is a horror drama in which a couple living in an isolated villa get more than they bargained for when they seal a pact with their Romanian maid. Abbasi wrote the script with Maren Louise Kaehne, whose credits include hit Danish TV series Borgen and The Bridge. The cast includes Cosmina Stratan, star of Beyond The Hills, Ellen Dorrit Petersen, who won Norway's Amanda award for Blind, and The Bridge's Peter Christoffersen.
Contact Indie Sales info@indiesales.eu
The Tenth Man
Dir Daniel Burman
Burman's The Tenth Man (El Rey Del Once) opens Panorama some 18 years after he did the same with his feature debut A Chrysanthemum Bursts In Cincoesquinas. His latest film paints a portrait of life in Once, the Jewish quarter of Buenos Aires. Alan Sabbagh, and Julieta Zylberberg star. Burman won the Berlin Silver Bear in 2004 for Lost Embrace. Disney has picked up Latin American rights for The Tenth Man.
Contact FilmSharks alpha@filmsharks.com
Time Was Endless (Braz-Ger)
Dirs Sergio Andrade, Fabio Baldo
Andrade, whose 2012 debut Jonathas' Forest was set in the Amazon, returns to the rainforest for this story of a young man who faces a cultural clash between his tribe's Amazonian Indian rituals and the urban life he finds so alluring. Anderson Tikuna, who also featured in Andrade's debut, takes the lead in this second feature. Time Was Endless is co-directed by Baldo, who previously directed shorts and worked as a sound editor on Jonathas' Forest.
Contact Ana Alice de Morais ana.alice@3moinhos.com
Tomcat (Aust)
Dir Klaus Händl
Händl's second outing as a director following his debut März, which premiered at Locarno in 2008, follows a couple who live together happily in a beautiful old house in Vienna's vineyards. However, an unexpected outburst of violence suddenly shakes up the relationship.
Contact Films Distribution info@filmsdistribution.com
War On Everyone (UK)
Dir John Michael McDonagh
This black comedy from the writer-director of Calvary and The Guard is about two corrupt cops in New Mexico. Alexander Skarsgard, Theo James and Tessa Thompson star. It is produced by Reprisal Films, the BFI and Headgear Films.
Contact Bankside Films films@bankside-films.com
While The Women Are Sleeping (Jap)
Dir Wayne Wang
Takeshi Kitano stars in this mystery thriller as an author, on holiday with his much younger girlfriend, who is watched by another writer at the resort. The Japanese-language film is a first for Hong Kong-born, US-based Wang. While The Women Are Sleeping is adapted from a short story by Spanish writer Javier Marias. The project was presented at Busan's Asian Project Market in 2013. Toei has Japanese rights.
Contact Toei international@toei.co.jp
The Wounded Angel (Kaz-Fr-Ger)
Dir Emir Baigazin
Baigazin is back at the Berlinale after his feature debut Harmony Lessons won a Silver Bear in 2013. Set in 1990s Kazakhstan, The Wounded Angel is the second film in his trilogy about teenagers trying to navigate a complex, adult world. The film unfolds in four narratives that follow the destinies of four teenagers attempting to find their place in the tough climate of a small village in Kazakhstan.
Contact Capricci info@capricci.fr
You'll Never Be Alone (Chile)
Dir Alex Anwandter
The directorial debut of writer and composer Anwandter, this Spanish-language drama tells the story of Juan, a manager at a mannequin factory. After his gay teenage son suffers a violent attack, he struggles to cope with paying the exorbitant medical bills and to hold down his job. Anwandter was previously the composer of Marialy Rivas' comedy drama Young And Wild, which premiered at Sundance in 2012 and screened at the Berlinale.
Contact Wide Management infos@widemanagement.com
Also screening in Panorama
Goat (US) Dir Andrew Neel
Indignation (US) Dir James Schamus
The First, The Last (Fr-Bel) Dir Bouli Lanners
Little Men (US) Dir Ira Sachs
Maggie's Plan (US) Dir Rebecca Miller
Much Ado About Nothing (Chile-US-Ger) Dir Alejandro Fernandez Almendras
The Ones Below (UK) Dir David Farr
Remainder (UK-Ger) Dir Omer Fast
Sand Storm (Isr) Dir Elite Zexer
Starve Your Dog (Mor) Dir Hicham Lasri