Virtual reality (VR) was embraced in the European Film Market's Startup Programme, now in its second year.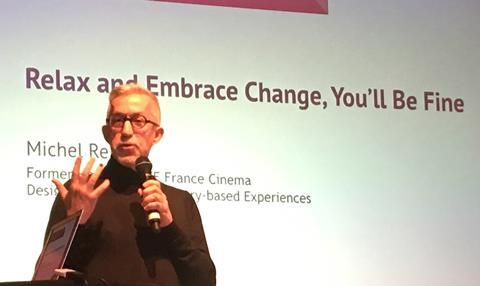 The event included panels pertaining to the development of VR films, as well as presentations from ten entrepreneurs - five from Berlin and, for the first time, five from around Europe.
Also new this year, a VR cinema lounge was presented giving participants the chance to watch a selection of films via headsets.
EFM Director Matthijs Wouter Knol told Screen, "We want to connect the film industry with leading start-ups - particularly here in Berlin, which is one Europe's fastest growing technology hubs.
"This is also an opportunity to present new perspectives and solutions to film-makers."
Keynote
In one of the more impassioned talks - Michel Reilhac, VR creator and former Head of ARTE France Cinema, professed that while VR is still in its infancy stages; VR headsets would be the "hottest" holiday gift by the end of the year, and in five years, the average person would own glasses with both augmented reality (AR) and VR capabilities.
He also cited research from Goldman Sachs indicated VR would grow to be just under a $100bn industry, also within five years.
Reilhac said skepticism was to be expected before this growth in business and popularity, with many comparing it to the waning interest in 3D. "3D takes place within the realm of cinema. Virtual reality breaks down these walls, changing the dimension of how films are watched."
While he admitted VR still has its issues - citing the difficulty in "video stitching" multiple close-up images as one example - he said the medium is taking quantum leaps every day. "Look at Steven Spielberg - he has announced a virtual reality film [with Robert Stromberg's Virtual Reality Company, who also developed The Martian VR Project]. Star Wars is creating a VR series [with Disney and Lucasfilm]."
He concluded his talk with another raft of predictions including lighter headsets, increased alternative content platforms with VR steaming sites and more companies like Apple [and now Google] creating their own headset variation. "The model of distribution is changing - film-makers must accept 'flatties' [2D films] are not the only way to make films.
"With VR, directors can be more specific in what they want to show audiences. Likewise, audiences can also be more involved in what they decide to see. This is what makes the medium so exciting."
Start-Ups
In cooperation with Medienboard Berlin-Brandenburg and Startup Germany, below is the selection of ten start-ups.
Beemgee (Berlin, Germany)
A story development platform that lets writers create virtual reality rooms, plot structure visualisations and character building structures.
WeMakeVR (Amsterdam, Netherlands)
A VR company that has created a revolutionary camera system allowing users to create immersive 3D films.
Greta and Starks (Berlin, Germany)
Together with an app and glasses, cinema-goers can watch sub-titles in the language of their choice. Audio options are also provided for the hearing and sight-impaired.
The Future Group (Oslo, Noway)
A platform that melds TV, gaming, brand awareness and social shopping via PCs, mobiles and televisions.
Just Watch (Berlin, Germany)
A marketing company that collects anonymised data on movie taste and buying behaviour to help the industry best reach their relevant audiences.
Maschinen-Mensch (Berlin, Germany)
Creates innovative games involving gameplay, innovative storytelling and visual identity.
Smart Pricer (Berlin, Germany)
Helps cinemas and distributors increase box office revenues through dynamic pricing based on the film's popularity, show times, bookings and algorithms.
Scriptbook (Antwerp, Belgium)
Provides global box office forecasts through automated analysis of film scripts, helping film-makers and executives reach a wider consumer audience.
Usheru (Dublin, Ireland)
An app that simplifies booking cinema tickets, also includes films showing at festivals.
Valossa (Oulu, Finland)
Provides management and monetisation of video assets through Deep Search and Deep Metadata products.