EXCLUSIVE: Ahead of its Berlinale debut, Screen talked to the producers behind the buzzed-about John le Carré adaptation, which cost $5m per episode.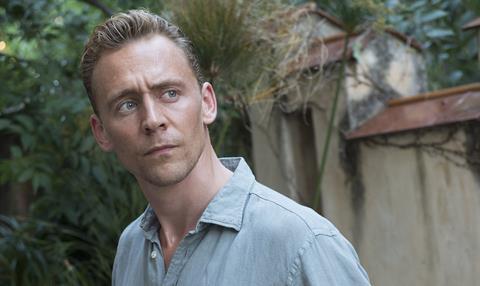 With a budget and creative team that most film producers can only dream of, it's easy to see why Susanne Bier's The Night Manager is among the most anticipated projects to screen at this year's Berlin Film Festival.
It's a sign of the times, however, that the project isn't a feature screening in main competition but in fact a six-part TV series whose first two episodes are showing in the glittering TV strand Berlinale Special Series.
The BBC-AMC co-commission combines acclaimed source material from iconic spy novelist John le Carré, Oscar-winning director Bier, a cast including Tom Hiddleston, Elizabeth Debicki, Hugh Laurie, Olivia Colman and Tom Hollander, and in-demand screenwriter David Farr.
At $30m, The Night Manager has a budget bigger than any film playing at this year's Berlinale, and at $5m a pop, the series is the priciest drama per episode of any commissioned by a UK broadcaster.
Crucially for the UK's flagship public broadcaster, it is the first BBC TV adaptation of a le Carré novel in almost 30 years.
In The Night Manager, leading man Hiddleston plays Pine, a night manager of a European hotel who is recruited by intelligence agents to infiltrate an international arms dealer's network.
The buzzed-about series is a fusion of spy story and tale of organised crime, in which to infiltrate the inner circle of a lethal and amoral gangster, Pine must himself become a criminal.
The source material has been long in-demand.
"It has been a 23-year journey from book to screen," explains le Carré's son Simon Cornwell, who produces with brother Stephen under their red-hot London and LA-based production banner The Ink Factory (Our Kind Of Traitor).
"Soon after the book was published in 1993, it was optioned by Paramount as a feature with Sydney Pollack attached to direct from Robert Towne's script. That didn't work. Five years ago, Brad Pitt and Plan B Entertainment took it on with Paramount again on board. But that didn't work either."
Everyone wanted a piece of the novel. Even The Night Manager star Hugh Laurie tried to option the book when it first came out, wanting to play Pine.
"But this is a sprawling 500-page book, across different continents, with massive characters who muscle their way off the page," explains Cornwell. "It just didn't fit into 90 minutes."
US network AMC joined soon after the BBC in a deal facilitated by WME. The Mad Men broadcaster will distribute in North America and a host of international markets.
"We financed the series like an independent film," acknowledges Stephen.
"We made chunky presales in Europe and we had tax incentives in Spain and the UK. We committed equity to the project ourselves and Demarest joined as a junior equity partner."
Le Carré himself helped adapt his novel by adding hooks for contemporary audiences. Olivia Colman's character Burr is in fact a gruff, no-nonsense Yorkshireman in the book.
It is the first time a le Carré character has been gender-swapped for screen.
Were the series to return for a second run, that would also mark a first:
"It's a lovely idea but le Carre has never allowed an adaptation that goes beyond the parameters of the original book," cautions Simon. "We're not ruling it out, but we're not ruling it in."
The Ink Factory has plenty to keep it busy in the meantime. The film and TV company is on a roll. Having produced back to back le Carré film adaptations (A Most Wanted Man and Our Kind Of Traitor, the latter due out in May), the company is in post-production on Ang Lee's Billy Lynn's Long Halftime Walk and Fabrice Du Welz's Message From The King, both of which are released this year.
Owning the le Carré IP is a golden ticket, but the slate is increasingly diverse.
Among projects in development are an original one-hour TV series from Billy Lynn's Long Halftime Walk author Ben Fountain and features including thriller The Line, which Vin Diesel's One Race Films has been co-developing, Nazi-hunt thriller Hanns & Rudolph, adapted by Ronald Harwood, as well as le Carré novel adaptation A Delicate Truth, which Bill Monahan is adapting.
The company is expanding rapidly. Recent staff additions include former Cross Creek executive Becky Sloviter, who will serve as senior vice president of development and production based in LA, and former Ruby Films executive Mona Qureshi and former BBC drama executive Emma Broughton, who have joined as co-heads of development and production in London.
Jane Frazer will serve as head of physical production and former Arts Alliance exec Yogita Puri has joined as head of commercial and business affairs.
The first two episodes of The Night Manager screen in Berlin on Thursday 18th as part of the Berlinale Special Series strand. BBC One will air the first episode on Feb 21, AMC will air in the US on April 19.