Dir: Adrian Sitaru. Romania-Hungary. 2011. 105mins.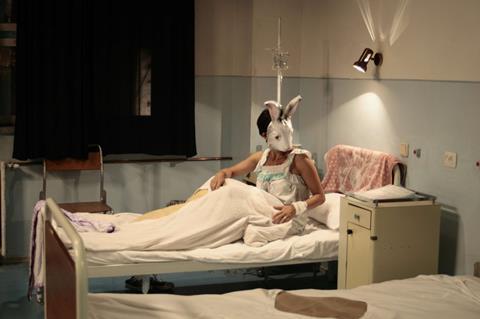 A family portrait painted with affection and sympathy but also with a jaundiced smile, Adrian Sitaru's new picture (screening in competition in Locarno) - no relation to Bille August's Bergman-scripted series - may finally prove to be just too much of a good thing. He most certainly captures all of the small, often irritating details of a family in crisis, but he dotes on them with such minute attention that after a while you tend to feel like the lead character who thinks he might have been better off had he gone home earlier and cut the whole thing short.
Sitaru, as usual, draws out every bit of potential from each camera set-up
Well-acted on the whole, and using the same type of long takes and subjective camera angles that had become Sitaru's trademark after Hooked, this ensemble piece should do well around festivals and find its niche in the art houses.
Alex (Bogdan Dumitrache) is an over-anxious young man who lives in Bucharest with his girlfriend, Delia (Alina Grigore). One morning, he gets a call from his father (Marian Ralea) telling him that his mother has had a mild stroke and has been hospitalised. From this moment on, Alex, an only son with excessive affection for his mother (Natasha Raab) enters a state of manic depression, which gets worse with every interaction.
As soon as he reaches his mother's bedside in the hospital he becomes a pest, insisting that she should be moved to another facility, making mountains out of molehills and annoying everyone around him, including the audience, with his interminable nagging, all of it done with the best intentions in the world.
To Sitaru's credit, the characters he puts on screen and their conduct could easily fit into any middleclass background around the world, the casual intimacy and closeness of their relations being cloying and sufficiently irritating to explain why family reunions are not always as much fun as they're supposed to be. No one doubts the admirable intentions of each one, but when they come together, one on top of the other, in a state of crisis, they can easily be more suffocating than helpful.
Bogdan Dumitrache, who carries most of the film on his shoulders, has the petulance of a spoiled child who believes no one knows better than him what's best for mum, not even mum. The solid supporting cast effortlessly inhabit their parts.
Sitaru, as usual, draws out every bit of potential from each camera set-up, though if the choice of angles is supposed to be subjective, it is not always clear whose POV is represented each time. It all looks surprisingly familiar, the implied satire is inserted as a matter of course and no false notes sneak in, though the woman in the hospital wearing a bunny mask to hide a deformed face might be over the top. But even in the best families, there is a need for respite. And this is just an average family, not necessarily the best.
Production companies: Hifilm Productions
International Sales: Film Boutique
Producer: Ada Salomon
Cinematography: Adrian Silisteanu
Editor: Andrei Gorgan
Main cast: Bogdan Dumitrache, Alina Grigore, Natasha Raab, Marian Ralea