Dir/scr: Charlie Lyne. UK. 2014. 90mins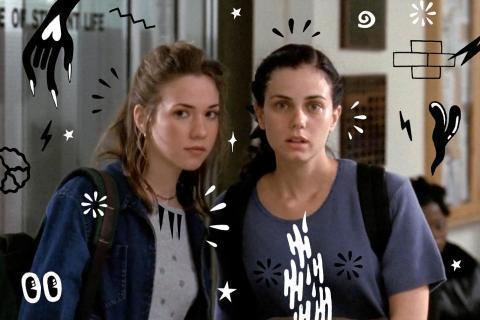 The American High School movie gets well and truly dissected and debated in Charlie's Lyne's debut feature Beyond Clueless, which thoughtfully puts together a compilation of extracts from more than 200 movies – some well remembered, some best forgotten – that examine the heartbeat of the teen movie genre.
There is no denying the wealth of research and smart analysis that makes up Beyond Clueless.
Fully-funded by more than 500 kickstarter backers in January 2013, the film is a perfect SXSW premiere given its teen stature and nice score by acclaimed pop duo Summer Camp. Add to the pot narration by cult teen star Fairuza Balk (who starred in The Craft and Almost Famous) and you have a smartly structured film.
Sticking strictly to films from the 1990s and 2000s, the film makes the solid argument that teen cinema came of age during that era (sure there have been other classics over the years, from Rebel Without A Cause through to Grease, but these are appropriately left to one side), and that far from being a genre to be laughed at it remains a successful and often astute phenomenon.
The opening prologue runs through the structure and plot of Balk's The Craft, a slick teen chiller that also followed the strict rules of the teen film (outsiders bonding together against peer pressure adversity etc), before setting up five chapters that run through the spine of the teen movie, ranging from 'fitting in' and 'acting out' through to 'toeing the line ' and 'moving on'.
The extracts are often of familiar films and scenes – the titles include Mean Girls, Cruel Intentions, I Know What You Did Last Summer, She's All That, Idle Hands, Disturbing Behaviour, The Girl Next Door, The Faculty, Ginger Snaps, Eurotrip, Final Destination, Bubble Boy, 13 Going On 30 and even Spider Man – that run through those teen film rituals much loved of the genre. From the outsider newly arrived at school, burgeoning sexuality and having the rules of the corridors explained, though to the prom and the last day of term party, the teen movie tends to follow strict rules, all of which are fully explained.
The narration-heavy film is laden with smartly chosen extracts, and while perhaps not quite as fun and frothy as the packaging suggests, it offers a smart analysis of the high school movie genre. At times the narration spends too much time explaining plots of various films (and sounds as much like a book as a documentary script) but there is no denying the wealth of research and smart analysis that makes up Beyond Clueless. It should appeal to savvy broadcasters and niche distributors, with a star cast – in clip form only of course – that should make it an appealing prospect.
International sales: Film Sales Company, www.filmsalescorp.com
Producers: Anthony Ing, Billy Boyd Cape, Charlie Lyne
Executive producers: Louis Bhose, Miles Haughton, Oliver Levy, Fred Macpherson, Sue Odell
Co-producer: Catherine Bray
Editor: Charlie Lyne
Music: Summer Camp
Website: www.beyondclueless.co.uk