EXCLUSIVE: Rieu concert scored biggest single weekend box office for a concert movie.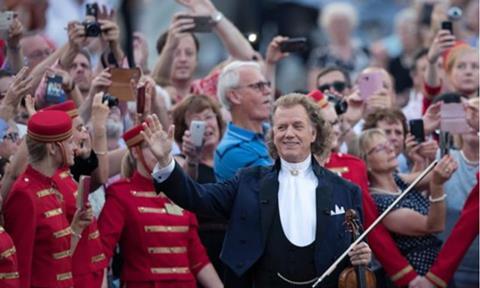 André Rieu's 2017 Maastricht Concert took £1.45m at the UK and Ireland box office on the weekend to become the highest-grossing music concert over a single weekend in the territory.
The film was screened in 586 locations across the UK and Ireland across the weekend of July 22nd and 23rd, grossing a verified weekend result of £1,447,086 (source: Rentrak).
It was the first time the concert was produced and distributed by Rieu's own company Piece Of Magic.
The concert will also screen in 700 cinemas across Europe including The Netherlands, Belgium, Denmark, Spain, Poland, Israel.
According to Piece Of Magic, participating sites are up 50% to 1200.
A second wave of screenings will be held in France, Germany, Mexico, Argentina and Brazil later this year, bringing the overall total to over 1500.
Caspar Nadaud, CEO of Piece Of Magic commented: "We are very proud that POM managed to increase both box office and amount of cinemas across Europe considerably from last year. This is a great sign that exhibitors have strong trust and belief in our marketing and bespoke campaign strategies, especially introducing local hosts for all key territories."