Baz Luhrmann's Cannes opener The Great Gatsby is his first film in 3D. Will it continue the director's upward trajectory at the global box office?  Ian Sandwell reports.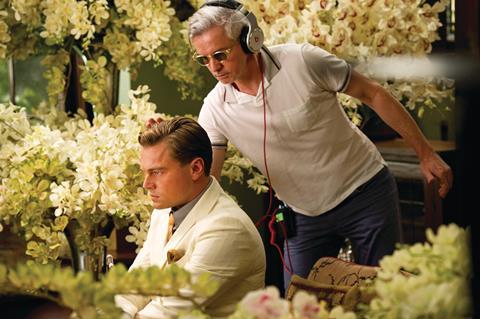 In F Scott Fitzgerald's The Great Gatsby, Nick Carraway famously declares, "You can't repeat the past," prompting Gatsby to respond, "Why of course you can." All the signs for Baz Luhrmann's 3D film adaptation of the classic novel point to the director proving Gatsby right at the global box office.
Starring Leonardo DiCaprio, Carey Mulligan and Tobey Maguire, The Great Gatsby is released in the US on May 10, five days before it opens the 66th Cannes Film Festival on May 15, where it plays out of competition. Luhrmann is no stranger to the Croisette, having opened the festival in 2001 with Moulin Rouge!, while his debut, Strictly Ballroom, world premiered in Un Certain Regard in 1992.
Like The Great Gatsby, Moulin Rouge! was initially slated for a Christmas release before being shifted to May of the following year. It subsequently became Luhrmann's biggest US hit to date at $57.4m and his second biggest worldwide at $179.2m.
Warner Bros, which releases The Great Gatsby worldwide, opens the film in the major European territories the week of the film's Cannes screening, promising a potentially lucrative opening international bow as European audiences have historically proven to be some of Luhrmann's most loyal.
The UK leads the pack with more than $50m for the director's four features to date, including returns of $27m for Moulin Rouge! - more than a sixth of its entire overseas tally and the biggest international result - and $5m for Strictly Ballroom. Germany has provided just over $40m, including the biggest European haul for Australia with $17.3m in 2008, as well as the biggest overseas result of $14.2m for Romeo + Juliet in 1996. Spanish and French audiences flocked to Australia too, with grosses of $15.8m and $14.7m respectively.
Luhrmann has enjoyed similar success in his home territory of Australia, providing three of the biggest local hits of all time. Chief among them is Australia as the second biggest homegrown Australian success of all time, behind Crocodile Dundee. Moulin Rouge! ranks as the fifth biggest, while Strictly Ballroom sits seventh with its local tally of A$21.8m (around $16m based on the historical rate of A$1.36 = $1).
But while Australia has been among the first territories to receive Luhrmann's features to date - barring US production Romeo + Juliet - The Great Gatsby will be released there on May 30, around two weeks after the major European territories and the US.
Overall, Australia ranks as Luhrmann's biggest film to date, with $211.3m globally. The historical epic starring Nicole Kidman and Hugh Jackman also continued two trends in Luhrmann's career: more than two-thirds of its worldwide tally came from international territories and it posted yet another gross increase on his previous film.
Romeo + Juliet is Luhrmann's only other literary adaptation and its performance offers quiet promise for The Great Gatsby. Despite relatively soft returns in territories including Sweden ($1m), Spain ($2.9m) and Italy ($3.3m), all of which have since become strong territories for the director, Romeo + Juliet still managed $101.2m internationally despite the potentially polarising Shakespearian dialogue. The adaptation also saw Luhrmann's biggest-ever results in South Korea and Japan at $7.4m and $9.4m, respectively.
Another boost to the promise of The Great Gatsby is the presence of another of Romeo + Juliet's quirks: a modern-day soundtrack. A new trailer released on April 4 previewed music from the soundtrack, which features the likes of Jay-Z, Emeli Sandé, Beyoncé and Lana Del Rey. Interscope Records will release the soundtrack worldwide on May 6.
The decision to shoot in 3D could also prove an auspicious one following the huge awards and box-office success of Ang Lee's Life Of Pi - another literary adaptation. Indeed, the outstanding $608.3m global haul of Pi to date suggests 3D is still a big draw for audiences, and can work for more 'serious' fare. Eyes will be on The Great Gatsby to see if 3D can continue to appeal to this audience, or if Pi's performance ends up being the exception rather than the rule.
And it is impossible to ignore the calibre of the stars involved. The Great Gatsby reteams Luhrmann with his Romeo, DiCaprio, who is no stranger to box-office success with Django Unchained's $420.6m worldwide bounty (as of April 21) adding another hit to a career that includes Inception's $825.5m global gross and Catch Me If You Can's $352.1m, not to mention Titanic's $2.1bn haul.
Spider-Man's Maguire saw worldwide returns of almost $2.5bn across the trilogy, while Mulligan appeared in the likes of Wall Street: Money Never Sleeps ($134.7m) and Public Enemies ($214.1m), although not as a leading cast member.
Gatsby's ace in the pack might well be Bollywood superstar Amitabh Bachchan in his Hollywood debut, which could lead to strong returns for Luhrmann's adaptation in India.
Gatsby: selected release dates
US: May 10
France: May 15
Germany: May 16
Italy: May 16
Spain: May 17
Sweden: May 17
UK: May 17
Australia: May 30
Mexico: May 31
Japan: Jun 14
New Zealand: Jun 6
Brazil: Jun 7
Source: Rentrak
Baz Luhrmann at the Box Office
| | Australia | Moulin… | Romeo… |
| --- | --- | --- | --- |
| Australia | $26.5m | $14.7m | $12.7m |
| France | $14.7m | $7.2m | $7.3m |
| Germany | $17.3m | $7.3m | $14.2m |
| Italy | $7.4m | $5.1m | $3.3m |
| Japan | $5.9m | $8.4m | $9.4m |
| Mexico | $4.4m | $2.9m | $2.2m |
| S Korea | $4.7m | $5.2m | $7.4m |
| Spain | $15.8m | $7.5m | $2.9m |
| Sweden | $5.7m | $3.1m | $1m |
| UK | $12m | $27m | $12.1m |
| US | $49.6m | $57.4m | $46.4m |
| Int'l | $161.8m | $121.8m | $101.2m |
| GLOBAL | $211.3m | $179.2m | $147.6m |
Source: Rentrak, Screen International. Comprehensive worldwide figures for Strictly Ballroom unavailable.