Following 2015's spectacular summer box office, it felt like 2016 would struggle to keep up. Surprisingly, even with the Euro football championships and the Olympics, the pace hasn't been far off. By Charles Gant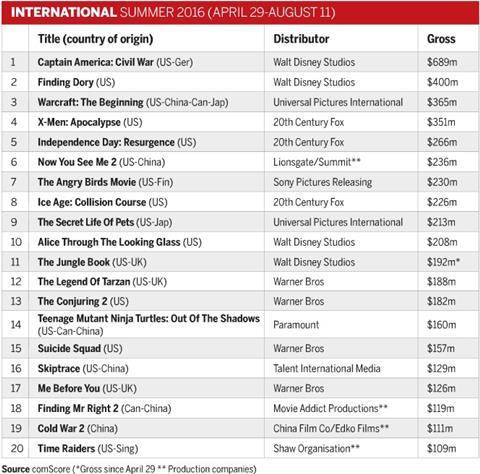 After a 2015 in which the box office rebounded from a dismal 2014 in spectacular fashion, a simple glance at the release slate for this year suggested that 2016 would surely struggle to measure up. The summer season alone last year offered three giant blockbusters in the shape of Jurassic World, Avengers: Age Of Ultron and Minions, films that currently occupy fourth, seventh and 11th place in the all-time global box-office pantheon.
No film released in 2016 has yet caught up with any of summer 2015's monster trio — or, for that matter, last year's other behemoth releases, Star Wars: The Force Awakens, the third biggest film of all time, and Fast & Furious 7, which is sixth. Creatively, it has not felt like a vintage year, particularly the summer period, and the Euro football championships from June 10 to July 10 caused a month-long headache for the studios in European markets. It all adds up to a set of conditions that have knocked global box office off course, right? Actually, not really.
The global market
"It has been a very interesting and very volatile summer," comments Paul Dergarabedian, senior media analyst for data gatherer comScore (formerly Rentrak). "There have been more ups and downs. So many films didn't perform to expectations, but if you look at the collective box office, it's been a very strong summer. It's been, emotionally, a rollercoaster."
Dergarabedian agrees that a lack of enthusiasm for much of the summer product has coloured perception of how it has fared. "There doesn't seem to be the warm and fuzzy love towards a lot of the movies that came out," he says. "Captain America: Civil War kicked this summer off on a high note, critics loved that movie, it made a ton of money. But it's been hard for a lot of other movies to measure up.
If you look at the summer of 2015, it was an outlier in the sense that almost every big movie was also well reviewed. Jurassic World, Mission: Impossible - Rogue Nation and Inside Out were all well reviewed. But collectively this summer might end up beating last summer. In North America, we're running 1% ahead of last year. It's not a big percentage, but I think a lot of people would be shocked to know that we're actually running ahead of last year's incredible summer."
The one studio that has inarguably had a sensational year is Disney, which has scored the two biggest summer hits in both US domestic and international (Finding Dory and Captain America: Civil War), and since January 1 has succeeded with all five of its major divisions: Lucasfilm (Star Wars: The Force Awakens grossed $737m of its tally this calendar year), Disney Animation (Zootopia aka Zootropolis), live action (The Jungle Book) and this summer with Marvel and Pixar. By mid-August, Disney box office was running 42% up on last year at the same stage.
"We've had this crazy year in part because of our high-quality branded entertainment tentpole strategy coming into its own and working at the highest level," comments Disney's distribution EVP Dave Hollis. "There's a combination of brands that really mean something, and that's a rare commodity in the business today. Consumers shop Disney, Marvel, Pixar, Lucasfilm and know how consistently quality has been associated with them."
The view of Kieran Breen, president of international theatrical marketing at 20th Century Fox, is that 2016 has been strong in international territories. "I look at it more over the year to date. The summer is a critical period, but it's much more of a 52-week business now than it ever was before. Over the year, international box office is up about 3%, which is really good news, considering the exchange rate has been going against us. In local currencies, the growth is even bigger, but our business is in dollars."
While the start of the summer — which Screen is defining as the last week in April with the release of Captain America: Civil War — saw blockbusters achieving full global releases aligned with North America, the patterns became more patchwork as the season progressed. "A lot of our movies have been strung out over the summer this year for various reasons," says Breen. "We still have a lot of stragglers to come out. Every time you have the World Cup or European Championship, it impacts the release pattern. Films get pushed back."
The downside of that has been a bunching in late July. "It's unfortunate Jason Bourne and Star Trek Beyond were released in a lot of our markets on similar dates, because they cannibalised each other," says Tim Richards, chief executive at Vue Cinemas, which operates in 10 territories in Europe and Asia. "Both of them were great movies, and would have benefited from more breathing space."
Sporting chance
While the European Championship dented business, says Richards, "the Olympics have not had the same impact, because most of the events are later in the evening or even much later in our markets. It's certainly not equivalent to what happened when they were in London. Brexit for nine of our markets has had absolutely no impact at all, and in the UK it's been either neutral or positive, because people get tired of reading about depressing news all the time, and they look for escape."
International success has compensated for weak North American results. "Without that component, a lot of these movies would really be having a tough time," says Dergarabedian. "When you look at a movie like Warcraft: The Beginning, or Teenage Mutant Ninja Turtles: Out Of The Shadows, they really got a big boost from the international box office."
Breen points to the growing impact of local productions in Asia, such as Fox's own The Wailing, a $48m hit in South Korea. "Of the top 50 films so far this year in international," he says, "16 are foreign-language films — 12 from China, three Korean, one Indian, and some big, big numbers."
After relatively soft North American numbers on Fox's X-Men: Apocalypse ($155m) and Independence Day: Resurgence ($102m), China led the charge in international, with $121m and $75m respectively for those titles. "The original Independence Day has existed in China in various pirated forms over the years, but it never had the same impact there," says Breen. "It was starting at a bit of a handicap versus other markets. That's why casting Angelababy was important. The moonbase was also run by a Chinese commander. They had a significant role in the film."
"Part of the strategy here is an acknowledgement of the importance of stories that can transcend culture, language and borders," adds Disney's Hollis. "The opportunity for big tentpole films to be relevant regardless of geography is part of how you can be okay with taking what is ultimately a bigger risk from a cost perspective."
UK Focus: A reasonably fabulous summer
Despite the lack of any runaway smashes such as last year's Jurassic World, the UK box office has held its own with a strong mix of big-name features and smaller, more surprising successes.
For Tom Linay, head of film at Digital Cinema Media, the big story in the UK this summer has been the late box-office surge. "The summer is finishing strongly," he says. "Looking at admissions, July is 4% up on the same month last year — and July 2015 was strong. August is looking like it's going to be significantly up on last year. I think we are going to be up on last year overall for June, July and August. That's an amazing result, especially considering we had a big football tournament in June."
Just as with the global box office, the success has been achieved despite the lack of monster hits that underpinned summer 2015, when Jurassic World grossed $83.7m (£64.3m), Avengers: Age Of Ultron $62.9m (£48.3m) and Minions $61.4m (£47.2m). "There hasn't been the same number of big blockbusters compared to last year," notes Vue's Tim Richards. "That's actually good news in terms of the strength and depth of the films this year that we can do these kinds of numbers in our markets without having to rely on one or two outliers. There's been a solid range of movies this summer."
While last summer's UK box-office chart showed nothing in the $25m-$40m (£20m-£30m) range (Mission: Impossible — Rogue Nation ultimately made it into that zone, but only after the summer season had ended), this year has seen a trio of summer titles (Finding Dory, eOne UK's The BFG and Warner Bros' Suicide Squad) fall into this category. There have also been a significant number of mid-range hits, including pleasant surprises such as Absolutely Fabulous: The Movie, Me Before You and Central Intelligence.
"Although there have been a few disappointments, I don't think anything has been a catastrophic flop, apart from maybe Ice Age: Collision Course," says Linay. "It's like everything's come to the party, loads of films have contributed, and there's been a decent range of smaller films as well, including The Nice Guys, and Eye In The Sky and Eddie The Eagle from April."
The bottom line is that the numbers cannot lie. In 2015, total UK box office for the 15 weeks beginning the last weekend of April (when Avengers: Age Of Ultron kicked off the summer blockbuster season) totalled $493.4m (£379.2m). This year, for the same 15 weeks, it totalled $497.5m (£382.4m), a rise of 0.9%. The box-office rise on 2014 — a summer to forget, of course — is 23.1%.
Linay reckons that August will end with total admissions for the first eight months at the same level as last year, 2016 effectively now catching up with 2015 after falling behind in the early running. The challenge will be to match the 2015 pace in the final quarter absent a Spectre and Star Wars: The Force Awakens, but Linay is not overly pessimistic.
"Looking towards the end of the year, because Rogue One isn't deemed to be as big as The Force Awakens, there's a bit more competition around it," he notes. "Moana looks stronger than The Good Dinosaur. [Sony Pictures] are obviously confident about Passengers, putting it a week after Rogue One [December 23]. The late November titles look stronger than last year. Fantastic Beasts And Where To Find Them is much stronger than the final Hunger Games film. It's in that October period where we might fall behind a bit."
UK & Ireland
Total Summer Box Office
| YEAR | GROSS |
| --- | --- |
| 2016 | £382.4m |
| 2015 | £379.2m |
| 2014 | £310.6m |
| 2013 | £360.3m |
| 2012 | £348.2m |
Grosses for 15 weeks from last weekend in April
Source: comScore