Serious documentaries can be ideal counter programming to superhero blockbusters. Ian Sandwell talks to UK and US distribution experts about why summer releases can be smart moves for non-fiction films.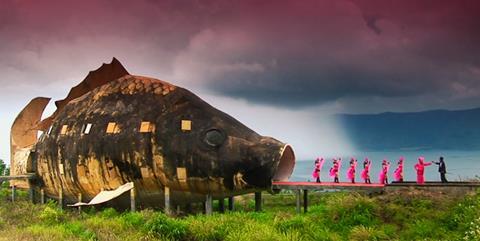 When you think of summer cinema, superheroes and sequels usually sit at the top of the list… not Indonesian death squads and killer whales.
Yet in what could prove to be savvy scheduling on both sides of the Atlantic, notable documentaries The Act Of Killing and Blackfish receive their UK and US bows over the coming months. Other non-fiction launches this summer include I Am Breathing, Pussy Riot: A Punk Prayer, The Moo Man, 20 Feet From Stardom and Cutie And The Boxer.
Back in 2004, Fahrenheit 9/11 prospered following a June release, grossing more than $200m worldwide, while March Of The Penguins enjoyed a robust US run of $77.4m after a June 2005 release. Last year saw 2016: Obama's America take $33.4m in the US following a July release, so can summer be the go-to season for documentaries?
"There are lots of reasons why a film does well, but if you look at the top 10 performing docs of all time [in the US], five of them were released in the summer months," explains Tim League, CEO and founder of Drafthouse Films, which will release Joshua Oppenheimer's The Act Of Killing, showing Indonesian death-squad members re-enacting their crimes, in the US on July 19.
"You can look at the summer as a period where volume for theatrical revenue is high across the board," he continues, "so even if you have a niche release, you're getting access to more available revenue, foot traffic, more people who just want to go to the movies."
"I think it's always right for documentaries," adds Oli Harbottle, head of distribution at UK documentary specialist Dogwoof, which will release The Act Of Killing and Gabriela Cowperthwaite's sea-park exposé Blackfish in the UK, on June 28 and July 26 respectively, as well as handling international sales on the latter.
"The one issue in the summer is the weather; the weather in the UK can kill a film whether it's a documentary or a blockbuster."
The Act Of Killing won two awards at this year's Berlinale, and the special jury award at June's Sheffield Doc/Fest, and Drafthouse is looking to capitalise on that energy. "We feel the positive word-of-mouth and momentum The Act Of Killing is gathering leads nicely into our July release," League adds.
"We also worked with some exhibitors and consulted a specialist, Michael Tuckman [of New York-based mTuckman Media], about timing and July was given a thumbs up. The Academy campaign is a priority for us and our ultimate goal is for our theatrical release to dovetail into an awards campaign in the fall."
Along similar lines, Dogwoof's Harbottle states that rather than squeeze a film into a specific release window, dating a theatrical release will depend on the film in question. For both The Act Of Killing and Blackfish, Dogwoof is releasing around the same time as their respective US launches "to create the biggest noise".
"Would it be different in the winter? Probably not," says Harbottle. "The main thinking is to line up with the US and especially as a lot of our campaigns are governed by social media and online buzz, it just makes sense to co-ordinate with other territories." What is clear is that in the summer months, counter programming is key.
"There are 52 weeks in a year and there are studio films opening in almost every one of them, so you can try to go out in a light week but there aren't very many weeks like that, so you almost always have to empower the release as counter programming," says League.
Harbottle agrees and notes the release of tentpoles can bring its own benefits. Dogwoof was bold in releasing a title in the same week as new instalments of the Harry Potter franchise: in 2011, Bobby Fischer Against The World was released at the same time as Harry Potter And The Deathly Hallows: Part 2.
"It definitely worked in previous years in terms of dating because often other distributors can't go up against those blockbusters, so there's more space and that means more cinemas," says Harbottle. "It just offers a good counterbalance."