Dir/scr/prod Ondi Timoner. US/UK. 2015, 114 mins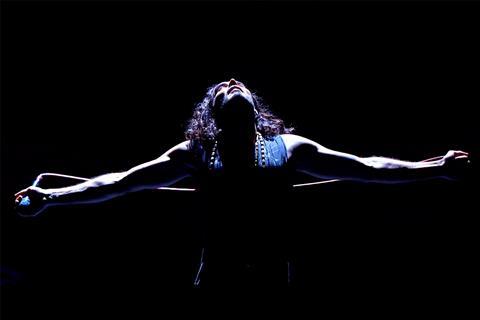 What's left to say about Russell Brand? What has the comedian/activist not said already? Plenty, it seems. Two features about Essex-born Brand are set to be released in the next month. The first, Brand: A Second Coming, opens the SXSW festival in Austin and has been made by accomplished documentarian Ondi Timoner (double Grand Jury Prize-winner at Sundance for Dig! and We Live In Public). Perhaps, unexpectedly, this may whet the appetite for the second, a StudioCanal-backed political expose by Michael Winterbottom and Brand called The Emperor's New Clothes, which will play at Tribeca.
The real Russell Brand, she shows, is sensitive to criticism, strangely vulnerable, and never, ever shuts up.
Timoner's often-compelling documentary, which is neither an apology nor a hagiography, is an intriguing personal take on a man who turns out to be endlessly intriguing, no matter what you think of his antics. At times he's an extravagant exhibitionist, at others curiously reticent, and Brand: A Second Coming, seems destined for major broadcast exposure.
Aside from an attack of nerves at SXSW, which saw him cancel his appearance, he should get behind the release as well: Russell Brand stands accused of many things, but being media-shy is not one of them. Neither is being dull (even at a padded 120 mins), although messy, meglomaniacal and messianic begin to fit the bill. With Brand, it's complicated. It's also good TV.
Self-aware enough to know that "I'm a comedian and that's what makes me tolerable – without that, I'm intolerable," Brand propels this documentary with his comically over-sized ego and boundless, boundary-less humour, but he's also Timoner's subject. She cleanly cuts through the noise to present his vulnerability and humanity, capturing what drives Brand in his endless, restless, circuitous quests and how he undermines himself along the way. Editing is superb, and seems to comprise footage from another, un-made project (credits reference this, and interviews Brand conducts with David Lynch and Oliver Stone are an awkward fit) alongside extensive archival material, interviews with his astute collaborators, family and friends (Noel Gallagher is amusingly dead-pan), and fly-on-the-wall footage.
It's all here – from Brand's beginnings in Britain (Grays, Essex), his sick mum, absentee dad, and alienated childhood to addled stand-up-comic, drug addiction, sex addiction, Sachsgate, his assaults on Hollywood, his burning quest for fame, short-lived marriage to Katy Perry, stand-up tour dealing with his Messiah Complex, to his reincarnation as a firebrand political activist and author, his feuds with Fox News and Jeremy Paxman (all principals in his life are interviewed, including Perry, to whom he is curiously deferent). It's a trans-Atlantic story, and Brand, A Second Coming stands to be viewed internationally, despite a certain Brand-fatigue amongst the chattering classes. His manager captures it best when he recalls: "He was the most ambitious client by a country mile, and by far the most difficult." It seems that not much has changed.
The quality of the archive footage is variable, but still has the power to shock. In particular, a drugged Brand protesting naked at a demonstration and an angry, self-harming stand-up act in Edinburgh which reveals a naked loathing shortly before he was dragged off to rehab and became the ubiquitous fame-seeking missile which he is today. His Hollywood interlude is well documented, an unlikely friendship with Adam Sandler leading to hit movies Forgetting Sarah Marshall, Get Him To The Greek and the ill-conceived Arthur. He posits that a trip to Kenya for Comic Relief was key to his political awakening, but he still has to police himself actively through meditation and yoga to curb his inner demons. Now he helps recovering drug addicts and agitates for an uprising. He'd "like to be a lightning rod for revolution".
Brand is a peacock, a provocateur; his goal is to disrupt, he'll use any tool at his disposal to make the viewer notice him; the question Timoner asks of the audience as her film plays out to John Lennon's Power to the People is whether his political manifestos are another ploy for attention – clever, well-intentioned but confused, like Brand himself. The real Russell Brand, she shows, is sensitive to criticism, strangely vulnerable, and never, ever shuts up. He's indeed not the messiah, and, yes, he is a very naughty boy, and making this documentary cannot have been easy. But the antics, the vulgarity, the hilarity and the howls for attendion aren't anywhere near as arresting as Brand, A Second Coming 's revelation of Brand's own deep-seated humanity.
Production companies: Interloper Films
International sales: WME, LCoplandassist_wmeentertainment.com
Executive producer: Andrew Antonio
Editors: Ondi Timoner, David Timoner, Clay Zimmerman, Tim Rush
Cinematography: Ondi Timoner, Svetlana Cvetko
Featuring: Russell Brand, Jonathon Ross, Katy Perry, Noel Gallagher, Jeremy Paxman, Stephen Marchant, Rosie O'Donnell.