Dir: Mark Dornford-May. South Africa. 2014. 88mins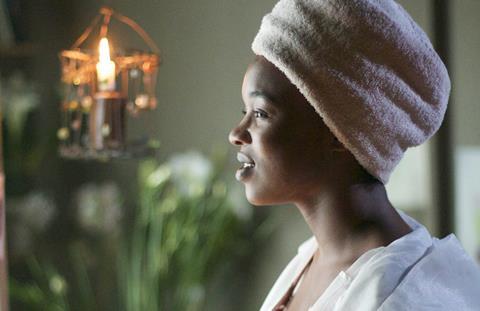 Ten years ago, director Mark Dornford-May proved that opera, like Shakespeare, remains its essential self regardless of translation into other languages. U-Carmen eKhayelitsha, his South African township-set adaptation of Bizet's Carmen, won Berlin's Golden Bear in 2005; now Dornford-May, singer Pauline Malefane and their Isango Ensemble return with their take on Puccini's La Bohème, sung in Xhosa (with some English dialogue) and retitled Breathe Umphefumlo.
Breathe Umphefumlo is classily executed, with its highly charismatic and accomplished leads.
U-Carmen's ingenuity and brio are still in evidence, but Puccini's tragedy is a more sombre affair than Bizet's flamboyant spectacle, and while elegant and moving, this sometimes studious reworking is less likely to cause a stir than its predecessor. Theatrical distributors will be cautious, although musical interest should serve Dornford-May's bohemians well in other distribution sectors and at festivals.
The film's setting is Cape Town and, as in U-Carmen, the township of Khayelitsha; the latter, a caption notes, is currently a tuberculosis hot spot (just like the opera's 1830s Paris). This version's characters are university students: Lusanda, known to her friends as Mimi (Ngejane), is a flower-loving botanist, while poet Rodolfo becomes aspiring journalist Lungelo (Mosiea).
The pair, along with Lungelo's three roistering dorm buddies, have big dreams for the future, signaled by jokey inserts in which they hold up signs ("Nobel Prize Winner" for Mimi, "Playboy, sex god, revolutionary" for artist Mandisi). The film begins in South Africa's winter (i.e. June), where the university suffers a power cut and Lungelo bumps into Mimi by candlelight; they click instantly, and we realise that the immortal "Your tiny hand is frozen" is just as effective in Xhosa.
The same night, the friends attend a June 16 party (commemorating the Soweto Uprising), where the star attraction is jazz diva Zuleka (Malefane, previously the lead in U-Carmen). She sings a number hymning her irresistibility, and winding up her jealous ex-lover Mandisi (Lupizi). The evening erupts into a fight, and the pals are booted out of university. Come spring, the now impoverished Mimi, fully in the throes of TB, is expiring under a motorway bridge.
Musically, Breathe Umphefumlo might be expected to deliver diminishing returns. Once you've got the idea – proper operatic singing, only in Xhosa, with tuned percussion replacing an orchestra, plus occasional townships choir – then the formula pretty much stays the same.
The only variation, in fact, is a jazz trio for Zuleka's number, plus the odd humorous stylistic touch, such as a dash of barbershop harmony. Cinematically too there's a problem, in that the largely interior-based La Bohème doesn't provide Carmen's visual opportunities, and long stretches of the film are somewhat static. It works for the young lovers' encounter, with Ngejane radiating other-worldly charm in a white moonlit peignoir, but other scenes, notably the party, feel inescapably claustrophobic and stagey, despite the generally realistic tenor of the mise en scène.
Overall, as with U-Carmen, there is often a sense that we are watching a filmed production rather than something that feels truly cinematic in its own right, and Dornford-May's direction, privileging the performers, can feel workmanlike. The graduation inserts feel incongruously facetious, and on-screen captions suggest a lack of confidence in introducing the characters dramatically.
As a music production, though, Breathe Umphefumlo is classily executed, with its highly charismatic and accomplished leads – Ngejane a poignant, convincingly vulnerable ingénue, with Malefane commanding as the brassy femme fatale. Like Dornford-May's Bizet, this is a vivid, ingenious cultural-political appropriation of the European opera tradition, but for non-operaphiles in particular, it won't add much new to the U-Carmen experience.
Production companies: Advantage Entertainment, Isango Ensemble
International sales: Fortissimo Films, www.fortissimo.nl
Producers: Vlokkie Gordon, Mark Dornford-May
Executive producers: Jan du Plessis, Mike Downey, Sam Taylor
Screenplay: Mark Dornford-May, Pauline Malefane
Cinematography: Matthys Mocke
Editor: Tanja Hagen
Production designer: Birrie Le Roux
Music directors: Mandisi Dyantis, Pauline Malefane
Main cast: Mhlekazi (Wha Wha) Mosiea, Busisiwe Ngejane, Pauline Malefane, Sifiso Lupuzi