Dir: Rufus Norris. UK. 2012. 90mins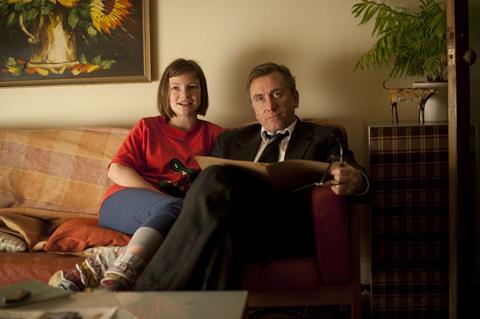 Rufus Norris makes his feature debut with Broken, a delicately structured interweaving story that has at its core the tale of 11 year-old Skunk (newcomer Eloise Laurence), an innocent young girl at the start of her summer holidays who finds herself amidst a group of complex, fractured and often broken people.
The film is charmingly off-kilter though its eventual lapse into drama lacks the shock value one might expect.
The film, which opened Critics Week with a Special Screening, could well intrigue art house distributors who appreciate its fragile nature and lingering undercurrent of darker strands, while the casting of an impressive Tim Roth (playing Skunk's father) and Cillian Murphy will also help its profile.
Norris is an award-winning theatre director – he has directed the West End revival of Cabaret and most recently London Road at the National Theatre – and made his screen debut in 2009 with the short film King Bastard. To a certain extent Broken, which is adapted from Daniel Clay's 2008 novel, has theatre production structure as its interlinks three disparate families who all live at the end of a suburban street, with its subtle (and at time shocking) drama allowing room for a string of impressive performances.
In the end Broken feels perhaps too self-consciously slight and artistic – not a bad thing for a first feature, but perhaps limiting in terms of its ability to break out – with the visual and music cues obvious at times. But Eloise Laurence makes a delightful debut and is a really charming presence while the film is also punctuated by a series of striking performances.
Sweet-natured Skunk is friendly with all of her neighbours, and fond of Rick (Robert Emms), a slightly unstable young man who lives with his parents in the house opposite. She is shocked when another neighbour Mr Oswald (Rory Kinnear), who lives with his three rude and precocious daughters next door strides from his house and attacks Rick.
As her summer holiday starts, so Skunk's innocence starts to be chipped away. Her brother Jed (Bill Milner) warns her how dreadful her new school will be; Rick is taken to an institution to recover from the incident; her au pair Kasia (Zana Marjanovic) breaks off her relationship with the genial Mike (Cillian Murphy), while her father Archie (Tim Roth) is attentive and kind, but always busy with work.
Skunk, who is a diabetic, makes occasional trips to a nearby junkyard (full of 'broken' vehicles) with her brother and a young friend, and as a return to school beckons the warmth of childhood gives way to a more fractured sense of her life as she is bullied by Mr Oswald's three red-haired daughters Susan (Rosalie Kosky-Hensman), Saskia (Faye Daveney) and Sunrise (the delightfully tough Martha Bryant) and finds out her father is having a relationship with Kasia.
Broken spirals into some delightfully staged scenes of darkness as the still-troubled Rick returns home to his overly attentive parents, and Skunk is placed in a terrible situation and subconsciously has to make a real life-or-death decision. Shot at times with a sense of magical realism, the film is charmingly off-kilter though its eventual lapse into drama lacks the shock value one might expect. It is, though, a bold and nicely sustained debut.
Production companies: Cuba Films, BBC Films, BFI, Lipsync, Bill Kenwright Films
International sales Wild Bunch, www.wildbunch.biz
Producers: Dixie Linder, Tally Garner, Nick Marston, Bill Kenwright
Executive producers: Joe Oppenheimer, Norman Berry
Screenplay: Mark O'Rowe, based on the novel by Daniel Clay
Cinematography: Rob Hardy
Editor: Victoria Boydell
Production designer: Kave Quinn
Music: Electric Wave Bureau
Main cast: Eloise Laurence, Tim Roth, Cillian Murphy, Rory Kinnear, Robert Emms, Zana Marjanovic, Clare Burt, Denis Lawson