EXCLUSIVE: Star of Doctor Who and Marvel's Jessica Jones joins Lucy Punch and Faye Marsay.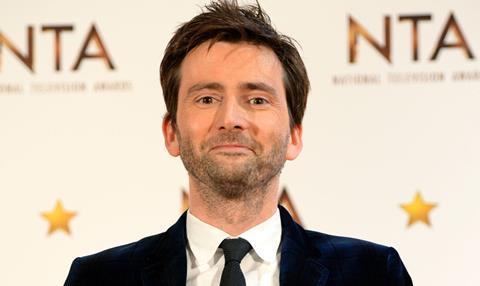 David Tennant has joined romantic-comedy Fish Without Bicycles alongside Lucy Punch (Bad Teacher) and 2015 Screen Star of Tomorrow Faye Marsay (Game Of Thrones).
Nina Sosanya, Ingrid Oliver and Peter Davison are also joining cast.
The film tells the story of two women's differing experiences with pregnancy. One is a 40-year-old magistrate, the other a carefree party girl. The twist is that they are in a relationship with each other.
Tennant, known for playing Doctor Who and more recently the villain in Marvel series Jessica Jones and the co-lead in hit TV series Broadchurch, will play the couple's neighbour John, an obnoxious Scot, who is responsible for one of the pregnancies.
‪Marsay (Pride) will soon be seen in the lead role in Nick Hornby's BBC-TWC book adaptation Love, Nina, opposite Helena Bonham Carter and Jason Watkins.
Writer-director Daisy Aitkens makes her feature debut on the film produced by Phin Glynn (Mad To Be Normal), Georgia Tennant (96 Ways to Say I Love You) and Harriet Hammond (Mad To Be Normal).
Post-production will be handled by Lipsync. Promotion and brokering will be provided by Charlie Wood and Warrior Promotions. DoP is John de Borman (Quartet).
The film is due to shoot in November 2016.
Tennant commented: "Daisy Aitkens has written a brilliant, funny, surprising and moving script and I am delighted that she has asked me to be in her first feature - as she is clearly going to be making many many more and I want to be in all of them.
"And I am very pleased to be working with Bad Penny again, a company that represents all that is good and exciting in young British filmmaking. Thanks for having me!"
Writer/director Aitkens added: "Pregnancy is so often sugar-coated in film, I wanted to write a script that really mirrored the hilarious, feminist and kick ass experience it can be. I'm so happy to be writing at a time when gender stereotypes are being smashed, rom clichés thrown out, and funny women are leading the way in film and TV.
"I'm thrilled that David Tennant has joined our exciting cast and John De Borman will be leading the helm of our crew as DOP. "
The film is set to be something of a family affair for Tennant whose wife Georgia produces and whose father-in-law Davison will co-star. Davison himself is well known for having played Doctor Who in the 1980s.