Panellists were Amr Koura, Vanessa Henneman, Camille McCurry, with Screen's editor Matt Mueller moderating.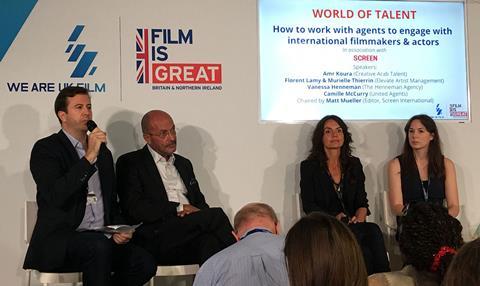 In a panel discussion at the UK Film Centre at the Cannes Film Festival, agents gave insight to the representation of actors, writers and filmmakers in a time where international productions are key.
Screen Internationaleditor Matt Mueller led the session with panellists Amr Koura (Creative Arab Talent in Cairo), Vanessa Henneman (The Henneman Agency in Amsterdam) and Camille McCurry (United Agents in London).
Henneman and McCurry were both named Screen Future Leaders of 2016, which for the first time focused on rising international agents.
Starting out
Henneman discussed launching her agency after "I fell in love with an actor", and her desire to move away from the "end of the line" of production to a more proactive approach in pitching clients.
"Initially, I wanted my actors to play in the international leagues," said Henneman. "Now, I work on the whole package with producers, directors, writers and even composers from the early development stages. Things like tax incentives and rebates are taken into consideration."
McCurry, who has carved out a niche at United Talents representing rising European film-makers including Grímur Hákonarson (Rams) and Kornel Mundruczo (White God), said that "trusting your instincts" is the key to building a strong client base.
"It's a marriage – you need to understand where the talent wants to go," said McCurry, who is currently working with Hákonarson on his first English-language project.
"A lot of my clients will work in their home countries, but also want to work in English-speaking territories as they want their films to be seen by as many people as possible."
When asked about the challenges in writing outside of your native language, McCurry said certain clients write in their original language and work with a translator when adapting into English.
Henneman also credited television for offering her clients more opportunities both in Europe and the US.
"Two years ago, we were banging on Hollywood's doors," she said. "Now, American agents are looking to Europe's database of top talent. Just look at Game Of Thrones and Narcos: companies like Netflix are creating shows specifically made to work for international audiences."
Challenges
Koura addressed the challenges both for himself as the only agent representing Arab talent in his region and for his pool of actors hoping to work abroad; while both Henneman and McCurry discussed the advantages to working across multiple territories, highlighting tax incentives and international co-productions as major factors.
"Everybody wants to work internationally but not everybody can. To work in the US, ideally you would have a US or European passport. For many of my clients, that is not possible," said Koura.
But as the only contact with direct links to Hollywood and Europe, actors are looking to Koura to help them reach the bigger players.
"Working on my own comes with a lot of pressure. My goal is to build up a team of agents, and to start regulating the industry more."
A year after opening his Cairo-based agency, Koura is planning to open an LA office in June, and potentially an office in London by the end of the year.
"I remember going to Los Angeles, and no one would talk to me," he said. "Finally one agent took my meeting. She handed me a bunch of books. When I later called her to tell her I set up my own business, she must have rang all of Los Angeles as my phone doesn't stop ringing with requests for Middle Eastern actors."