Screen's first day at Montreal's Fantasia International Film Festival starts in Israel and ends up in Ireland.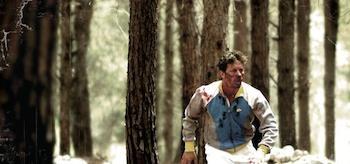 Following some sage advice to see the loudest film possible in order to stave off jetlag but unfortunately with no Transformers-esque horror film in sight, I found myself choosing instead to settle down in the Hall Theater for the Canadian premiere of one of the festival's buzziest films: Rabies.
The first horror film to come out of Israel, co-writers/co-directors Navot Papushado's and Aharon Keshales' debut feature follows a group of people — a pair of cops, a pair of siblings, four youths and a serial killer, naturally — in a forest as fate brings them into contact with each other.
But stop what you're thinking, this is no conventional slasher flick; Rabies is a hugely entertaining, constantly surprising gem of a movie that the animated Fantasia crowd (side note: this year's theme is to meow as the lights go down) absolutely lapped up.
Luckily the filmmakers were on hand for an entertaining Q&A session, led by co-festival director Mitch Davis, after the screening. Touching on why they had chosen to make the first ever Israeli horror film, Aharon spoke of how "Israel doesn't want to have fun in films. They just want to cry and slit their wrists."
A university lecturer (Navot was his "most cheeky student ever" incidentally), Aharon added that students came to Tel Aviv university wanting to be the next Quentin Tarantino, but ended up coming out of university as the next Béla Tarr.
Topics ranged from the difficulties of shooting with the duo having just 19 days to shoot with only natural light and also the film's A-list Israeli cast.
Most interesting was the discussion on choosing the title Rabies. Being horror fanatics (the film references Hitch-hike, a little-seen twist on the murderous hitchhiker sub-genre), the duo were keen to play with conventions of the genre and this not only meant the film's plot - needless to say, a virgin survives, it just might not be the type of person you expect to encompass that role - but extended to the title: "When you come to see Rabies, and I think that's the whole idea in Rabies, you come to expect a dog will bite a man and then all of a sudden, you have a zombie-ridden town or zombie-ridden forest.
"When you don't put a dog in there but you do it with a humanistic reason - people just don't talk to each other, don't take a moment to answer each other, you curse your wife because she doesn't answer for like two minutes - if you take a chance, a minute to relax, then nothing will happen. When you see Rabies, it spreads out like a disease, not a biological disease, it's a humanistic disease and that was the whole point of calling it by the name of Rabies because it translates to rage in a lot of languages and this is a film about rage, human rage."
Finally, talk expectedly turned to the duo's next project and while details were scarce, Navot said that they were 15 pages from completing the script and that it would a twist on revenge/kidnapper movies with a promise that it would be more violent than Rabies and funnier, according to Aharon.
So with my first screening clocked and jetlag staved off, I decided to pop into Montreal's Irish Embassy pub; purely for research reasons considering every person I met during the day had mentioned it as the place to be after a day of screenings, and what kind of journalist would I be to not investigate further.
A thunderstorm swiftly broke out when I was in the pub, taken as a sign that another drink was on the cards. After all, I wouldn't have wanted to catch a cold on the walk back to the hotel now, would I?