Dir: Rok Bicek. Slovenia. 2013. 112mins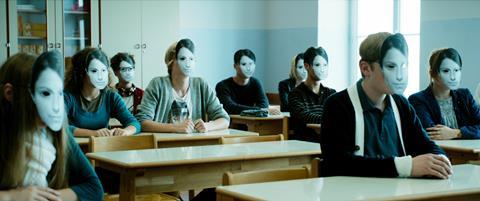 Rok Bicek's possibly too ambitious first film Class Enemy (Razredni sovraznik) attempts to deal, under the guise of a school uprising, with a multitude of major issues, starting from coming-of-age discontent and going all the way to the easily provoked eruption of everyday fascism. Though Bicek does manage to put most of his points across, the entire exercise looks rather theoretical, carefully manipulated and not sufficiently interested in the particulars of the plot, to generate a significant emotional response.
Igor Samobor's Zupan is a perfectly molded study of the martinet teacher every school seems to have.
Based on an experience from his own past, the suicide of a high school girl which triggered a rebellion of her classmates against the school system they blamed for her act, Bicek prefers to leave the reason for the act itself unexplored, focusing instead on the reaction it ignites among the girl's colleagues and the conduct of the school authorities facing a revolt of the kind they had never had to handle before.
Sabina (Dasa Cupevski), a quiet, introvert and not particularly popular girl, who stays in school after hours to play Chopin, is being put down by the new German teacher Zupan (Igor Samobor), after which she goes home and commits suicide for reasons unspecified. The class is in shock. Suddenly everyone was fond of Sabina and they all look for a scapegoat to put the guilt on.
The evident choice is Zupan, a gruff, strict and demanding professor but devoid of any educational skills, who expects his students to speak to him only in German and uses Thomas Mann, his life and his writings as a constant reference in his class. Giving his students low grades and putting them down every occasion he has, he is soon "the Nazi" whose conduct drove Sabina to despair and this is a good enough reason to walk out of his lessons, organise protests when he does not attend the funeral, use the school's PA to insult him and throw the smoothly functioning institution into turmoil.
Needless to say, Sabina's death is just an excuse for the youngsters to let out pressures they had accumulated elsewhere, whether it is a death in the family - in the case of Luka (Voranc Boh) - or the natural rebelliousness of Tadej (Jan Zupancic), whose stream of mindless racist, nationalistic invectives single out as a hopeless boor.
Like all the rest, they carry their unsolved private troubles into the class, there to merge into an amorphous angry mass which will peter out at the first time real pressures put on them, not least because there is practically no basis for their conduct. At the other end, Zupan's irritating remoteness and lack of personal grace gains him very little support among the teachers, particularly the gym instructor who starts by courting him and when rejected, turns into his fiendish enemy.
Though there is material enough to develop into a dozen metaphors and more, discussing the state of the Slovenian society, the parents' negligence of their kids, the natural mistrust and even hate of everything German, the script doesn't dig into any of them far beyond simply mentioning their existence.
None of the students are sufficiently interesting on their own, the plot takes too many side alleys and offers no satisfactory solution at the end. The large cast, mixing professionals and amateurs, delivers thoroughly controlled - but none outstanding – performances, with the possible exception of Igor Samobor's Zupan, a perfectly molded study of the martinet teacher every school seems to have.
Production companies: Triglav Films
Producers: Aiken Veronika Procens, Janez Lapajne
Screenplay: Nejc Gazdova, Rok Bicek, Janez Lapajne
Cinematography: Fabio Stoll
Editor: Janez Lapajne, Rok Bicek
Production designer: Danijel Modrej
Main cast: Igor Samobor, Natasa Barbara Gracner, Tjasa Zeleznik, Masa Deganc, Robert Prebil, Voranc Boh, Jan Zupancic, Dasa Cupevski, Doroteja Nadrah, Spela Novak, Pia Korbar, Dan David Mrevije Natlacen, Jan Vrhjovnik, Kangjing Qiu