Dirs: Lana Wachowski, Tom Tykwer, Andy Wachowski. Germany. 2012. 163mins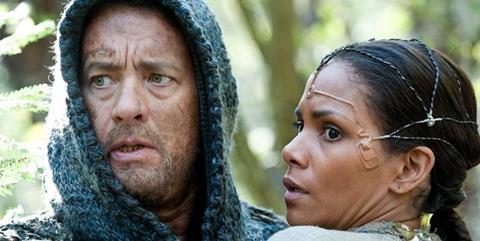 Everything changes and everything stays the same over centuries of human existence in the kaleidoscopic Cloud Atlas. The sprawling, messy, undeniably ambitious screen adaptation of David Mitchell's "unfilmable" novel juggles a handful of seemingly disparate stories to illustrate a unifying theme that individual lives and actions can have profound consequences that echo through time.
The Cloud Atlas is something of a glorious folly that is sometimes appealing, sometimes unfathomable but always handsomely mounted.
Moment to moment over the course of nearly three hours, the film is amusing, surprising, exciting, absorbing, thrilling, frustrating, tiresome, ridiculous and much more but it is often more platitudinous than profound and never coheres into a moving statement on the meaning of life.
The reputation of the novel and the pedigree of the all-star cast and directors should guarantee a generous level of curiosity over the outcome of their labours but many viewers may conclude that any rewards on offer are not necessarily worth the effort involved.
David Mitchell's novel allowed a series of stories to bleed into each other revealing the connections that link even the most diverse individuals. The film takes the riskier approach of interweaving the stories that ironically tends to break the emotional ties that might otherwise have developed.
A dizzying opening stretch introduces the various fragments as notary Adam Ewing (Jim Sturgess) visits the Pacific islands in 1849. In 1930s Britain, Ewing's journals of his voyages fascinate composer Robert Frobisher (Ben Whishaw). In the San Francisco of 1973, investigative journalist Luisa Rey (Halle Berry) reads the letters that Frobisher wrote to his lover. In the London of 2012, publisher Timothy Cavendish (Jim Broadbent) finds his life tipping into a farcical nightmare after falling foul of a brutal author. In the New Seoul of the future, clone Sonmi-451 (Bae Doona) faces execution for her part in a rebellion against an oppressive government. In a post-apocalyptic Hawaii, tribesman Zachary (Tom Hanks) is visited by a woman Meronym (Halle Berry) who is one of the last survivors of a lost civilisation.
There is a sense that any of these stories could have made a successful film in its own right from a high seas adventure to a futuristic blockbuster but when they are shuffled together they inevitably fragment and lose some of their impact.
The Hawaiian tale is further hampered by the use of a language that is often hard to grasp. Just as you start to enjoy the comical fate of Cavendish you are whisked back to the ailing Ewing on the seven seas. Just as you really start to care about Frobisher (played with an aching tenderness by Ben Whishaw) and his impossible life, you are off to the future and a fight against tyranny that comes very close to the kind of territory already exhausted by Lana and Andy Wachowski in The Matrix trilogy. There are also several moments of jarring violence and bloodshed along the way.
The film underlines the way lives are connected by using the stellar cast in a multiplicity of roles that requires them to change age, gender or ethnicity. Initially, the stunt casting seems little more than a gimmick with the big names stars given a chance to don distracting silly noses, layers of latex, dodgy accents and play dressing up games.
Later, it provides some outrageous sights as Tom Hanks is transformed into a vicious cockney geezer who really knows how to silence an irksome critic of his work, Hugo Weaving appears as the fearsome Nurse Noakes and Hugh Grant's many appearances include a bloodthirsty cannibal warrior and Cavendish's aged, vengeful brother.
Hanks, Grant, Halle Berry and Bae Doona all seem more than game for the demands made of them but it is Jim Broadbent who consistently triumphs in characters where he goes beyond the sketchy superficiality of surface transformation to create individuals who are real and believable including the desperate Cavendish and composer Vyvyan Ayrs.
The film is also a triumph for editor Alexander Berner who shapes an epic amount of material into a fluid piece of cinematic narrative that at least succeeds on the level of a neverending bedtime story where you always want to know what happens next.
The Cloud Atlas is something of a glorious folly that is sometimes appealing, sometimes unfathomable but always handsomely mounted. It is the crushingly banal conclusion that we are all bound to each other through the constantly repeating circles of history that really disappoints. Like the song once said-the world is a circle without a beginning and nobody knows where the circle might end.
Producers: Lana Wachowski, Tom Tykwer, Andy Wachowski, Grant Hill, Stefan Arndt
Executive producers: Philip Lee, Uwe Schott, Wilson Qui
Production companies: Cloud Atlas Productions
International Sales: Focus Features International, http://focusfeatures.com
Screenplay: Lana Wachowski, Tom Tykwer, Andy Wachowski based on the novel by David Mitchell
Cinematography: John Toll, Frank Griebe
Production designers: Uli Hanisch, Hugh Bateup
Editor: Alexander Berner
Music: Tom Tykwer, Johnny Klimek, Reinhold Heil
Main cast: Tom Hanks, Halle Berry, Jim Broadbent, Hugo Weaving, Jim Sturgess, Ben Whishaw, Susan Sarandon, Hugh Grant, Bae Doona