Dir. Jan Kounen. France, 2009. 118 min.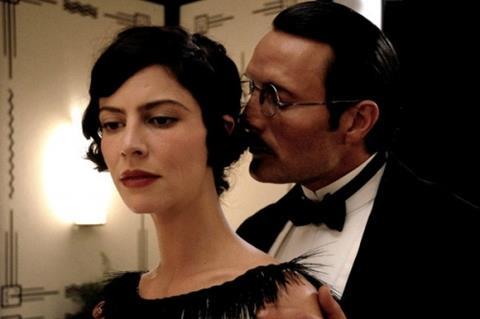 In Coco Chanel & Igor Stravinsky, a companion piece of sorts to April's Coco Avant Chanel (both have been bought for the US by Sony Pictures Classics), Jan Kounen presents a lavish but surprisingly bland treatment of a brief love story between these two giants of the early 20th century.
The short period of time Stravinsky stayed with his family at Chanel's luxurious villa Bel Respiro is treated in this film as a very personal affair between two celebrities, and ultimately misfires because neither one of the protagonists truly comes to life on the screen.
Anna Mouglalis may look and act the part, but she can't quite convey the revolutionary genius behind Chanel's elegant composure, while Mads Mikkelsen delivers a somewhat wooden rendition of Stravinsky. With the weight of the fashion world behind it though, Coco & Igor may well attract audiences as a lavish costume drama, before settling happily into ancillary, where it seems most suited.
The film's opening scene attempts to revive the scandalous premiere of Stravinsky's The Rites of Spring. Dismissed by many at the time as barbarous trash, it was later recognised as a milestone separating romantic and modern music and is used in the film as the backdrop for the first encounter between the young woman who was to become the Grande Dame of Style (she despised the word "fashion") and the young rebellious Russian composer.
The set-up for this is predictably treated here, however, and it is unlikely that contemporary audiences will properly appreciate the shockwave Stravinsky's score caused at the time. The dance production it accompanies looks lame, and the gradual build-up montage – backstage, scene, public reaction, and back again – feels workmanlike.
Seven years later, when they meet again, Stravinsky is still struggling to make a living while Chanel is already the rich, feared and much admired head of her own successful fashion house. She falls for his wild charm (although this is never really convincingly displayed onscreen) and asks him, his ailing wife and their five children to stay at her country house.
There, under the nose of his wife Catherine (Morozova), Chanel sweeps Stravinsky off his feet. A fiercely independent woman who will not be anybody's mistress, she has the upper hand throughout and, immune to any pangs of conscience, considers their affair a temporary whim. Stravinsky doesn't do too badly out of it either, depicted here as enjoying the benefits of a loving spouse who suffers in silence while correcting his scores, living in luxury at Chanel's chateau, and partaking regularly in enthusiastic sex.
There is ample space here to explore many issues, from the clash between two oversized personalities to the boiling artistic cauldron of the period, but nothing much is done in either direction. On the other hand, the topnotch crew has a field day with eye-catching, luxurious results all the way through, be it the costumes worn by Mouglalis with perfect poise, to the interiors of Chanel's country house.
Production companies
Eurowide Film Production
Producers
Claudie Ossard
Chris Bolzli
International Sales
Wild Bunch
(33) 6 20 36 77 72
Screenplay
Chris Greenhalgh, based on his novel Coco and Igor
Cinematography
David Ungaro
Production Designer
Marie-Helene Sulmoni
Costume designers
Chattoune & Fab
Editing
Amy Danche
Music
Gabriel Yared
Main Cast
Anna Mouglalis
Mads Mikkelsen
Elena Morozova
Natacha Lindinger
Grigori Manoukov