Dir/scr: Martin Donovan. US. 2011. 87mins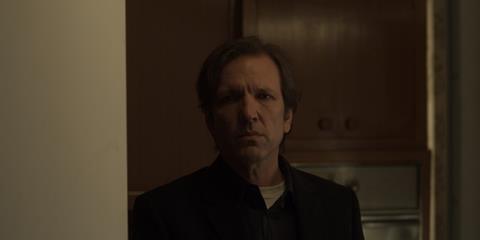 Actor Martin Donovan heads down the writer/director path with Collaborator, a largely successful thoughtful drama that offers tasty roles for himself, David Morse and Olivia Williams. It may be a little too subtle and meditative to draw in hefty mainstream audiences, but there is a lot to appreciate here and a long festival run would seem guaranteed.
Thee two-hander scenes between Donovan and Morse are nicely written and impressively nuanced.
The film, which had its world premiere in competition at the Karlovy Vary Film Festival, is intelligently structured – though could just as easily work as a theatre production – and has enough changes of pace, direction and tone to keep things absorbing. The strong cast line-up – even down to the striking feature debut of Smashing Pumpkins bassist Melissa Auf der Maur – should make it interesting to indie distributors.
The film perhaps tries to pack in too many issues – it touches on cult of celebrity, criminal justice system, American military involvement overseas, sex and fidelity, and even art vs. commerce – in Donovan's bold determination to make a film with intellectual impact. In truth some aspects (the whole cult of celebrity aspect is rather clumsy) would have been better minimised to keep the drama on a more even keel.
Donovan plays playwright Robert Longfellow, who appears to be avoiding life after the dreadful response to his latest play, which opened and closed in New York speedily. He hasn't seen his wife Alice (Melissa Auf der Maur) and two young children for a while, but decides to head to Los Angeles, where he stays with his mother (Katherine Hellmond).
He tries to avoid his childhood friend Gus (David Morse), a heavy-boozing ex-con who lives with his mother in the house across the road, instead he seeks out movie star Emma (Olivia Williams), with whom he had a dalliance some years before and who had suggested Robert adapted a book into a movie for her to appear in. The pair are still clearly attracted to her, despite Robert's love for his wife.
Just as Robert is about to head over to Emma's for a possible evening of lovemaking he finds Gus on his doorstep with a bag full of beers, and adamant that Robert have just one drink with him.
But after a few beers the police arrive outside Gus's house. Gus draws and gun, and when they find he is in Robert's house the building is surrounded, with Robert taken hostage. From this point on the two men engage in a little deep conversation about life and everything, and even end up engaging in some theatre improv to delve into their true feelings. Initially it is all quite light hearted, but a darker tone lurks beneath the surface.
These two-hander scenes between Donovan and Morse are nicely written and impressively nuanced. Morse – a powerful and vibrant performer with just the right hint of sadness – offers a perfect balance to Donovan's constrained performance, though the nicest moments come when Gus talks to Emma on the phone…a fan talking to a movie star he never dreamed he would be able to chat to.
The hostage situation is covered extensively and crassly in a local news network, which also reveals a bit of snatch footage of Robert kissing Emma. These scenes are all rather clumsy and unconvincing, relying on media clichés rather than well-written dialogue.
Melissa Auf der Maur makes an impressive feature debut as Robert's photographer wife. She has little dialogue, but has a glacially emotive face (and looks just a little bit like a red-haired version of the always excellent Olivia Williams) and is nicely cast as a woman coming to understand that everything is not right in her marriage. It is also rather nice to see comedy veteran Katherine Helmond as Robert's mother – despite a modestly developed role she sneaks in a few classily amusing moments.
Production company: DViant Films, This Is That
International sales: eOne Films International, www.eonegroup.com
Producers: Julien Favre, Ted Hope, Luca Matrundola, Pascal Vaguelsy
Cinematography: Julie Kirkwood
Editor: Karen Porter
Production designer: Peter Cosco
Music: Manels Favre
Main cast: Martin Donovan, David Morse, Olivia Williams, Melissa Auf der Maur, Katherine Helmond, Eileen Ryan