Dir: Morgan Spurlock. US. 2011. 88mins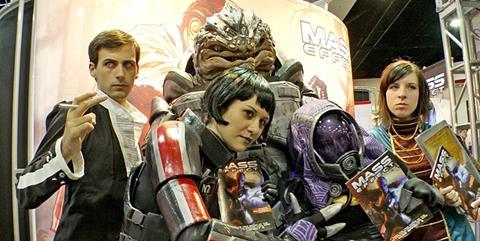 What makes Morgan Spurlock's thoroughly enjoyable and absolutely fascinating new documentary Comic-Con Episode IV: A Fan's Hope so unusual is not the great interviews or compelling behind-the-scenes material from San Diego fan event Comic-Con, but rather the fact that Spurlock doesn't appear in front of the camera, instead allowing his real-life characters to drive this absorbing film.
Comic-Con Episode IV: A Fan's Hope is a classy and charmingly memorable movie.
Spurlock has made his name as the challenging and provocative on-screen lead character of his films such as Super Size Me and Where In The World Is Osama Bin Laden, but here he shrewdly lets the uber fans who attend Comic-Con be the heroes of the film. And it works very well indeed – look for Comic-Con Episode IV: A Fan's Hope to be a popular documentary release and a must for broadcasters.
Comic-Con originated as an event for comic-book fans in the 1970s, but has developed into a massive event for 'fans' of all kinds, taking in gaming, television, toys, anime, fantasy characters (dressing up is a big part of the experience) and movies, with Hollywood coming to appreciate the word-out-mouth launch pad the event offers for films with a fantasy or – even better - a comic book link.
The fact that amongst its exec producers are Aint It Cool creator Harry Knowles, Marvel comics originator Stan Lee and Joss Whedon – who created Buffy The Vampire Slayer and Firefly for TV and is currently writer/director of the much anticipated superhero team-up film The Avengers – goes a long way to explaining the amazing access Spurlock has to Comic-Con.
More than 130,000 people attend each of the Comic-Con days, ranging from simple fans and gawkers through to the likes of comic artist/writer/filmmaker Frank Miller; writer/director Kevin Smith (at his funniest here); British writer/director Edgar Wright and an eloquent Joss Whedon. And while Spurlock interviews many of the more well known visitors, his main focus is six individuals whose heart-and-soul belong to Comic-Con.
These are costume and creature designer Holly Conrad; Chuck Rozanski, owner of Mile High Comics; fan couple James Darling and Se Young Kang; wannabe comic book illustrator Skip Harvey, and Eric Henson who serves in the Air Force and dreams of becoming a comic book artist.
Their trials and tribulations as they visit Comic-Con in 2010 offer a gripping insight into the event and the passions behind their love for the world of fantasy. Highpoints include James Darling's complex plans to propose to Se Young Kang during a Kevin Smith event (and charmingly with Smith's assistance); Chuck Rozanski's drive to keep his comic book business going despite the realization the Comic-Con – despite its title – has left the comic book world behind as movies take over, and the talent and drive of costume designer Holly Conrad.
With Spurlock off-screen, these fascinating group of individuals help make Comic-Con Episode IV: A Fan's Hope a classy and charmingly memorable movie.
Production companies: Mutant Enemy, Thomas Tull Productions, Warrior Poets
International sales: CAA Film Sales Group, mgreen@caa.com
Producers: Morgan Spurlock, Jeremy Chilnick, Matthew Galkin, Thomas Tull
Executive producers: Stan Lee, Gill Champion, Joss Whedon, Harry Knowles, Benjamin Statler, Jeremy Chilnick
Screenplay: Morgan Spurlock, Jeremy Chilnick
Cinematography: Daniel Marracino
Editors: Tim K Smith, Tova Goodman
With: Holly Conrad, Chuck Rozanski, James Darling & Se Young Kang, Skip Harvey, Eric Henson