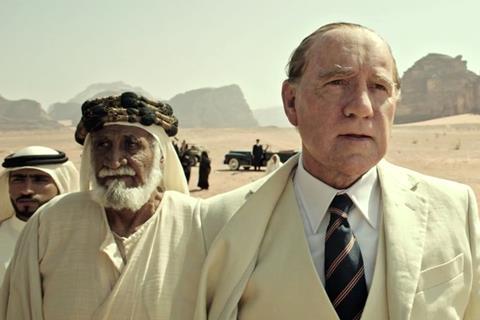 As the industry continues to be rocked by sexual-harassment scandals and sordid revelations, the ramifications are being felt across the board. The reactions and responses have been wide-reaching and, in some cases, encouraging for the future.
When a studio decides to remove and reshoot an entire performance for an impending major release, as Sony Pictures has in replacing Kevin Spacey with Christopher Plummer in Ridley Scott's All The Money In The World — due for US release before Christmas — it's a business as well as a moral decision. It's also a clear sign the toxicity that now surrounds those accused of abusing their positions of power is compelling companies such as Sony, Netflix, The Orchard and Studiocanal to act.
The latter — led by a very vocal expression of reproach from producer David Heyman — had been keen to find a new home for Paddington 2 as soon as Harvey Weinstein stood accused of long-term misconduct against women (Weinstein has denied "unequivocally" allegations of non-consensual sex). Allowing their valuable family franchise to be released in the US by The Weinstein Company became an undesirable outcome for both the French studio and Heyman, and at time of going to press, Warner Bros had just picked up the title for North America.
Companies in business with figures accused of sexual misconduct (and there are surely more to come) are facing harsh realities around their often significant investments. Another exposé by The New York Times, this time of comedian Louis CK, has led to The Orchard scrapping the US release of his film I Love You, Daddy, which it had picked up in Toronto for a hefty $5m. International distributors including ARP in France and Front Row in the Middle East quickly followed suit. The Orchard had hoped to mount an awards campaign for the film, and screeners had already started arriving through voters' mailboxes when the scandal broke. Having to scrap those plans after money had been spent must have been painful for the company.
There will be more financial pain to come for other companies in time, while bad behaviour will be more difficult to overlook in future. The Birth Of A Nation backlash last year sparked talk of a stronger buyers-beware mentality in the industry, and these wider-reaching scandals could drive further caution.
Encouragingly, there are industry moves to counter abusive actions in future. The Swedish Film Institute has taken a powerful step in declaring it will demand that, starting from next year, those who want to apply for its production funding will need to take part in a sexual misconduct awareness class. The British Film Institute has also discussed its intention to establish a new set of guidelines to tackle harassment and bullying in the industry. These are positive examples to set, and others will hopefully follow suit.
The constant allegations surfacing, and the atmosphere of questioning and trepidation they are engendering, are knocking industry confidence.
While the long-term impact will be positive, it's a painful process of self-examination, with a knock-on effect for awards season. It feels glib even mentioning campaigning but, as well as The Orchard's situation, Sony, for instance, will clearly no longer be pushing Spacey for best supporting actor consideration for his portrayal of oil tycoon J Paul Getty in All The Money In The World. Will it bank instead on Plummer?
Given that the mad scramble to reshoot scenes in time for the film's December 22 release means the film is already going to miss several early awards deadlines, it would be an unlikely but potentially quite satisfying result for the studio.

Screen International's editor, based in London.