What do we know so far about Moore's latest documentary?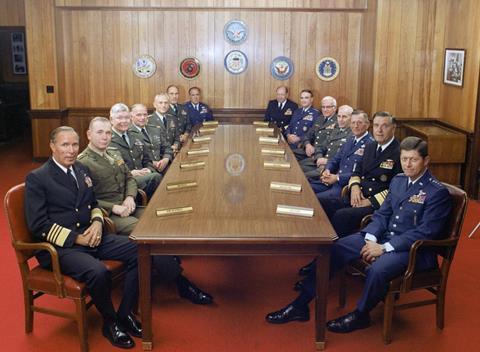 After the surprise announcement yesterday that Michael Moore's latest film Where To Invade Next will have its world premiere at the Toronto International Film Festival (Sept 10-20), Screen took a look at the information we know so far about the liberal filmmaker's latest, secretive documentary.
Shortly after the announcement that Where To Invade Next would screen in Toronto as part of the Special Presentations strand, the filmmaker behind Oscar-winner Bowling For Colombine and Palme d'Or winner Fahrenheit 9/11 took to Twitter to post a six-minute 'Periscope' video and reveal a few details about the film.
"We've been very diligent about keeping this under covers," said Moore, subsequently saying "hello" to his "NSA friends" as he avoided giving too much away.
He did reveal that "the idea has been percolating for a very long time", that filming took place over three continents and that the documentary was of "epic nature".
"The issue of the United States and infinite war is something that has concerned me for quite some time and provides the necessary satire for this film," Moore added.
"Post 9/11… there is a constant need, it seems, to always have to have an enemy. 'Where's the next enemy so we can keep our whole military industrial complex alive and keep the companies that make a lot of money from this in business?'
"I've always been a little bothered by that and that's where the comedy comes from."
The movie's page on the TIFF website simply reads: "Academy Award-winning director Michael Moore returns with what may be his most provocative and hilarious film yet: Moore tells the Pentagon to "stand down" — he will do the invading for America from now on."
We do know that the film - the first he has directed since Capitalism: A Love Story in 2009 - centres on the US Armed Forces and the various companies profiting from what Moore refers to as the US's "constant state of war".
Moore flagged the film to Toronto documentary section head Thom Powers a few weeks ago, who decided to give it a berth at the festival.
"You get the sense he's been saving himself to say something special, to say something meaningful, and that's what this film is," Powers told the LA Times.
Moore revealed that several of the team from his previous projects had returned for Where To Invade Next.
Confirmed members of the production include producers Tia Lessin and Carl Deal, who have both worked on numerous Moore films, editors Pablo Proenza (Capitalism: A Love Story), Todd Woody Richman (Fahrenheit 9/11) and newcomer to Moore's team Tyler Walk (How To Survive A Plague), while executive producers are Mark Shapiro, Will Staeger and Rod Birleson.
Francisco LaTorre and Hillary Stewart are both credited on the sound team, while Jayme Roy and Richard Rowley are the film's cinematographers.
Production companies Dog Eat Dog Films and IMG are both attached, and WME are handling worldwide sales of the film, which Moore hinted may receive a release "over the holidays later this year".