The youthful Mexican festival also welcomes Alejandro Jodorowsky.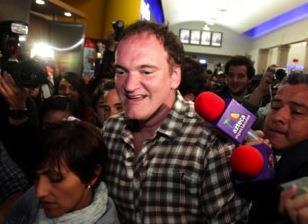 Now in its 11th year, Mexico's Morelia International Film Festival (FICM) is one of those events that put a smile on the faces of visiting film-makers, critics and industry people. It's a magnificent city, the food is great (and ample), and it's a very pleasant collegiate atmosphere in which you get to hang out over margaritas with the great and the good.
But what's often forgotten is that it's also a very strong public festival, with a particular youth flavour. At most times of the day, hordes of teenagers hang out on the colonnades opposite the festival's main venue, the Cinepolis Centro, and this year, there's been a particular fan frenzy around the big visiting names.
One of them is Quentin Tarantino, a previous Morelia visitor, who this year was in town to present a number of Mexico-related prints from his personal collection. Some were part of a general retrospective of actor Arturo de Córdova, including Mitchell Leisen's 1944 Frenchman's Creek, others were just personal favourites, including Samuel Fuller's little-seen Shark! (1969), touted by Tarantino as "a real fun treasure-hunt movie". Shark! was a rough, creaky vehicle for an early, unmoustached Burt Reynolds, playing opposite Mexican star Silvia Pinal, and hardly in the great Fuller canon, but great fun for its arch, creaky dialogue ("Do you know how to… handle a winch?"). It was a treat, if you could handle the distraction of Tarantino cackling heartily at every other line.
The festival's other eagerly mobbed deity was Chilean surrealist Alejandro Jodorowsky, on a roll with his long-awaited return to cinema The Dance of Reality. FICM featured a retrospective, going back to his early Mexican film Fando y Lis (1968), and the great man's masterclass showed that his cult status is undimmed, with a 1,200-seater hall mobbed by a predominantly young audience.
I saw Jodorowsky's Q&A session after his deliriously extreme 1973 epic The Holy Mountain - "It was revolutionary!" he declared. "I congratulate myself!" My Spanish is minimal, I caught enough to see that people are still flocking to director for answers on the Big Questions, and he's more than happy to play wise guru.
He still believes that cinema can change consciousness and therefore the world, and is quite happy to explain particular images in his films. The chimpanzee? The natural world. The woman dressed in dead chickens? The castration complex. The kids dressed as Mickey Mouse? To do with the link between architecture and paedophilia. Guru or charlatan (the jury will be out till eternity), the affable, snowy-haired old maestro grinned toothily, loving every minute.
Belatedly drafted onto the Mexican features jury, I can report that national cinema is in rude health, even if this year doesn't seem to have provided a major breakthrough film. But, among the 12 films on display, there were some terrific offerings. The jury (my fellow members were Maria de Medeiros and critic Todd McCarthy) awarded the main prize to José Luis Valle's off-beat picture of life in Tijuana, Workers, a film packed with visual and satirical invention, and the prize for best first or second feature to Diego Quemada-Diez's politically impassioned road (or rather, rail) movie, much celebrated on the fest circuit since its Cannes debut. Best Actress was Adriana Paz as a bored, sexually itchy estate agent in the pensively steamy motel-set Las Horas Muertas (The Empty Hours), to which we also gave a Special Mention for Aaron Fernández's assured direction. And Best Actors were Harold Torres and Carlos Bardem in González, Christián Diaz Pardo's Taxi Driver-ish thriller about a telesales worker going off the rails. Torres was coolly enigmatic in the title role, while Bardem's flamboyant turn as a bogus preacher was uncannily reminiscent of Christopher Walken - with a manifestly fake Brazilian accent.