Following its acquisition of Odeon & UCI Cinemas earlier this week, Dalian Wanda Group is in talks to buy a 49% stake in Paramount Pictures from Viacom, according to reports.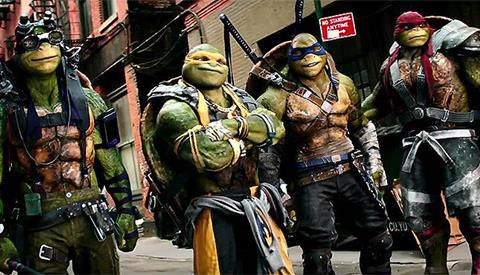 The Wall Street Journal reported today (July 14) that Wanda is now the only bidder left at the table, but as Viacom's ailing controlling shareholder Sumner Redstone is resisting the sale, it's far from a done deal.
Viacom executives, including chairman and CEO Philippe Dauman, suggested earlier this year that the company should sell a minority stake in Paramount as the studio struggles with declining revenues.
Wanda would be a powerful partner in what is soon to become the world's biggest box office market. The two companies have already worked together - Wanda recently invested in Paramount's Teenage Mutant Ninja Turtles: Out Of The Shadows, along with Alibaba, although the film was a disappointment at the box office.
Redstone, already at the centre of a wider boardroom battle, recently changed Viacom's company bylaws to require a unanimous vote of the board to sell all or part of Paramount.
The Wall Street Journal speculated that Dauman and other executives are pushing for a deal that will be too good for the Redstone family to refuse.
Acquisitive Wanda
Wanda is one of China's big four entertainment industry giants, but the only one from a bricks-and-mortar real estate background, compared to the digital pedigree of Baidu, Alibaba and Tencent.
The latter two companies already have market caps in excess of $200bn and Wanda chairman Wang Jianlin has said he aims to build his, currently mostly private, conglomerate to $200bn by 2020.
With its focus on the physical retail and theatrical business, and thirst for international influence, Wanda could be more suited than its digital titan rivals to buying an old-world Hollywood studio. Indeed, Alibaba was also tipped as a suitor for Paramount, but recently ruled itself out, saying it preferred to do licensing deals with the Hollywood studios instead.
And Wanda is certainly in an acquisitive mood. In addition to hoovering up US exhibitor AMC Entertainment, Australia's Hoyts and now Odeon & UCI Cinemas Group, which it is buying through AMC, Wanda snapped up Warcraft producer Legendary Entertainment for $3.5bn earlier this year. It has also been acquiring sports and leisure assets including the Ironman triathlon series of races, Infront Sports, which handles TV rights for FIFA, and football team Atletico Madrid.
Wanda-controlled AMC is also attempting to buy rival US exhibitor Carmike Cinemas, although that deal is facing pushback from local investors.
China industry gossip has questioned whether a Hollywood studio would be such a good investment for a Chinese player. The proposed Paramount deal would not give Wanda control of the studio, and while it offers access to global distribution networks, Wanda already owns more than 10,000 screens in ten countries. Meanwhile, China's internet giants are more focused on digital delivery, an area where the traditional studios are scrambling to catch up.
But the deal would increase Wanda's international clout in the entertainment business and give it a substantial say in the running of a major US studio. And this comes at a time when the nexus between Hollywood and the Chinese film industry becomes ever more important.
Despite a slowdown in the second quarter, China's box office is on course to hit $8bn this year and is likely to overtake the North America market in 2018. While both territories are prone to protectionism - China through its quota system and the US via shareholder and regulatory resistance - it's only a matter of time before we see a marriage between two major players in the world's biggest markets, whether or not that actually makes sense.