Dir: Jay Roach. US. 2010. 114mins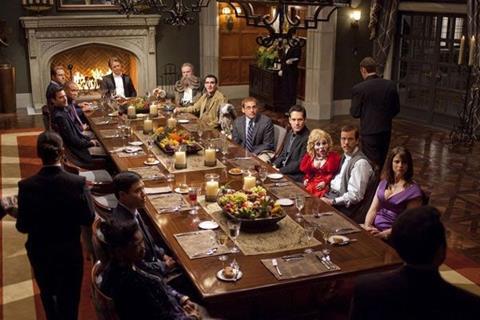 French filmmaker Francis Veber's works have long proven ripe for Hollywood adaptation, and his 1999 comedy The Dinner Game provides the source material underpinning for the odd-couple farce Dinner for Schmucks, which reunites The 40-Year-Old Virgin stars Steve Carell and Paul Rudd to generally underwhelming effect. Some mildly amusing character work and colourful detail gets largely lost in a movie that can't decide whether it wants to be sour or sweet.
Carell, who has elevated blithe, unblinking idiocy into its own special art form on the small screen in The Office, crafts another believably imbecilic character.
Dinner for Schmucks should win the weekend, having the live-action comedy audience to itself for just a week before The Other Guys opens. Carell's other straight comedies have typically pulled in just over one-third of their worldwide haul overseas, but some recognisable international faces and the film's broad premise may help push this Dinner a bit past low- to mid-eight figure grosses abroad.
Sensing a chance to cement his future with his girlfriend Julie (Stephanie Szostak), financial manager Tim Conrad (Rudd) makes a play for a big promotion at work. He impresses his boss (Bruce Greenwood), but finds his future dependent upon a regular party where the firm's top wunderkind underlings compete for attention by inviting foolish, socially clueless guests to ridicule.
This strange invitation coincides with Tim running into (quite literally, with his car) Barry Speck (Carell), a cuckolded government tax bureaucrat and amateur taxidermist who painstakingly crafts various scenes with dead mice. Leading up to the dinner, Barry wreaks unintentional havoc on Tim's life. Misunderstandings with a crazy former one-night stand (Lucy Punch) complicate matters, sending Julie momentarily into the arms of a potential romantic rival, a self-absorbed lothario artist named Kieran (Jemaine Clement).
Carell, who has elevated blithe, unblinking idiocy into its own special art form on the small screen in The Office, crafts another believably imbecilic character whose pain and denial have morphed into a maniacally sunny veneer. He's the star here. In flustered Everyman mode, Rudd is capable in a role he's tried on quite a few times before.
But in smoothing down Veber's inherently nasty original premise, and turning Rudd's character into a reluctant participant, the film feels fitful and insincere almost scene to scene — as if it's trying to goose audiences into laughing at social ineptitude while also leaving open an escape hatch to punish characters in the film who do the same.
David Guion and Michael Handelman's adaptation also wildly overinvests in Tim and Julie's relationship, which comes off as a gender-balance sop to some hypothetical female demographic, as if women wouldn't respond to caustic comedy without the possibility of romantic reconciliation dangled in ever-present fashion like a carrot.
Inviting production design throughout and especially the exacting nature of Barry's diorama creations (which would certainly make Wes Anderson proud) are undeniable high points of the movie, both in terms of their artistry and humor value.
Apart from Carell's work, the undeniable breakout star of the film is Clement, known in some circles for The Flight Of The Conchords, and already cast in Men In Black III. His performance plays much like Russell Brand's wild introduction to a wider audience in Forgetting Sarah Marshall — not entirely coincidentally, since both characters are driven by a hyper-confident animal magnetism.
Production companies: Paramount Pictures, DreamWorks Entertainment, Spyglass Entertainment (US)
Worldwide distribution: Paramount Pictures
Producers: Walter F. Parkes, Laurie MacDonald, Jay Roach
Executive producers: Francis Veber, Sacha Baron Cohen, Amy Sayres, Jon Poll, Roger Birnbaum, Gary Barber
Screenplay: David Guion & Michael Handelman, inspired by the film Le Diner de Cons (The Dinner Game) written and directed by Francis Veber
Cinematography: Jim Denault
Production designer: Michael Corenblith
Editors: Alan Baumgarten, Jon Poll
Music: Theodore Shapiro
Main cast: Steve Carell, Paul Rudd, Jemaine Clement, Zach Galifianakis, Stephanie Szostak, Lucy Punch, Bruce Greenwood, David Walliams, Ron Livingston, Larry Wilmore, Kristen Schaal