Exhibition subsidy for foreign language films discussed during distribution/exhibition event in London.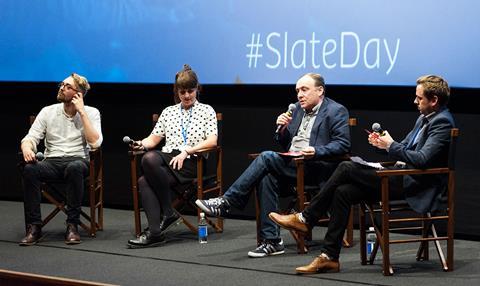 The BFI's Film Audience Network New Release Strategy initiative was the subject of an industry panel at yesterday's Distributor Slate Day.
Launched in January this year, the subsidy for independent exhibitors is aimed at boosting the reach of 'challenging' features and foreign language films through extended marketing campaigns, particularly at grassroots venues.
Supported by the nine regional UK Film Hubs, three films have been selected for support to date: Patricio Guzmán's Berlin Film Festival Silver Bear winner The Pearl Button, Deniz Gamze Ergüven's 2016 Oscar and Golden Globe nominee Mustang and Greek Oscar 2017 hopeful Chevalier.
New Wave title Sonita, about an Afghan refugee in Tehran who avoids being sold into marriage through her rap music, is the latest film to receive backing through the scheme.
Curzon theatrical sales manager James King told the audience that the support proved "invaluable" on Mustang, which grossed £320k in the UK: "Exhibition level support is invaluable. At Curzon, we can do an expert national campaign but getting a lead in a cinema newsletter that week or getting good showtimes in cinemas is extremely important. That grassroots level of support is hugely useful on specialised releasing."
"I do believe that this kind of initiative has a financial impact," he continued. "Mustang is one of (if not the) highest-grossing Turkish films at the UK box office ever. Widest point of release was 45 prints. It would have been fewer without this initiative."
Mark Cosgrove, BFI FAN programming group chair, said: "Per title support is around £4,000. It's about galvanising grass roots and harnessing local understanding and knowledge. NRS allows us to amplify a campaign."
"I very much hope this initiative continues," he added. "We're in the final year of BFI Film Forever and I would like to think that FAN and NRS are part of the next five years."
NRS co-ordinator Alice Quigley (who revealed that the initiative had helped some venues show their first foreign-language film) told the audience that the team behind NRS was drawing up a report to evaluate its return on investment: "It's a pilot. We're evaluating everything and compiling a report on the first three films to see what worked."
The BFI announced earlier this year that six films would be backed by the scheme to the tune of more than £100,000. The BFI was unavailable for comment at time of publication on a potential discrepancy between the £4,000 and £100,000 figures, but a spokesperson for the organisation subsequently issued the following statement:
"We earmarked £100k available to invest in releases and that runs to the end of this financial year (end of March 2017) so there is still time to go and films are being considered. The approach on getting behind films that the Film Audience Network can support has been valuable to the releases to date as has been iterated by the delegates at the event and the visibility of those films supported to date. As with any new strategy there will be learnings which will come through the evaluation."