EXCLUSIVE: Emilia Clarke and Noel Clarke thrillers also among titles to secure German deals.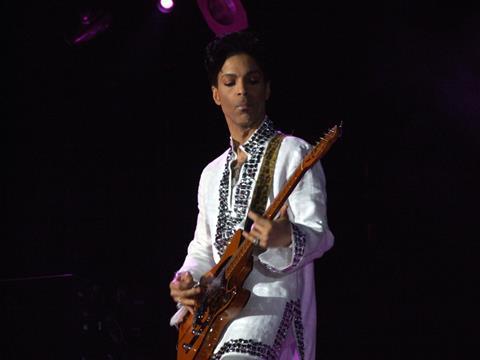 Swiss distributor Ascot Elite Entertainment Group has finalised rights to a string of high-profile independent titles for German-speaking Europe.
The company's AFM haul includes all rights to a new documentary biopic about iconic musician Prince from US sales outfit 13 Films
Directed and produced by Michael Kirk (Find Your Groove), Prince: R U Listening? is set to chart the musician's early years and rise to super-stardom as seen through the eyes of his bandmates, friends and family including Dez Dickerson, Prince's first guitar player and Andre Cymone, Prince's close friend and original bassist.
Contributors will also include Bono, Mick Jagger, Billy Idol, Lenny Kravitz and Sheila E. The film is due to be relesed in Q2, 2017.
Also from 13 Films, the company picked up completed mystery-thriller Voice From The Stone, starring Emilia Clarke (Game Of Thrones), Marton Csokas (The Equalizer) and Caterina Murino (Casino Royale).
Set in 1950s Tuscany, the film follows Verena, a solemn nurse drawn to aid a young boy who has fallen silent since the sudden passing of his mother.
Meanwhile, Robert Pattinson (Twilight), Jennifer Jason Leigh (The Hateful Eight) and Oscar-winner Barkhad Abdi (Captain Phillips) star in upcoming crime-drama Good Time, about a bank robber who finds himself unable to evade those who are looking for him. Currently in post-production, the film is being lined up for a late 2017 Germany release.
Ascot Elite bought the US indie title from Memento Films. A24 has US rights.
Altitude trio
The company has pre-bought a trio of films from UK sales outfit Altitude in the shape of 10x10, Black 47 and Dead In A Week.
Luke Evans (The Girl On The Train) and Kelly Reilly (Sherlock Holmes) are set to star in Noel Clarke (Brotherhood)-produced and scripted 10x10, a US-set cat and mouse thriller about a seemingly ordinary man hiding an obsession for revenge against one particular woman. Suzi Ewing's feature debut is due to go into production in Q1, 2017.
Revenge drama Black 47, which began principal photography this week, comes from Kisses director Lance Daly and producer Macdara Kelleher.
Hugo Weaving (The Matrix), James Frecheville (Animal Kingdom) and Jim Broadbent (Cloud Atlas) star in the western set during Ireland's Great Famine of 1847.
Tom Edmund's black comedy Dead In A Week, will chart the story of a young man who outsources his suicide to an ageing assassin after his ninth unsuccessful attempt on his own life.
Tom Wilkinson (Michael Clayton), Aneurin Barnard (BBC/TWC's War & Peace) and Marion Bailey (Mr. Turner) will take the lead roles with production due to get underway in Q1, 2017.
Finally, from Salt, the company picked up completed horror movie The Void, directors Steven Kostanski and Jeremy Gillespie's tale of a police officer whose world unravels after he happens upon a blood-soaked figure limping down a deserted stretch of road. The film will be released in Q1, 2017.
Ascote Elite COO Stephan Giger commented on the acquisitions: "It was a very fruitful trip to California and I'm pleased to continue our relationship with Altitude on their three upcoming commercial projects and I'm equally happy to continue working with Memento Films, after La Sage Femme, this time with an English-speaking project with a great script and a killer promo.
"Music is my other passion and having had great success with Metallica – Through The Never and just recently with Oasis: Supersonic, we look very much forward to next year's release of Prince: R U Listening?"
CORRECTION: A previous version of this story stated that Michael J Kirk, who is known for his work on the PBS documentary series Frontline, was to produce and direct Prince: R U Listening?. However, Michael J Kirk is not associated with this project.