Norwegian local films set for the best year since 1975, after Captain Sabertooth and the Treasure of Lama Rama takes 103,604 admissions for the year's top opening.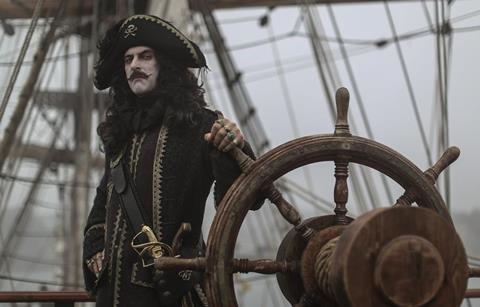 Norway's so far most expensive family adventure, Norwegian directors John Andreas Andersen and Lisa Marie Gamlem's $7.9 million million (NOK 50 million) Captain Sabertooth and the Treasure of Lama Rama (Kaptein Sabeltann og skatten i Lama Rama) registered this year's best theatrical opening in Norway, taking 103,604 admissions from 260 screens for The Walt Disney Company Nordic.
With Norwegian director Hallvard Bræin's Børning – Norway's first Cannonball Run-style action-comedy – reaching selling 347,518 tickets after seven weeks on the Top 10 charts, Norway is heading for the best performance of domestic product in almost 40 years.
"Since 2008 Norwegian films have accounted for 2,5-2,8 million admissions annually – we will probably reach 3 million this year, but hardly the almost 4 million in 1975," said head of communications Birgitte Langballe, of Norwegian cinema association Film & Kino.
"Captain Sabertooth and the Treasure of Lama Rama will most certainly be the most popular Norwegian release this year, but local children's films are usually good box office in Norway: No 1 so far in 2014, Arild Fröhlich's Doctor Proctor's Fart Powder (Doktor Proktors prompepulver) was seen by 375,793 cinemagoers. The strong focus on Norwegian productions in recent years is definitey showing results," she added.
Created in 1990 by then teacher, now author, singer and actor Terje Formoe for a children's musical in the Kristiansand Zoo and Amusement Park, Norway's most famous pirate has sold 4 million books, theatre tickets, DVDs and records, adding merchandising from the Sabeltann Ltd, also controlled by Formoe. He is still a regular in a new plays at the zoo-amusement park, where he was first played by his inventor.
Scripted by Lars Gudmestad, and produced by Frederick Howard, Gudny Hummelvoll, Lars Hellebust and Fredrik Støbakk, the captain's entrance on the big screen was shot on locations in Cornwall, Morocco, Thailand and on board the digitially built ship, The Black Lady, with Kyrre Haugen Sydness, Anders Baasmo Christiansen, Vinjar Pettersen, Odd Magnus Williamson, Tuva Novotny and Pia Tjelta in the leads.
In the film Sabertooth and his sidekick Langemann smell gold – they have found an old map showing where, in the Kingdom of Lama Rama, King Rufus' fabled treasure is buried. They are accompanied by 11-year-old Tino, who has spent all his life in the Sabertooth's secluded hamlet – now he wants to become one of his one of his men, but also to find is father, who he believes is out there somewhere.