Disney juggernaut is set to play in a host of UK independent cinemas but some venues are resisting.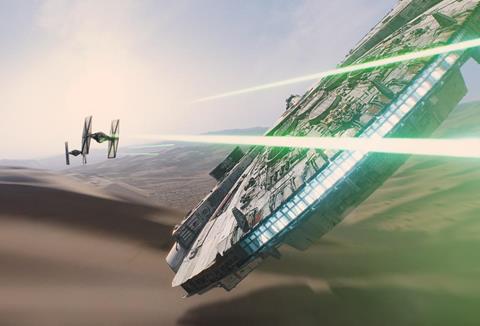 As UK independent cinemas increasingly bite on blockbusters and studio-level films, the majority of London's independent cinemas will be screening Star Wars: The Force Awakens from Thursday, December 17.
A fleet of London independents, including most of the capital's Picturehouse and Curzon venues, are due to show the film, helping to boost the site count beyond an expected 600+ venues.
For some, however, it wasn't an easy decision.
Kate McCarthy, head of business operations at single screen indie stalwart The Phoenix, told Screen:
"The decision was taken to show Star Wars after quite a bit of discussion with our trustees, because obviously it's not the regular choice for us."
"We felt we wouldn't do Star Wars and Spectre because it makes the 'independent cinema' tag slightly less true…but we hope it will enable us to show something that might have a very small release later in the year."
Some regional cinemas are resisting the Disney blockbuster.
Alison Gardner, head of cinemas at the Glasgow Film Theatre, is one of those avoiding the film's tractor beam, despite obvious commercial rewards.
"We're pure art-house," she told Screen. "We're not the only game in town so we have to be different. Most people are happy to show Star Wars, they're all looking forward to getting the money.
"We have a wide demographic but Star Wars is not our demographic. We're offering alternatives like The Forbidden Room, Ice And Sky and It's A Wonderful Life. We have to offer these alternatives to people because that is our job."
Alternatives
But inevitably, alternatives are few and far between, with the anticipated sci-fi having scared off most studio and UK independent distributors.
Last weekend, Grandma opened for Sony Pictures UK while By The Sea and Sisters opened for Universal but no studios have wide releases set for this coming weekend. Non-studio fare is also thin on the ground.
"The average number of releases in any week across the year is about 15 films", explained the Independent Cinema Office's David Sin. "This week there are five."
"Two of those are Bollywood films and one is documentary Sherpa, which is getting a very limited release. Another is a very small British indie rom-com Sparks And Embers while Studiocanal's Belle & Sebastian - The Adventure Continues will also have a very limited release," he added.
By comparison, when Spectre was released on October 26, Jafar Panahi's Berlinale winner Taxi Tehran played against the Bond film over its opening weekend, beating it on several days at the Curzon Bloomsbury despite playing in a smaller screening room.
According to the Film Distributor's Association website, only four films are scheduled to be released between December 21 and 31: three studio films - 20th Century Fox's animated feature Snoopy And Charlie Brown: The Peanuts Movie, Paramount's Will Ferrell-Mark Wahlberg comedy Daddy's Home and Ron Howard's In the Heart Of The Sea - and an event-cinema release from the Monte Carlo ballet.
In deciding to show The Force Awakens, Elliot Taylor, manager of North London's Tricycle theatre, underlined the lack of alternatives available to his team: "There's nothing else that caught our attention for the Christmas period. You've got the usual Christmas family films but there wasn't anything else which we thought would compete with Star Wars."
John Morgan-Tamosunas, programmer at the Tricycle and Brentford's Watermans (the former will show Star Wars, the latter will not), commented: "We would have programmed something else, but there's practically nothing."
Understandably, most distributors weren't prepared to roll the dice.
"Anyone with a screen will want to play it and anyone with a pulse will want to see it," commented Zak Brilliant of Icon Film Distribution.
"From our perspective, going anywhere near a film that's in line for a £30m-plus opening makes no sense whatsoever."
eOne UK managing director Alex Hamilton told last week's Screen Film Summit that Star Wars even impacted their schedule for awards drama Spotlight, which is set for a January 29 release in the UK.
"Last year, we may have put that in the first week of January," explained Hamilton. "This year we won't because of Star Wars."
Margins
Disney has relaxed its screening commitments for some indie venues in an effort to boost early screen count.
At the Tricycle, Disney is asking for 60% of box office receipts but has asked for only a two-week commitment across the Christmas period, which encompasses days closed over the holidays, effectively making it an 11-day run.
"Disney were willing to look at what didn't amount to that long a run of the picture. It's all about that mammoth opening take. Ordinarily I don't think they'd let us do that," said Morgan-Tamosunas.
Conversely, Taylor explained that Sony insisted that Spectre be shown at virtually every screening slot for a full 18 days: "That was too much for a small independent to take on. We could have got it three or four weeks later at a cheaper price with more flexibility."
The rationale behind programming The Force Awakens at the Tricycle but not the Watermans is partially a question of margins, Morgan-Tamosunas explained, with the former having 289 seats to the latter's 124.
"The Watermans very rarely pays more than 40%. With Disney's terms, if it [The Force Awakens] doesn't sell out on almost all of the shows, it won't be easy to make it pay," he said.
"They [Disney] wanted me to do it at the Watermans, they bent over backwards to try and get me to do it, but the site never plays only one film," he added.
Morgan-Tamosunas highlighted that the price differential between London and the rest of the UK is another factor in more London indies showing the film than those in the regions: "If you're a London cinema, you're charging London prices. If your ticket price is £6, and Disney is taking 60%, it doesn't leave you with enough."
Growing trend
The extensive programming of Star Wars is part of a wider trend, however, with the UK's independent cinemas increasingly biting on bigger films.
After a tough 2014, a run of successful blockbusters in 2015 has given the exhibition sector much to cheer about.
But it has been a difficult year for foreign-language titles in the UK, and as more independent venues undergo impresive but costly refurbs, adding more obviously commercial films to the schedule is one decision that may help get more customers through the doors.
At one London indie venue this past weekend, five of its six films were studio releases. The other came from an indie-major.
"It is problematic, but identifying it as problematic and then doing something about it are two different things," said the ICO's Sin.
"It's been happening for some time. There are a few cinemas that are trying to hold back the tide, but it doesn't surprise me that the vast majority of independent cinemas are showing Star Wars because it has been a trend that has been creeping in for years."
"It began with a lot of commercial independents showing the James Bond films, starting with Casino Royale at the Curzons and Picturehouses. They have to balance up their revenue-earning capacity with showing the widest possible range of films. As commercial companies, revenue generation is the most important thing."
From its inception, the film industry has juggled commercial and artistic imperatives.
The release of Star Wars: The Force Awakens acts as another reminder of that delicate balancing act.
Additional reporting by Andreas Wiseman.