Dir/prod: Michel Gondry. France. 2009. 86mins.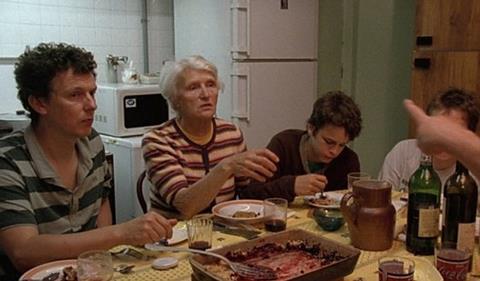 Michel Gondry travels with his aunt in this edgy but still rather Gondry-style eccentric family documentary, which begins as a tribute to the filmmaker's elderly tante Suzette's peregrinations as a schoolteacher in rural France, but ends in more testing territory by shedding light on a strong, proud woman's awkward relationship with her son – Gondry's slacker cousin Jean-Yves.
Though most of this thoughtful, wry, moving and just occasionally uncomfortable film's slim potential audience will be watching because it's a Gondry project, that may still not be enough to secure theatrical bookings outside of the director's native France. Thorn In The Heart seems at times more an exercise in family therapy than a film designed for a general audience.
But then again that's also part of its appeal. Michel's aunt Suzette worked as a teacher in various primary schools in the rural, conservative Cevennes region of France between 1952 and 1986. Opening with an alcohol-soaked Gondry dinner that establishes her as the family matriarch but also the life and soul of the party, the documentary then moves into what at first appears to be its main content – a series of visits to her old schools.
Some are still there, but others have disappeared or been turned into second homes. Suzette meets up with surviving colleagues, parents and pupils – who have mixed feelings, with one recounting how madame la maitresse dragged her out of the bushes by her hair on a school trip. Perhaps the most affecting (and historically illuminating) sequence is one in which Suzette catches up with one of the repatriated Franco-Algerian muslims, or harkis, that she taught in a mountain refugee camp in 1963.
Gradually, though, it's an apparently minor thread that comes to dominate the film: Suzette's relationship with her rather downtrodden gay son Jean-Yves, who grew up in the shadow of a stern, strong mother who describes him to camera as "the thorn in my heart". It's not quite Capturing The Friedmans – but this film does share that far more powerful and focused teasing of the audience's sympathies and certainties – not to mention its use of Super-8 clips from old family films (shot by Jean-Yves).
Gondry the cinematic trickster is on show in some brief animated sequences, one or two passages in which the crew and subject interact on screen, and a delightful scene in which young primary school kids are given 'invisible suits' – presumably made from blue screen fabric – which enable them to digitally disappear.
Thorn In The Heart reads like an honest, considered portrait of a remarkable woman, but it's not much more than an amuse-bouche for Gondry fans, who are already drooling over the next main course – Green Hornet.
Production companies/international sales
Partizan Films
(33) 1 53 45 01 20
Cinematography
Jean-Louis Bompoint
Editor
Marie-Charlotte Moreau