Dir: Chris Wedge. US. 2013. 102mins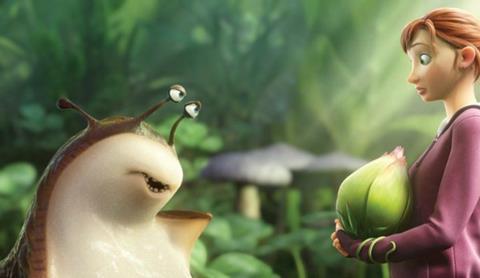 Its title conjures visions of mythological battle or perhaps a questing journey, but the story at the core of the animated family film Epic is actually a much more familiar, environmentally-friendly tale. Centering on a teenage girl who gets shrunken down to several centimeters and must then band together with a whimsical set of characters in order to protect a surrounding forest, Epic takes aim mostly at the lowest-hanging fruit of entertainment, and achieves serviceable delight around the edges.
Epic leaves a lot of narrative meat on the bone in favour of slighter, more streamlined pursuits.
Directed by Chris Wedge, the cofounder of Blue Sky Studios and helmer of Ice Age and Robots, Epic should enjoy a brief but successful theatrical run, though it will be overshadowed out of the gate by some of summer's more established studio tentpole entertainment. If its characters lack the distinctiveness that augurs a franchise beachhead, ancillary value should be strong, and could perhaps be bolstered by direct-to-video sequels and spin-offs.
Following the death of her mother, teenager Mary Katherine (Amanda Seyfriend), or MK, returns to live with her semi-estranged father, a bumbling scientist and professor named Bomba (Jason Sudeikis) who's convinced the surrounding woods are filled with tiny people no one else can see. It sounds crazy, but he's right, actually.
Ronin (Colin Farrell) is a leader of the Leafmen, a clan who ride about on harnessed hummingbirds and protect the forest from the evil, rot-fomenting Boggans, led by Mandrake (Christoph Waltz). With Queen Tara (Beyoncé Knowles) selecting a flower bulb to pass along her special spirit and power, the forest is in a vulnerable space. When MK comes into possession of the special bulb, she's magically reduced in size and must then, along with Ronin and his headstrong mentee Nod (Josh Hutcherson), endeavor to make sure it blossoms under a special once-a-century full moon, thus preserving the forest.
Epic's samurai-like Leafmen characters are inspired by William Joyce's book The Leaf Men and the Brave Good Bugs, but the rest of the (much tinkered on) story is an original creation. The efforts of six credited writers, inclusive of Joyce, amply demonstrate the difficulties of smoothing out and integrating the work of various screenplay drafts. Certainly comic relief is to be expected, but Mub and Grub, a slug and snail combo voiced by Aziz Ansari and Chris O'Dowd, seem like holdovers from a more slapstick-oriented version.
Mostly, though, dozens of small unanswered questions abound, and the sense of an expansive world not explored to best effect lingers. Epic could exploit much more greatly MK's fish-out-of-water disorientation at being thrust into a shrunken world and, similarly, the reaction of Leafmen and other creatures to the idea of a human interloper. It's more than an hour into the movie before there's any idea what these other creatures think of humans (they call them "Stompers," owing to their clamorous and slow nature), and Epic leaves a lot of narrative meat on the bone in favour of slighter, more streamlined pursuits.
These are shortcomings of omission rather than commission, however. If, on a fundamental level, the film's mix of tones doesn't always fully mesh, its many chases and other aerial moments at least provide a nice array of whiz-bang excitement. The CG animation is also buoyed by a lot of movement within frames, which creates a forward-leaning sense of energy sure to help hold the attention of younger viewers.
While the depth of its character design seems a bit hit-and-miss (MK and Bomba are nicely executed, Queen Tara decidedly less so), the film's overall style is lush and well rendered. Epic's canopied forests and Bomba's cluttered house are fantastically detailed, and smart camera placement helps create an impressive depth of field that makes good use of the 3-D format. Equally immersive is Epic's Dolby Atmos aural presentation.
Composer Danny Elfman's workmanlike score doesn't measure up to much the fanciful best of his previous efforts. Ditto Knowles' tossed-off tune of empowerment, "Rise Up," which plays over the closing credits but might inspire a would-be princess or two to want to dance in the aisles.
Production companies: Blue Sky Studios
International distribution: 20th Century Fox Animation
Producers: Lori Forte, Jerry Davis
Executive producers: William Joyce, James V. Hart
Co-producer: Michael J. Travers
Screenplay: James V. Hart & William Joyce and Dan Shere and Tom J. Astle & Matt Ember, based on a story by William Joyce & James V. Hart and Chris Wedge, and Leafman characters inspired by the book The Leaf Men and the Brave Good Bugs by William Joyce
Cinematography: Renato Falcão
Art director: Michael Knapp
Production designers: Greg Couch, William Joyce
Editor: Andy Keir
Music: Danny Elfman
Website: www.EpicTheMovie.com
Main cast: Colin Farrell, Josh Hutcherson, Amanda Seyfried, Christoph Waltz, Aziz Ansari, Chris O'Dowd, Beyoncé Knowles, Steven Tyler, Pitbull, Jason Sudeikis, Blake Anderson