International producers explain their reasons for choosing to shoot in Ireland — and why the Section 481 tax shelter is so user-friendly. Patricia Danaher reports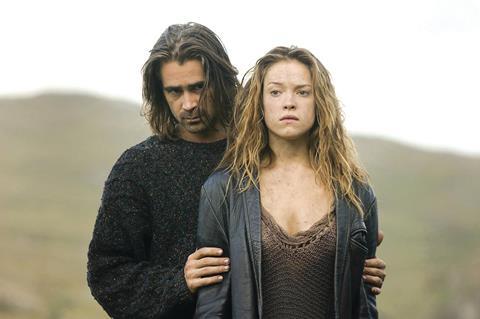 Although 2010 may not match 2009's heady production levels, there are plenty of substantial international projects already under way. Steven Soderbergh's political thriller Knockout — featuring mixed martial arts star Gina Carano alongside Ewan McGregor, Michael Fassbender and Channing Tatum — started shooting in Dublin at the beginning of February. It is produced by Ryan Kavanaugh's Relativity Media, in association with Parallel Films as local producer.
Soderbergh's longtime producing partner Gregory Jacobs was introduced to Parallel's Alan Moloney by a mutual friend, Warner Bros' Irish-born international publicity executive Desiree Finnegan, during last September's Toronto International Film Festival. Moloney urged Jacobs to consider Ireland as a location and the Irish Film Board (IFB) put together a budget for the project that Soderbergh found irresistible.
Fresh location
"We wanted to shoot in a city which hadn't been seen too often on screens internationally," says Jacobs. "I thought what a vibrant and beautiful city Dublin was and much less overexposed than, say, London or Paris. When the IFB approached us with their financial incentives, that pushed it all over the edge. The crew base is strong too, and we've brought very few crew from Los Angeles. I'd definitely return to film another project."
Although the IFB's 2010 budget has been cut, this still leaves the agency with $26.6m (€19.3m) to play with, of which 75% is allocated to production support. Direct IFB investment, combined with the increased Section 481 tax incentive of 28%, can create a potent combination for favoured projects.
One unusual aspect of Section 481 is its availability for qualifying TV production. Showtime's The Tudors has kept Wicklow-based Ardmore Studios busy, and provided career-development studios for Irish crew and department heads.
Positive response
Douglas Rae, of the UK's Ecosse Films, has shot two movies — My Boy Jack and Becoming Jane — as well as two TV series in Ireland, and is an enthusiastic advocate of the country as a location.
"People are very passionate about film in Ireland and the culture is very positive towards it," he says. "Homeowners are friendly and well disposed to letting their homes be filmed and there are some very talented and inspiring film makers there — people like James Flynn at Octagon, who is a phenomenal authority on film production, and, of course, DoP Seamus McGarvey."
However, Andrea Arnold's new version of Wuthering Heights, which was due to shoot in Ireland this year for Ecosse, will now be filmed mostly in Yorkshire's "Bronte Country" instead, after the ­director opted for local authenticity.
Rae also warns that, as sterling approaches parity with the euro, some of the benefit for UK productions filming in Ireland is being eroded.
"One of the big advantages about shooting in Ireland was getting the money up front on day one."

Malcolm Reeve, Scott Free Productions
Nevertheless, there are other intangibles that can attract the right foreign production. Malcolm Reeve of Scott Free Productions worked as a producer on Cracks in Ireland last year, attracted principally by the Section 481 funding.
"We looked at lots of places that might help us fund it, although the final decision for a location is never just about the equity," he says. "We had looked at Hungary, but one of the big advantages about shooting in Ireland was getting the money up front on day one from the Irish Film Board."
Reeve was able to combine Section 481 and IFB funds with benefits from other countries. "Cracks started out as an Anglo-Irish co-production, but became much more complicated with money coming from Germany and France, in addition to what we raised through Section 481."
Proximity to the film's UK base also helped. "Dublin is also so much closer to home for the cast and crew, especially where you're working on a long shoot — it's nice to be able to nip home for the weekend, which you're less likely to do from Hungary," says Reeve. "Labour rates are still cheaper in Eastern Europe, but the IFB offered us so many incentives that when we added it all together it made so much more sense to shoot the film in Ireland." Spyglass' romantic comedy Leap Yearqualified for Section 481 funding, and UK TV series Primeval has been reprieved after initial cancellation via a cost-cutting financial package, which included shifting production from the UK to Ireland.
"In spite of the threat to our existence, it's always been business as usual for us at the Film Board," says the IFB's film commissioner Naoise Barry, who is tasked with bringing foreign production into the country. "We have always tried to position ourselves as strong co-producing partners. The Irish tax breaks have played a big part in the success of the Irish film and television industry."
The lowdown on Section 481
The Irish Film Board's biggest incentive for film-makers, whether indigenous or foreign, is Section 481, worth 28% of the budget and paid up front on the first day of principal photography. There is a maximum of $69m (€50m) on the overall budget of qualifying projects — however, a project of this cost could draw down as much as $19.3m (€14m).
Section 481 applies to television drama, documentaries, features and animation, and the value of the incentive is based on the qualifying local spend, including cast and crew holding EU passports who are working in Ireland.
Non-Irish producers are eligible to apply for this funding, as long as they partner with an Irish producer. In the past, transaction costs associated with the deal placed limits on the budget levels at which Section 481 worked effectively. This is still the case, but it can be still be attractive at budget levels as low as $620,300 (€450,000), particularly since increased competition has put pressure on costs. A producer can reasonably hope to see 25 percentage points of the 28% benefit, and may be able to negotiate hard on the actual costs of the Irish spend.
"It's a very slick and efficient incentive as you get the money up front on day one," says producer Rebecca O'Flanagan of Treasure Entertainment, which produced Conor McPherson's The Eclipse last year. "It's very user-friendly."
The Producers
Who are Ireland's go-to producers? Among Ireland's leading co-production outfits is Alan Moloney's (below) Parallel Films, which convinced Steven Soderbergh to shoot his thriller, Knockout, in Ireland. Recent productions include Perrier's Bounty, Triage and A Film With Me In It.
Treasure Entertainment, led by Robert Walpole and Rebecca O'Flanagan, has steadily built a reputation making mostly Irish-themed movies, including several BBC co-productions. Conor McPherson's The Eclipse, one of its successes of 2009, premiered at Tribeca to critical acclaim. The company made horror Shrooms. Treasure is the Irish co-production partner for series four and five of Primeval, filming in Ireland in late spring.
Andrew Lowe and Ed Guiney's Element Pictures is another established outfit. It co-produced Jordan Scott's Cracks last year and has been involved in several major TV series in recent years. Past successes have included Ken Loach's The Wind That Shakes The Barley.
Catherine Tiernan and James Flynn of Octagon Films have serviced a raft of incoming films, as well as spearheading the company's own productions, including Ondine, A Shine Of Rainbows and Cherrybomb.
Lance Daly and Macdara Kelleher's Fastnet Films is making its mark, with recent films including the documentary feature Colony and the Irish-Dutch co-production Nothing Personal.
After a string of respected documentary shorts, Ken Wardrop's Venom Films has hit its stride with its first documentary feature, His And Hers, shown at Sundance this year.
One of the most successful animation companies to emerge from Ireland is Brown Bag Films. It received an Oscar nomination for its 2001 short animation Give Up Yer Aul Sins and made the television adaptation of the children's book Olivia for Nickelodeon. Brown Bag's Granny O'Grimm's Sleeping Beauty has been nominated for this year's Academy Award for best animated short.