Shooting wrapped this week on Menhaj Huda's follow up to Kidulthood, a coming of age drama, inspired by the director's love of music and his Asian/British background.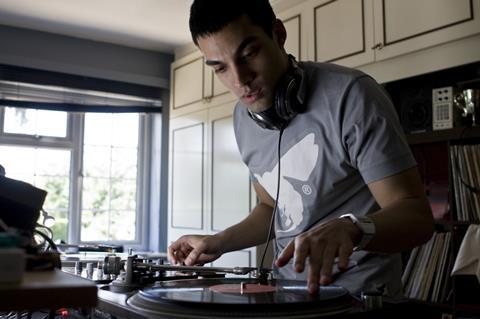 Synopsis: A young British Asian man who is trapped between the hedonistic multi cultural world of London and his traditional Aisan family upbringing in the suburbs, starts remixing classic Bollywood soundtracks with contemporary drum and bass and hip hop music.
Director: Menhaj Huda
Writer: Screenplay co-written by Huda and Gurpreet Bhatti
Producers: Sam Tromans for Arena Productions, with Stella Nwimo co-producing for Huda's production company Stealth Films.
Cast: James Floyd, Adam Deacon, Alyy Khan and Simon Webbe.
Budget: under £2m
Financing: One private investor, plus UK tax credit.
International Sales: Stealth Media
Language: English
Locations: In and around Pinewood Studios and various locations across London including a nightclub near London Bridge, a roof top in Waterloo, Ealing for the mosque and Slough for the cricket club.
Shoot dates: 16th June – 14th July
Status: Post Production
Release date: Summer 2011
Menhaj Huda makes his long awaited follow up to Kidulthood, with Everywhere And Nowhere, a coming of age drama about a young British Asian who is torn between his traditional family beliefs and his aspirations to become a DJ.
Bangladesh born, British raised Huda came up with the story idea five years ago after spotting a gap in the market. "East is East and Bend It Like Beckham were very successful in their own right, but they didn't speak to me about my experiences and the dilemmas that regular Asians living in Britain face. So I set out to write a story that encapsulated them in an entertaining way," explains the director who adds that "since 9/11, too many films about Asians have something to do with terrorism or suicide bombers."
The film's lead (played by newcomer James Floyd) finds his identity by mixing traditional Bollywood tunes with contemporary hip hop and drum and bass.
"It isn't autobiographical by any means, but my career began with a dance music show for Channel 4 in the early 90's and I have always been into the music side, so it's the easiest thing for me to form my film around," explains Huda, who has brought Indian/British composer Nitin Sawhney on board to write the film's soundtrack, which will also feature songs from British pop star Simon Webbe, who appears in the film as a DJ.
It was the film's musical slant that attracted music manager turned producer Sam Tromans to come onboard. "That and the fact that [Huda] is a really talented director and I knew he wouldn't be looking at doing something that wasn't worth doing," explains Tromans, whose company, Arena Productions is based at Pinewood Studios, and has exec produced Dead Man Running and the Sydney based Burning Man starring Matthew Goode, which recently wrapped.
Everywhere And Nowhere is entirely funded by one private investor, a contact of Tromans, who also put up the money for Dead Man Running and UK TV series K9. "It's a nice position, because you don't have that jigsaw puzzle..so it was a lot quicker than your average film to finance."
Would she always choose the private financing route over traditional sources of film funding from, say, the UKFC? "To get something made really quickly, I wouldn't even bother with half of those. It takes too long. On a low budget, you can do it quickly, but on the bigger budget films, obviously you've got to have a serious investor."
Tromans is also taking an unconventional approach to distribution. "We have had five offers, but we've decided to break the mould and self distribute, because we can afford to do it and who better to sell the film than the producer," says Tromans, whose aim is to create a Vertigo style set up – production, sales and distribution under one roof – for her own company Arena.
The film is co-produced by Stella Nwimo, who joined Huda's production company Stealth Films in 2008 to help develop future projects and spotted the potential for Everywhere And Nowhere. "My background is Nigerian and I know it's been the same struggle for me. The first and second generation families still have the 'you should be a lawyer or an accountant", you will starve if you go into the arts' mentality."
With Huda and Nwimo clearly disproving that rule, do they think the future is looking brighter for "minority" film-makers?
"When I first started out there was a bunch of us, like Noel Clarke and Asif Kapardia, now we've moved on 8 or 9 years now, there should be the next generation, but I'm looking around and I can't see them. I'm finding it quite a struggle to get my films made, if I'm struggling, I don't know how easy it would be for someone coming through."
Next up: Huda will direct British horror Comedown for Phoenix Whiley Productions in October followed by Despatched, a Soho set thriller which is being written by Noel Clarke and produced by Stella Nwimo for Stealth Films.
Sam Tromans is producing Dexter Fletcher's as yet untitled directorial debut about a man released from prison who is trying to reconnect with his family. The film is scheduled to shoot in September and stars Charlie Creed Miles and Jason Flemyng. She is also working on a possible collaboration with X Men: First Class producer Bryan Singer.