Dir/scr: Alex Garland. UK. 2014. 108mins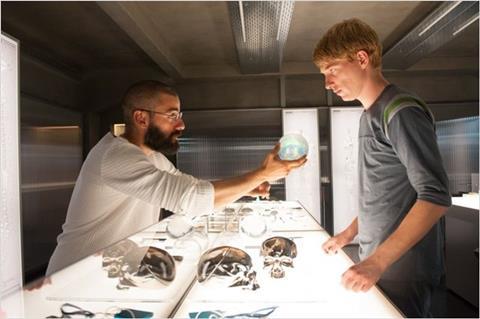 Delivering a chillingly stylish sci-fi thriller, writer and now director Alex Garland makes his feature debut with a thoughtful and at times unnervingly sly film that makes the very most of the burgeoning star power of Alicia Vikander, Oscar Isaac and Domhnall Gleeson. Ex_Machina is an astutely tense psychological thriller that plays as both love triangle and clever battle of wills, and while its static nature means its lacks a sense of scale it smartly keeps the audience guessing as twists are layered upon turns.
Ex_Machina is an absorbing, thrilling and impressively performed film.
The film, which opens in the UK on January 23 and rolls out through Europe and internationally prior to a US opening on April 10, balances thoughtful ruminations on the nature of artificial intelligence and keeps its sci-fi credentials pretty high thanks to some impressive effects work, but at heart it is something of an old-fashioned thriller with loyalties torn between manipulative man and seemingly clinically honest machine.
Writer/director Garland (whose scripts include 28 Days Later, Dredd and Sunshine) has had a long and fruitful relationship with British production company DNA Films and its producers Andrew Macdonald and Allon Reich, and his shift from screenwriter to director seems a natural and organic development. There is a sense that Ex_Machina is almost something of a chamber piece (and oddly could even work as a stage production) given that it essentially about three people testing each other within a relatively confined space.
It is to Garland's credit that he relies on the strong interweaving story to drive the film rather than attempting to flaunt his new-found directorial muscles as he attempts to tackles concepts ranging the complexities of artificial consciousness through to good old-fashioned sex and jealousy.
Set in an unspecified near future, Caleb (Domhnall Gleeson), a brilliant 24 year-old coder at the world's largest Internet company, wins a competition to spend a week at the private mountain retreat belonging to Nathan (Oscar Isaac), the reclusive CEO of the company. Arriving by helicopter he finds himself in a beautiful high-tech home, partially set into the landscape, where he is welcomed by the genial bearded Nathan.
But things get confusing for Caleb when Nathan announces that he wants the young coder to take part in a series of experiments in which he has to interact with the world's first true artificial intelligence, housed in the body of a beautiful robot girl who Nathan has named Ava (Alicia Vikander). Caleb is there to do a 'Turing test', which tests a machine's ability to exhibit intelligent behaviour equivalent to, or indistinguishable from, that of a human, but the more he interacts with Ava the more he is drawn to her and at the same time starts to distrust Nathan's motives.
Gleeson's character is perhaps the more simply formed. His Caleb is your rather clichéd computer geek who finds himself entranced by the beautiful and rather enigmatic robot, but as the film draws up he discovers hidden strengths as comes to doubt his reasons for taking part in the tests. As usual, the ever-impressive Oscar Isaac completely vanishes into the part of the charismatic, opinionated and physically dominating Nathan, and while he can be read as the 'villain' of the piece, his reasoning is as complex as the subject matter.
Perhaps best of all, though, is Alicia Vikander (an actress really making an impact and equally stunning in recently released Testament Of Youth) who creates a character that is soulful, troubled, enigmatic, seductive, intelligence and haunted by her origin and what her future will be.
The technical aspects are all top-notch, from production designer Mark Digby's flawless work through to an evocative score from Geoff Barrow and Ben Salisbury, though special credit should go to visual effects supervisor Andrew Whitehurst for overseeing effects on the most subtle of sci-fi films. It is an impressive debut for Alex Garland, and while some of the twists are quite easy to guess, Ex_Machina is an absorbing, thrilling and impressively performed film.
Production companies: DNA Films, Film4
International distribution: Universal Pictures
Producers: Andrew Macdonald, Allon Reich
Executive producers: Scott Rudin, Eli Bush, Tessa Ross
Associate producer: Joanne Smith
Cinematography: Rob Hardy
Editor: Mark Day
Production designer: Mark Digby
Music: Ben Salisbury, Geoff Barrow
Main cast: Domhnall Gleeson, Alicia Vikander, Oscar Isaac, Sonoya Mizuno, Corey Johnson, Claire Selby, Symara Templeton, Gana Bayarsaikhan, Tiffany Pisani, Lina Alminas