CHINA BOX OFFICE: Undeterred by piracy, The Expendables 3 grossed $32.84 in its first week at the China box office, knocking Dawn Of The Planet Of The Apes into second position.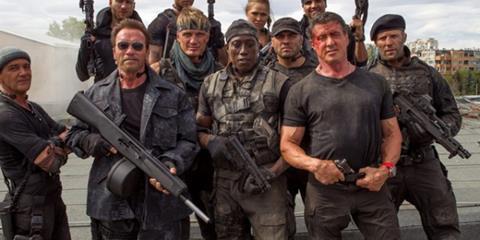 Opening on September 1, Lionsgate and Millennium's aging action hero sequel drew 6.3 million admissions during its first seven days. Beijing-based Le Vision Pictures backed the movie and worked on its local marketing with official importer China Film Group.
Meanwhile, Dawn Of The Planet Of The Apes grossed $27.02m and pulled in 4.5 million admissions over the same time frame (Sep 1-7). Fox's Apes sequel has now grossed a muscular $74.33m after ten days on release.
But Always, a New York-set romantic drama, came in third with $7.05m from 1.4 million admissions. Starring Nicholas Tse and Gao Yuanyuan, the film was co-produced by Hong Kong's Emperor Motion Pictures and China's Wanda Media and Dadi Media.
The top three films took the lion's share of a relatively slow week at the box office over the Mid-Autumn Festival holiday. DreamWorks' How To Train Your Dragon 2 grossed just $800,000 for fourth place in the chart. The animation sequel has grossed $64.27m after four weeks on release.
Gordon Chan's The Four 3 came in fifth, with $670,000 for a cumulative gross of $31.04m, followed by romantic comedy Temporary Family with $460,000 and a cume of $16.28m.
Three weekend openers came next: Tale Of The Rally with $430,000, Delhi Safari with $340,000 and Metegol with $310,000. Rounding out the chart was local horror Under The Bed 2 which took $160,000 for a cume of $2.30m.