ScreenDaily's weekly round-up of the local and independent openings in key European markets this week.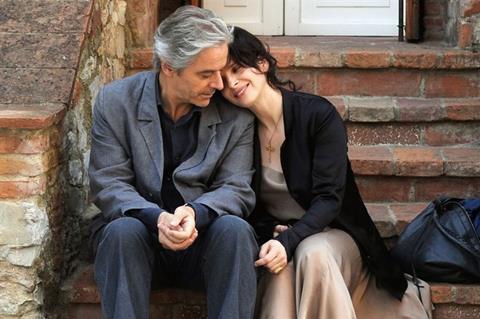 France:
Abbas Kiarostami's Cannes competition title, Certified Copy, has its release on Wednesday May 19 in France, a day following its unveiling at the Palais. The film, which had a so-so reception, stars Juliette Binoche in a story of the ins and outs of marriage set in Italy. MK2 is releasing the film on 144 screens.
Another Cannes title – this one in Un Certain Regard – also goes out wide this week in France. Jean-Luc Godard's Film Socialisme is described as a symphony in three movements which begins on a cruise ship. As Screen reported in Cannes, the film incorporates several different languages but uses subtitles sparingly. Wild Bunch is releasing on 33 screens.
In keeping with the Cannes theme, Corneliu Porumboiu's Police, Adjective, a film that had an Un Certain Regard berth last year also goes out on Wednesday. The drama's central premise revolves around a policeman and questions of conscience. Zootrope is releasing on 17 screens.
Germany:
Haim Tabakman's feature film debut Eyes Wide Open premiered in Un Certain Regard at Cannes last year. Berlin-based distributor Salzgeber is launching the gay love story set in Jerusalem's ultraorthodox Jewish community on 14 prints.
Keep Surfing, Björn Richie Lob's documentary on Munich's legendary river-surfing community, premiered at the Munich Filmfest last year where it won the Audience Award. Prokino is opening the film in 34 towns throughout Germany. Keep Surfing is being handled internationally by Beta Cinema and was shown last month at Tribeca Film Festival.
Sam Garbarski's father-son drama Quartier Lointain (Vertraute Fremde), his follow-up to the award-winning Irina Palm, is also being distributed by X Verleih. Starring Pascal Greggory, Jonathan Zaccai, and Alexandra Maria Lara, the co-production between Belgium, Luxembourg, France and Germany is opening at cinemas in 50 towns nationwide.
UK:
Werner Herzog's reworking of Bad Lieutenant gets a nationwide UK launch, from Friday May 22, courtesy of Lionsgate. Nicholas Cage takes on the title role of the crooked copper made famous by Harvey Keitel in Abel Ferrara's 1992 original. Playing in the market without the Port Of Call - New Orleans subtitle, the film also stars Eva Mendes and Val Kilmer.
UK production Heartless, which stars Jim Sturgess as a young man who discover evil demons roaming the streets of London, receives a limited release in key cities from May 22, also distributed by Lionsgate UK. Timothy Spall, Noel Clarke and Eddie Marsan also star.
Another local production, StreetDance 3D, is released nationwide by Vertigo Films. Directed by Dania Pasquini and Max Giwa, the film stars UK dance acts Diversity, George Sampson, and Flawless.
Spain:
Tornatore's Baaria takes place in Sicily between the 1930s and 1980s covering the stories of different generations of a family fighting against the government. The film took a very impressive $16m at the Italian box office last year and went on to become the country's Oscar entrant. TriPictures will be showing it on 55 prints across Spain.
US actor-turned-director Todd Louiso's comedy The Mark Pease Experience hits theatres through Vertice on 32 prints. The film stars Jason Schwartzman as a former high school musical star who can't move on with his life and so turns to his former teacher (Ben Stiller) for advice.
Denys Granier-Deferre's comedy drama The Wedding Cake sees a couple's apparently perfect day comes apart at the seams as the guests reveal the family's secrets. Small local outfit A Contracorriente will provide the Spanish release for the film, which has strong backing from French outfits, including France 3 Cinema, 2.4.7 Films and Canal +.