Dir. Haim Tabakman. Israel-France-Germany, 2009. 90 min.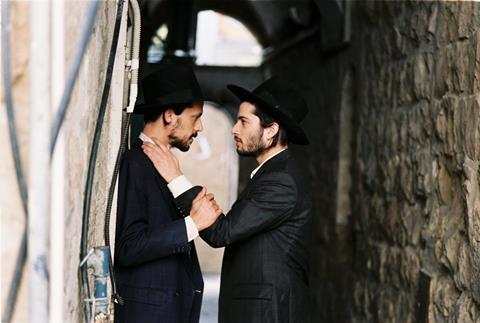 A highly controversial theme, homosexuality in the Jewish Orthodox world, gets an earnest but strangely tame, still-life treatment in Haim Tabakman's debut feature about a Jerusalem butcher (Strauss) who falls for his new hired hand (Danker), scandalising the entire community around him. Originally intended as a 50-minute TV drama, this is neither the passionate male love story it purports to be nor the portrait of a serious moral and religious dilemma it could have been. Still it may well generate interest due to its controversial subject matter.
Homeless Ezri (played by Israeli teen idol Ran Danker), wanders through the alleys of Jerusalem's ultra-religious quarter in the pouring rain, ultimately washing up in butcher Aaron's (Zohar Strauss) shop, asking for a job. A phone call he makes to a former lover clearly establishes Ezri as being gay, but Aaron, married with kids and a highly respected member of the community, has no inkling of that. He hires Ezri as his assistant, lets him sleep in the shop's back room, invites him to join the family's Friday night dinner and even attends religious lessons at the nearby yeshiva with him.
But Ezri, abandoned by his previous partner, wants more. He tempts Aaron into joining him for a traditional naked dip in a freshwater pool. And instead of cleansing him, it corrupts the butcher's already dissatisfied soul and lights a fire that he will not be able to extinguish.
The rest is painfully predictable. Since Aaron doesn't make much of an attempt to hide their affair, the result is inevitable. First in a friendly manner, than threateningly, he is told to get rid of Ezri. Aaron takes the abuse on board but does not respond, even when his shop is stoned, and he is visited by the Decency Police, real-life squad of thugs which tries to keep Orthodox problems out of the eyes of the world and the secular police. Aaron's wife never reproaches him but her suffering is more eloquent than any protest.
Tabakman never attempts to tackle front-on the moral, religious and social problems generated by the gay central relationship, focusing first and foremost on the personal drama. But since what really draws his two characters together is lust - love is not in evidence here – and as they are never too concerned with the clash between their faith and their actions, interest in these two individuals sadly runs aground. Aaron's pangs of conscience, at least concerning his family, are visible, but Ezri seems immune to any internal conflicts.
Tabakman, who edited David Volach's much awarded My Father My Lord takes on a similar downbeat, minimalist approach. For large parts of the film, however, no clients enter Aaron's shop; his children rarely feature; the streets are empty and deserted. It all seems unreal, a feeling which is strongly reinforced by the two protagonists, who seem often at loss navigating their parts. Strauss, whose role is more complex, should be able to convey more, but leaving the audience to provide the answers isn't enough here.
Production companies
Pimpa Productions
Producers
Rafael Katz
International sales
Films Distribution
(33) 1 53 10 33 99
Screenplay
Merav Doster
Cinematography
Axel Schneppat
Editor
Dov Shtoyer
Production Design
Avi Fahima
Music
Nathaniel Mechaly
Main Cast
Zohar Strauss
Ran Danker
Tinkerbel