Maggie Gyllenhaal's first experience of Italian author Elena Ferrante was her four-part Neapolitan series, beginning with My Brilliant Friend. "When you're reading them, you're like, 'Oh my God, this woman is so fucked up,'" says Gyllenhaal. "And then two seconds later you think, 'Wait, I totally relate to her. And what does that say about me?'
"Ultimately, there's this comforting feeling that comes out of it, which is this is an experience we all share that just hasn't been articulated yet," she continues. "One of her novels, I literally dropped it. I was like, This is too much. It's too truthful."
Given such a visceral reaction to Ferrante's writing, Gyllenhaal felt compelled to turn one of her works into a film. Despite having never before written a script — bar a "very esoteric, strange screenplay right out of college" — nor having directed, Gyllenhaal had, nevertheless, taken her first steps behind the camera with 2018's The Kindergarten Teacher, which she produced and in which she starred. This remake of Israeli director Nadav Lapid's 2014 film introduced her to Israeli producers Talia Kleinhendler and Osnat Handelsman-Keren of Pie Films.
During their first meeting in New York, Gyllenhaal mentioned she was reading Ferrante's 2002 novel The Days Of Abandonment and, at the end of their lunch, the three women stopped by a bookstore and she bought them a copy. "We had never read Ferrante until Maggie gave us that book, and she woke something in all of us," says Kleinhendler. "We had a wonderful experience working together on The Kindergarten Teacher and were talking about the fact Maggie should be directing, and I think it was percolating in her as well. When we started talking more seriously about it, it was, 'What do you want to direct? It must be Ferrante.' And we narrowed it down to this beautiful book, The Lost Daughter."
Originally published in 2006, The Lost Daughter tells of Leda, a middle-aged literary professor and divorcee whose beach holiday takes a dark turn when she is forced to confront her troubled past, in particular a difficult and unconventional decision she made to leave her children for two years.
First-time director
To secure the book rights Gyllenhaal approached Ferrante — famously the pen name of an Italian writer whose identity remains anonymous — directly.
"I asked to direct it and to adapt it," Gyllenhaal recalls. "To be completely honest, there was a part of me that was afraid. I had never directed before. I hadn't adapted a book before either. She almost sensed my fear and said, 'I will give you the rights to adapt it. But all of this will be null and void unless you direct it.' There was no going to her saying, 'Could Jane Campion do it? Could Lucrecia Martel do it?' She said it has to be me, which I took as a real vote of confidence. I needed that at the time." Gyllenhaal wrote the script on spec and, with Kleinhendler and Handelsman-Keren, decided to attach a cast before approaching financers. They quickly secured Olivia Colman to play Leda, Jessie Buckley as her younger self and Dakota Johnson as a young mother who Leda befriends on holiday. "It was so easy," says Handelsman-Keren of the casting process. "Every person who read the script just fell in love with it, with what we were trying to say, and with Maggie's vision."
On her desire to seek out Colman for the lead, Gyllenhaal says: "This is a woman who does some very aberrant, complicated, dark things, so I felt it was important she be played by someone who was fundamentally sane. I think there is a dipping your toe into madness that happens in parenthood, but to express that, the actress has to have a truly functional mind, which Olivia has.
"I also wanted it to be a bit funny and have a lightness and a brightness and humour, and I thought Olivia was the perfect person to explore that with. Her work is very different from mine, so I was compelled by what would she do with something like this. I couldn't even begin to imagine and, in fact, every single take was always a surprise."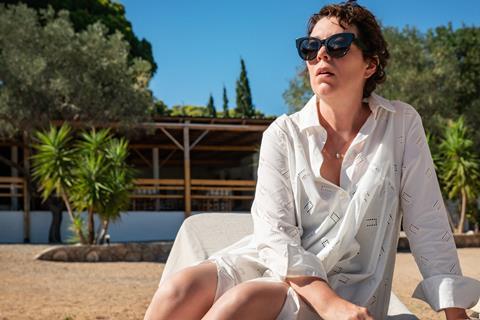 Along the way, Ed Harris, Normal People star Paul Mescal and Gyllenhaal's actor husband Peter Sarsgaard also joined the project. With the key cast secured, Gyllenhaal, Kleinhendler and Handelsman-Keren travelled to the EFM in Berlin in 2020 and, with Endeavor Content as sales agent, pre-sold the film to, among others, the UK, Benelux and Germany (eOne), South Africa (Empire), Switzerland (Pathé), Greece (Spentzos), Iceland (Sena), Italy (Bim), Spain (Vertigo), Portugal (Nos Lusomundo), Scandinavia (Svensk), Turkey (Bir), Poland (Monolith), Israel (United King), Indonesia (Falcon), South Korea (Green Narae) and the Middle East (Selim Ramia).
"We went out to finance with the help of Endeavor Content and [SVP of film] Deborah McIntosh," says Handelsman-Keren. "Ultimately, Endeavor ended up co-financing the project with Samuel Marshall Films and Charlie Dorfman."
This August, Netflix — which released The Kindergarten Teacher in North America — picked up The Lost Daughter for all remaining worldwide territories including the US, with a December 31 release planned. "They bought the movie after we finished it," says Kleinhendler. "We had such a wonderful experience on The Kindergarten Teacher, we were very excited when they decided to board."
Initially, Gyllenhaal's adaptation relocated the story from Italy to the US, setting it in an unnamed eastern seaboard beach town. "Ferrante, until this film, has never let anyone adapt her work and it not be in Italian," reveals Handelsman-Keren. "She said to Maggie, 'If you take it, it's your own. It needs to be in your language and it needs to be wherever you set it.' That, for all of us, was such an amazing thing."
"Originally Leda was American [in the script] and I was never totally happy," admits Gyllenhaal who, after Colman signed on, made the character English. "At the time, we were leaning toward [filming in] New Jersey. They have an amazing tax incentive, especially for a mostly female crew. It was making it possible for us to make the film."
They were set to shoot there in July 2020 when Covid struck, forcing the production to search for alternatives to the US. "We thought about Nova Scotia, which had no cases, but they wouldn't let us in. We were too international," Gyllenhaal says. "We could get one American in but we had Irish, English, Israeli, French…" The UK was mooted as an alternative but Gyllenhaal was not keen. "I was like, 'No, I can't direct a movie about a British woman on vacation in the UK. I don't know the absolute truth of that. I'm American.'"
Then Gyllenhaal had a brainwave. "I could imagine a woman on her own in Greece. And the second I said the word, we were unstoppable. Greece has a 40% tax incentive. Greece has an amazing film infrastructure."
"That was the first week of June," recalls Kleinhendler. "We had never shot in Greece but we have done many European co-productions, so we reached out to one of our usual co-producers from Germany — our friend Thanassis Karathanos, who has a lot of experience in Greece — to get a sense of the production landscape. At the time Greece had very low Covid numbers and we could get everyone in. Suddenly this idea Maggie had on the phone became a viable production plan. We were on the ground in mid-August."
Island location
The production based itself on the island of Spetses, where it shot for 28 days with the help of local service producer Faliro House. Cast and crew numbered just over a hundred and bubbled together, divided into zones: crew (including DoP Hélene Louvart and her camera team) that needed to be around the actors, and those that did not. "Nobody could leave the island," says Gyllenhaal. "If you left, you had to quarantine [for two weeks]. There were no vaccines."
For the first-time director, shooting in a pandemic brought its own set of challenges. "We started out working more the way big films work. But there was one moment where we were being asked, 'Who was going to touch who and when, and at what part in the scene?'" she recalls. "And I was, 'No, we can't work like that. That's not possible in a movie like this.' But because we were in a pod, we could have people be free to be together, to touch where they like and how they like. Our scope was so small we could work in a way that allowed us some freedom."
The Lost Daughter has its world premiere in competition at the Venice Film Festival' on September 3. It will be a red-carpet event. "I'm going, our actors are going," notes Gyllenhaal with excitement. "I was just on the jury at Cannes, so I did feel the incredible pleasure of being able to see movies in the theatre, as they were conceived and designed. I'm really looking forward to that. I'm vaccinated. So are all the people who are going. There's no way I'll miss it."