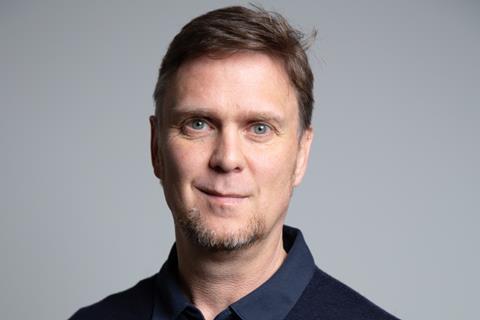 Toronto-based Raven Banner Entertainment is part of Canada's busy genre film industry, representing films for North American distribution and the international marketplace.
Managing partner Michael Paszt discusses the company's strategy and plans.
What new projects are you introducing at AFM?
We're bringing Rob Jabbaz's The Sadness, Emily Bennett and Justin Brooks' Alone With You, Pierce Berolzheimer's Crabs! and Danishka Esterhazy's reboot of Slumber Party Massacre. All of these films have been playing the festival circuit and securing sales. We anticipate AFM will help us wrap up most of the territories for these films and end the year strong.
Is there a specific type of genre film that's working particularly well right now?
All things fandom. Fandom has a camaraderie between fans who share a love for horror, epic fantasy, comic books/graphic novels and science fiction. These elements translate across many countries. Horror is very strong for us right now.
What's the genre filmmaking scene like in Canada?
Like always, it's thriving. Starting way back in the early '70s with films like Cannibal Girls and Black Christmas, Canada has a long history of making genre films. When budgets are small and you can't get Hollywood stars, smart producers and filmmakers turn to horror. Plus Canada is the home of [Toronto International Film Festival's] Midnight Madness, Fantasia International Film Festival and Frontieres [Fantasia's genre co-production market], Rue Morgue magazine and other cool festivals like Blood in the Snow and Toronto After Dark.
How many films does your distribution arm release each year in Canada?
We release about 25 films per year. Of that, around 20 are genre-based released through Raven Banner Releasing and five are arthouse films released through Northern Banner. Whether it's for Canadian releasing or international sales, the thing we noticed is that we need film festivals now more than ever. It's a symbiotic relationship. A solid genre fest will amplify the awareness a film needs. Combine that with social media and we're giving our films a spotlight they so desperately need right now. With no real theatrical business on the horizon, a festival premiere will not only hit the fans but critics as well, giving the film the validation it needs.
Canadian broadcaster Superchannel made a brilliant move last year. They partnered with several Canadian film festivals and offered broadcast deals to selected Canadian films. The organisers ran the digital portion of the festival on Superchannel to showcase these films in advance. Filmmakers were encouraged to participate and do live chats. The result was a unique working relationship between distributor, broadcaster and filmmaker.
Does the division only release films that the company is also selling internationally, or third-party films as well?
We release a lot of films that we also sell, but we acquire about 50% from other sale agents. In some cases for Canadian films, we just come on board for Canadian distribution and a partner will sell internationally. Psycho Goreman is a good case in point, as is Turbo Kid. Raven Banner is one of the only Canadian distribution labels with worldwide brand recognition among consumers. Our social media followers are from all around the globe and rabidly follow everything Raven Banner is attached to.
Which markets and festivals do attend to acquire films, for distribution or sales?
We hit up the usual suspects like Toronto, Cannes and Sundance, but our focus is mainly on the genre-driven events like Frontieres. Blood Window in Argentina has been growing by leaps and bounds in Latin America and we feel that's an area to focus on.
How has the company's move into production been going?
We opened our production arm, Hangar 18 Media, a few years ago. We've produced four features and have two in post. Since Covid started, we produced two original films and serviced two features, as we came up with a very unique way to produce during lockdown and keep everyone safe. We have three more productions going to camera in the next six to eight months.
Most recently we pre-sold V/H/S/94 to Shudder as a Shudder Original. The producers had to move the project from Los Angeles and we ended up producing it here in Toronto. Our goal is to eventually have 50% of our slate being original content. One important thing we've learned is that if you're listening, the buyers are telling you what they want.