Inhabiting icon Marilyn Monroe on screen is a challenge that would intimidate any actress — but Ana de Armas threw herself into a role that required her to navigate dark and disturbing places. Screen talks to the fearless performer.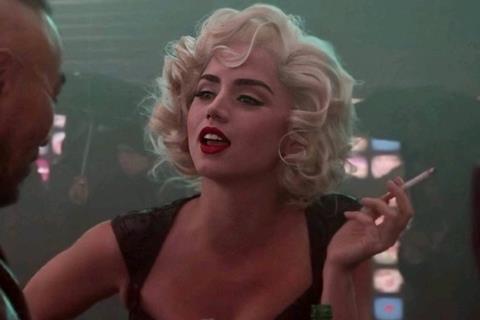 "Not being American, not having this hypersensitivity to who she was or what she meant, made me think of her as any other character and approach her from a heartfelt, human point of view," says Cuba-born Ana de Armas of Marilyn Monroe, who she plays in Blonde, the adaptation of Joyce Carol Oates' fictionalised novel. "My way in was, who is this woman and where do we meet? Because there must be a place. And there was.
"So, I walked into the audition feeling those things. My hair and make-up weren't right. My accent was a disaster. All I had to give was understanding what she was going through. And I understood her as soon as I read the script."
This was back in 2018, a year before the release of de Armas's breakout role in Knives Out, when she had yet to become tabloid fodder following her relationship with Ben Affleck, whom she met in 2019 on the set of Deep Water. Despite roles in Blade Runner 2049, Knock Knock, The Informer and a host of Spanish films and TV, she was still relatively unknown in the US. Blonde director Andrew Dominik — with fiction feature credits Chopper (2000), The Assassination Of Jesse James By The Coward Robert Ford (2007) and Killing Them Softly (2012) — had to fight Netflix, which financed the project, to cast her. Once aboard, she spent nine months prepping for the role.
"I had a lot of work to do. English is not my first language. I not only had to capture a language, but a very specific person who had affectations in her voice," reflects de Armas over Zoom from Prague, where she is filming John Wick spinoff Ballerina. "Andrew had worked on this for over 10 years when we met, so there was a lot he wanted to share with me. He put together this photographic bible for the crew. I started watching [Monroe's] films, studying the scenes I had to recreate, read [Oates'] book and other books about her. And, with my dialect coach, worked two hours every day. Once I got to LA, those two-hour Skype sessions turned into four hours in person."
Not that Dominik wanted de Armas to simply imitate Monroe and her breathless vocal delivery, "although there were times where that was my job," she qualifies. Blonde features exact recreations of several Monroe movies, including Gentlemen Prefer Blondes and Some Like It Hot. "I wanted to have some freedom as an actress, but also enjoy what I was doing. It was a combination of my own interpretation of things and feelings, mixed with a bit of Norma Jeane [Monroe's birth name], but always have some Marilyn in there."
In fact, de Armas saw Marilyn and Norma Jeane as separate characters. "We all have a private self and a public self and, in her case, it was very distinctive," explains the 34-year-old actress. "For the most part, the approach we took was this is all Norma. Then, as we were doing scenes, Andrew would say, 'Let's do a bit more Marilyn. Dial it up a bit.' That meant being very specific with facial expressions. It was linked to her feelings and emotions."
Dark matter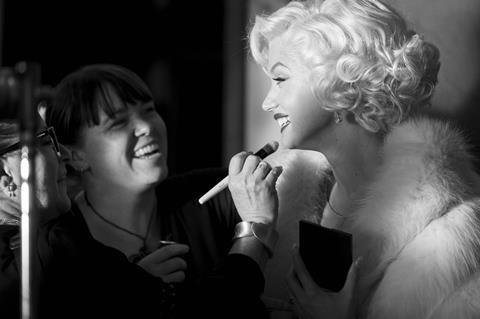 Blonde premiered at Venice Film Festival in September ahead of cinema and streamer release the same month, and is the first NC-17-rated film from Netflix. It is not your traditional biopic — instead, it attempts to put the viewer in Norma Jeane's head, so we experience her state of mind as she talks to her unborn baby, is raped by a studio executive, or is forced to perform oral sex on president John F Kennedy.
"She was living in a nightmare," says de Armas. "This character was like a prison for her. She was the most famous and desired woman in the world. At the same time, she was completely unseen for who she was. She felt like she couldn't show herself to people because that's not what they wanted from her. And she learned that very quickly. I could not imagine something worse to happen to someone, not to be able to be yourself."
De Armas's performance is raw, emotionally exposed and required a substantial amount of nudity. "I walked into this part very open-minded and fearless, and just went for it, because the intention, for the both of us, was emotional honesty and truth, and you're exposing yourself so much in these scenes.
"Especially with Andrew, where so much is improvised. We would block the scene and knew the lines we had to say, but Andrew would never cut. He would keep rolling and see what would happen. Even before [a scene began], my wardrobe people or dialect coach were dressed in period clothes, so he could have the freedom to capture all these moments. That was a great experience — but a hard one. I gave more of myself and my emotions than at any other time."
De Armas, who moved to Spain when she was 18, shot Blonde during a hiatus on No Time To Die when Daniel Craig injured himself and the schedule was rejigged. Returning to Bond, she found Norma Jeane hard to shake off. "The heaviness and sadness of it did stay with me for a bit," she reflects. "Jumping into Paloma and being in London with a new crew helped me get out of that cloud."
As Paloma, the feisty Cuban agent who partners 007, de Armas was No Time To Die's breakout star — her 12-minute turn repositioning her as a kick-ass heroine, leading to roles in Netflix thriller The Gray Man alongside Ryan Gosling, upcoming Apple TV+ action-adventure feature Ghosted with Chris Evans, and as a vengeful assassin in Ballerina.
"I didn't expect such a small part was going to bring me so many good things, and so many projects in that direction," she muses of her action-movie detour. "It's a lot of work and I never pictured myself as an action actor. But it is happening, and I am enjoying them."
But with Blonde finally out, three years after principal photography began on the Covid-interrupted shoot, de Armas is looking forward to playing more dramatic characters again. "I am craving that change and maybe the same thing that happened after Bond will happen with this. We'll see. It pushed me, this movie. It pushed my fears; what I thought were my limits. I had to use everything I have inside me I hadn't used before.
"It's strange, because now I feel like I'm scared of trying again, with another character," she adds. "But I know I can do it, and it's exciting to prove to yourself and other people you can do things that people don't believe you can."