Antoine Fuqua takes on the most serious subject of his career with big-budget slavery drama Emancipation, starring Will Smith. The director tells Screen about making the film — and its aftermath.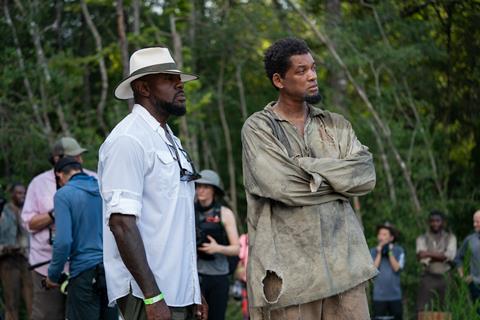 Best known for guiding Denzel Washington to a best actor Oscar for Training Day and directing a series of explosive action thrillers, Antoine Fuqua had been looking to work with actor Will Smith for a while. And vice versa. So when Fuqua's agent passed on a script that Smith was producing and had agreed to star in, slave drama Emancipation, Fuqua read it immediately.
"He thought this would be a good one for us to do, and he was correct," says Fuqua, 56, on a brief trip to London from Italy where he is shooting The Equalizer 3.
"Obviously, it's a subject matter that's deeply personal and difficult," Fuqua continues. "I knew it was going to be tough, but as I read it, I thought, faith, spirituality and love. The fact I'm talking about making a movie with Will Smith means this man's journey will inspire others. I thought, if I could make a film in the world of slavery that's inspirational and about love, that's worth doing."
Written by William N Collage (Exodus: Gods And Kings), Emancipation is loosely based on the Civil War-era true story of a former slave named Gordon but referred to as Whipped Peter. He is separated from his wife and children, and escapes from a Confederate work camp into the Louisiana swamp, heading for US president Lincoln's Union Army and the promise of freedom. A horrific photograph of his heavily scarred back was published in 1863, giving the abolitionist movement undeniable proof of the cruelty of slavery. Fuqua was familiar with the photo but knew nothing else about him.
"He talked about a whipping when he was in a coma for three months. He said in that time, he saw God," says Fuqua. "That's what inspired me. I wrote on top of my script 'sacred motivation', which meant his mind and spirit were free. His body was in bondage. I called Bill and said, 'Take everything out of the script that says fear. This movie's not about fear. It's about faith. It's about love and family.'"
A departure
Given his action-packed résumé, Fuqua, who initially made his name directing music videos for Prince, Toni Braxton and Coolio, admits Emancipation is something of a departure, although insists that was not the sole reason for making it. "I've always wanted to make something much more serious. Training Day touched on a subject matter that was important at the time — police brutality. And then you make movies for popcorn and Coca-Cola. When this came across my desk, I felt like where I'm at in my life, my age, craft, this makes sense. It spoke to me."
Fuqua shot the Apple Original Films-backed Emancipation in Louisiana having spent "millions and millions of dollars" moving it from Georgia because of the state's 2021 voter suppression legislation. "That was expensive. But [Apple Inc CEO] Tim Cook and Apple stood behind it. And Will was behind me." Locations included snake- and alligator-infested swamps and a couple of former slave plantations. "We had a hurricane shut us down for a month. Heat over a hundred every day. It was brutal."
Emotionally, too, filming the scenes of slavery — and the pursuit of escaped slaves by trackers led by Jim Fassel (Ben Foster) on horseback with dogs — was upsetting for all concerned. "Even reading the script every day and putting together your shot list. I would go home alone. I was away from my family and it would hurt," says Fuqua. "There were days watching the Black men being treated badly, for the movie, and there were days where the white actors had to be very brutal and ugly. Some were crying because they felt horrible. We had therapy for them. We had a priest come to set to try to help people through it all, including myself."
Late one night, Fuqua's trailer, one of 70 on the site of a former plantation, burnt down. "We don't know who did it. We never got any real answers. We had police and SWAT come and look around, and they said maybe it was the propane in the back of the refrigerator. That means it would've blown up. It didn't make any sense. We knew what it was. We had one guy threatening to come shoot the set up. It was a constant reminder of racism, of ignorance, of violence. I've been there before. On The Magnificent Seven, when I was in Baton Rouge, there was a noose hanging off a tree right by my trailer."
Peter's harrowing journey is rendered in mostly monochrome by Robert Richardson's desaturated cine­matography with the occasional pop of colour. "'I want it to be beautiful but brutal — and otherworldly,'" the director had told his DoP. "I needed it to be from a slave's perspective, not Gone With The Wind."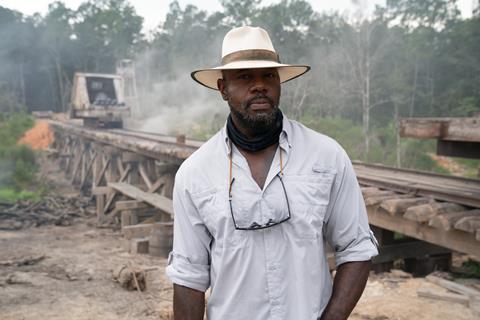 Turn of events
When Fuqua wrapped, he headed home for post-production. But nothing could have prepared him for what happened next. Like millions around the world, he was watching the 2022 Oscar ceremony when Smith stepped on stage and slapped host Chris Rock after he made a comment about his wife Jada Pinkett Smith.
"First, I thought it was a joke, because Will's an amazing person, the nicest man I've met, and never complained once making this movie," says the director. "When he saw the first rough cut, I asked, 'You let Peter go yet?' And he goes, 'I think so.' I said, 'Have you taken a vacation?' And he goes, 'Not yet.' The movie went for seven months. It was supposed to be three and a half. So when the slap happened, I wasn't sure what I was watching; I didn't recognise that person. Then I thought, 'Is the movie dead? After everything we went through, is it going be shelved? Are people going to be against the film?'"
Apple had financed Emancipation to the tune of $130m. Inevitably, the company was concerned what "the slap" might mean to their investment. "I had long conversations with Apple," reveals Fuqua. "No-one knew what was going to happen. It took a while for it to settle. The last day of the mix, I'm sitting in the theatre watching it, and it hit me. It was sad more than anything, because I just went through this journey with this guy who I still think is one of the nicest people I have ever met. Sad for everybody that worked on the movie. Then I spoke to Will, and he was pretty broken up about it. He felt horrible."
The sheer scale of the subsequent fallout — which saw Smith banned by the Academy for 10 years and have projects postponed — surprised Fuqua. "I'm from Pittsburgh. My world is much more simple and human beings make mistakes. We've seen some horrible things in Hollywood. This was a bad thing. It was wrong. However, I felt he was being treated like he murdered someone. We must not be so quick to destroy people we love, who have a record of being good people for 30-something years, for one mistake."
As time went by, reports emerged that Apple was considering a post­ponement of Emancipation's release for a year. "Absolutely. They had to do their research and we had to watch and see what the public had to say about it," says Fuqua. "The good thing was I had to finish the movie, so that helped distract me for a while. Apple, and my producers, Todd Black and Jon Mone, said, 'Don't worry, we'll deal with it. Finish the picture.'"
In the end, Emancipation opened as planned, in select US cinemas on December 2, before heading to Apple TV+ a week later. "Ultimately, for me, not making light of anything, 400 years of slavery is much more important than a slap," says Fuqua. "Most of the world felt the same way — outside of the United States, outside of Hollywood."