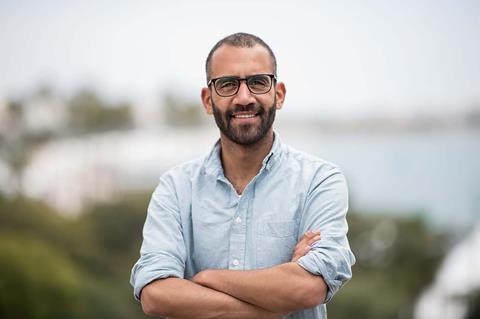 Palestinian filmmaker Wisam Al Jafari made it into official selection at Cannes Film Festival this year with his short film Ambience, which premiered in the Cinéfondation competition and went on to share the third prize.
Shot in the Dheisheh refugee camp south of Bethlehem, which Al Jafari calls home, the wry drama follows a musician as he attempts to find a quiet place to record a track for a music competition. The film is also screening in Cairo International Film Festival's Cinema of Tomorrow section.
It has elements of the absurd seen in compatriot director Elia Suleiman's work, as the deadpan hero scours the overcrowded camp. This is mixed with raw insights into camp life as the recordings are disrupted by the chatter of neighbours, a lovers' tryst, children playing and Israeli military fire during a nighttime raid.
"I was trying to portray my life in this place where 15,000 people are squeezed into one square kilometre," Al Jafari explains. "All the episodes in the film are based on real stories, while the events in the backdrop are real - they were taking place as we shot."
Al Jafari began making films in his teens after he started "playing around" with a Handycam. One of the first things he shot was an interview with his grandfather. "He started talking about his childhood and 1948, when his family was kicked out of their village and how they came to the camp. I realised the power of film for telling stories - our stories," he says.
Al Jafari went on to study at the film department of Bethlehem's Dar al-Kalima University College of Arts & Culture, headed by producer Saed Andoni (Fix Me). Alongside making his own films, Al Jafari collaborates with other filmmakers in the West Bank. His crew credits include Muayad Alayan's The Reports On Sarah And Saleem and, most recently, the short Selfie Zein by Amira Diab.
His next film will be a documentary about two political prisoners who have never met but fell in love due to the letters they exchanged via the Red Cross. It follows the female prisoner's release, their decision to get married and attempts to smuggle the male partner's sperm out of prison so she can conceive his child.
In an example of the challenges Al Jafari faces as a young Palestinian director, he has not been able to secure a visa to travel to Egypt for his CIFF screening. In spite of the difficulties of life in Dheisheh, Al Jafari has no plans to leave. He says it is a rich source of inspiration: "There is a wealth of stories here to be told."
Contact: Wisam Al Jafari
Click here to read the other Arab Stars of Tomorrow profiles